11 Amazing Hikes on Lake Atitlan
If it isn't already, Lake Atitlan needs to be on your bucket list of locations to visit. This lake is super unique in that it has multiple volcanos surrounding it. Imagine waking up for sunrise lakeside and seeing that view. So with that being said, there are some amazing hikes on Lake Atitlan that you should do while you're here. What better way to reward yourself after hiking these spots than to sit at a restaurant and be in awe of the lake? You don't realize how big Lake Atitlan is until you do some of these hikes.
There are hikes for every fitness level out there on the lake. If you are one who likes to hike with a guide, then there are plenty of options for you to do that as well. Hiring a guide will give you more insight into the history of the area that you might have not known otherwise. Plus it gives back to the locals. Completing these hikes will be good practice if you plan on doing the Volcan Acatenango hike. This is how we planned our trip and we are glad we did it this way. The elevation you will be sitting at is around 1600 meters so take your time when doing the hikes on Lake Atitlan.
How to Get to Lake Atitlan
When arriving in Guatemala, it is most common that you will be flying into Guatemala City and then making your way to Antigua. It is very easy to get from there to Lake Atitlan.
Antigua to Lake Atitlan
Antigua to Panajachel
Chicken Buses are by far the cheapest way Q35 ($5)

There is a direct bus once per day at 10:45 from Calle Principal

Shuttle

look for local travel agencies and find the cheapest one
should not pay more than Q100 to Q120

These modes of transportation take around 2.5 hours to get to Panajachel
From Panajachel you will take a boat taxi to your next destination
Lake Atitlan Facts
Located in the Southwest corner of Guatemala, in the Solola region, is Lake Atitlan. This volcanic lake is a huge tourist attraction for the country and thus, brings in many visitors every year. Below are some facts that you might find interesting about one of the most beautiful lakes in the world.
The lake is surrounded by three volcanoes: Toliman, Atitlan, and San Pedro
The highest volcano around the lake is Volcan Atitlan sitting at 3537 meters high
Lake Atitlan hits depths of 325 meters
Getting from town to town on the lake, you must travel by boat
My Suggested Hiking Gear
Below is a list of some of my favorite hiking/travel gear I bring everywhere. Everything below is something I currently use and never leave my house without.
Best Hikes Around Lake Atitlan in Guatemala
San Pedro Volcano Hike
I want to start off by saying that I underestimated the San Pedro Volcano hike but I absolutely loved it. These are my favorite hikes and the ones that I seek out in the United States. It was a hard grueling hike up but so worth it with the view at the top. It is said that recently there have been multiple encounters with bandits that the top. This has resulted in there being a police presence throughout the trail. That being said when we went we saw no bandits and felt completely safe. It is Q100 to enter the park per person and I suggest you bring multiple snacks! Here are some of the hike details of the San Pedro Volcano hike:
Distance: 4 miles out & back trail (except it seemed much longer)
Time: The worker at the entrance says 3 hours up and 2 hours down. Depending on your skill level, it could be longer than that.
Elevation: around 4,000 feet of elevation gain
Difficulty: Alltrails ranks this hike as hard
Facts: San Pedro Volcano is 3020 meters high. It is currently unknown exactly when the last eruption was but it hasn't been for a while. With the amount of vegetation along the mountain compared to its sister volcanoes, it is clearly the oldest volcano in the group.
Atitlan Volcano Hike
It will be hard to top one of my favorite hikes on Lake Atitlan but I will continue with another volcano hike. Volcan Atitlan is the highest of the three volcanos that surround the lake. There are multiple ways to reach the top but everyone suggests the route from Santiago which you can find here. It is said to be a more well-maintained trail and overall shorter mileage. You don't have to take a guide but it is suggested to go with one.
Make sure you bring plenty of water (at least 3L each) and tons of snacks. You have to start very early if you want to do it in one day. The Hike is 7 miles and can take 7 to 9 hours or even longer.
This 7 miles is straight uphill and you will have an elevation gain of 5600 ft.
Toliman Volcano Hike
Another Volcano hike and the last one that is directly surrounding Lake Atitlan. The Toliman volcano hike is just as strenuous as the previous ones but is the least popular of the three. This does not take away from its beauty and is still highly recommended to do.
The hike is around 8 miles in length and the average time is around 6 hours (but will take most people longer). There are 4700 feet of elevation gain or around 1400 meters. Be sure to keep an eye out for the wonderful wildlife that this trail has to offer! The hike will start from the lake town of Santiago. Check out Alltrails for what others are saying about this hike.
Mirador de San Juan La Laguna
The next hike on our list of the best hikes on Lake Atitlan is a much shorter one. Mirador de San Juan La Laguna is a well-maintained set of stairs that recently had a makeover. Travel to the lovely town of San Juan which is right next to San Pedro. Mirador in Spanish means lookout and you will get some amazing views from this location. We paid Q30 each to get in but I have heard of cheaper prices.
This is a 30-minute out-and-back hike that is great for the whole family. There is even a restaurant halfway up if you are coming around lunchtime. It is also the starting location for one of the possible ways to hike up to Indian Nose, which we will go over later.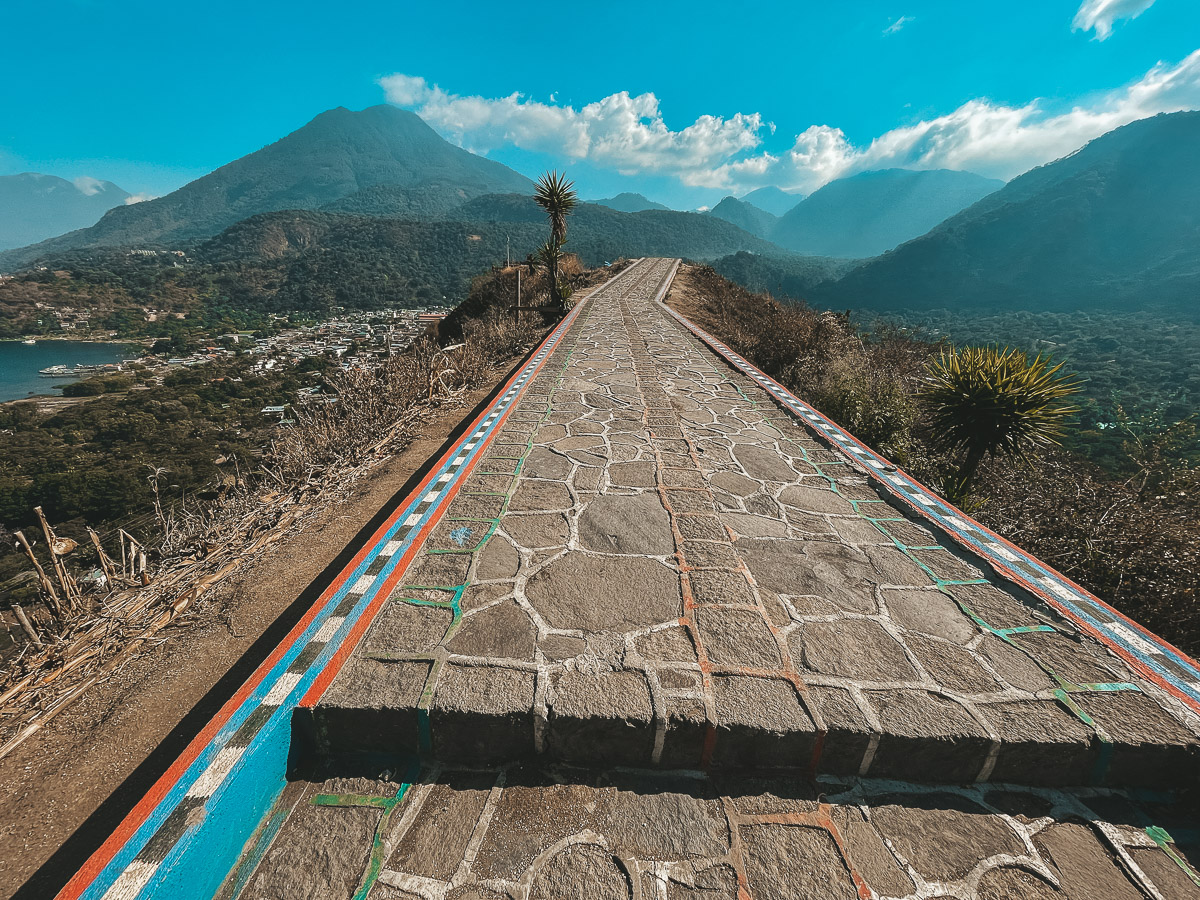 Hike to Playa La Finca (San Pedro)
One of the most underrated areas of the lake in my opinion is playa la Finca. This short-day trip is great if you are located in San Pedro or San Juan. When you think about Lake Atitlan before coming it is hard to imagine a nice beach here. Well, you're in luck because this is exactly what this is with half the crowds.
Naturally, this is a black sand beach since we are surrounded by volcanos. Once you arrive it feels like a completely different place. To start this hike, take a tuk-tuk and tell them to take you to playa la Finca. They will go all down to the end of a road. The trailhead is next to a basketball court. You can't miss it.
Follow this trail as you will pass abandoned buildings that are known to be old coffee farms. Once you pass the main open surfaced area on your right you will come across houses that people live in. Shortly after this, you will see a path that leads down toward the beach. This hike takes around 30 to 45 minutes.
Cerro de Oro
Located on the outer edges of Volcan Toliman is a legendary Mayan hike. This area is famous for the story of the lost Mayan gold. It is said that this area was home to a portal to the underworld. I suggest taking a guide if you want to hike this as it is hard to find on your own.
In this guided tour you will be shown an old altar and the residue of volcanic activity. Lunch will be provided and you will have access to kayaks as well. This is one of the best hikes to learn some of the oldest histories on Lake Atitlan.
Santa Cruz La Laguna – San Marco La Laguna
One of the best ways to see the vastness and beauty of Lake Atitlan is to hike from Santa Cruz to San Marco. This isn't too strenuous of a hike but it will take around 2.5 hours. It is 10 miles long but the views are totally worth it. This hike can be started vice versa. Just take a boat to either Santa Cruz or San Marcos. The cost should be no more than Q20.
There have been reports of robberies but one of the main things you need to be watching out for is aggressive dogs. The robberies have happened in many locations around the lake but have seemed to have calmed down in recent times.
Indian Nose Hike
Indian Nose hike is by far the most popular hike around Lake Atitlan. This is for good reason as it gives amazing views of the lake and depending on which route you take, isn't that strenuous. We decided to do this hike for sunrise (as do many people) and it was so worth it. It is always suggested to do this hike with a guide because of its popularity. The cost was Q100. We left at 4 am and got back to our hostel at 8 am.
You can spot Indian Nose from San Pedro if you look across the water. It will look like an Indian who is laying down face up. There are two different paths that you can take. We took the shorter one which is ideal for sunrise. Here are some of the hike details:
Distance: 2.7 miles (longer hike) / 1.7 miles (shorter hike) out and back
Time: 2 hours + (longer hike) / 45 minutes – 1 hour (shorter hike)
Elevation: 1614 feet gain (longer hike) / 515 feet gain ( shorter hike)
Difficulty: both are rated as moderate on all trails. It can definitely seem difficult for those who are not in great hiking shape.
La Cruz de Jaibalito
A very unique hike between San Marcos and Santa Cruz is the La Cruz de Jaibalito hike. The trail can be hard to find sometimes so I suggest looking at Alltrails.
This hike has a great view of the town of Jaibalito along with the lake. A good point of reference to being at the right spot is a cross overlooking the town.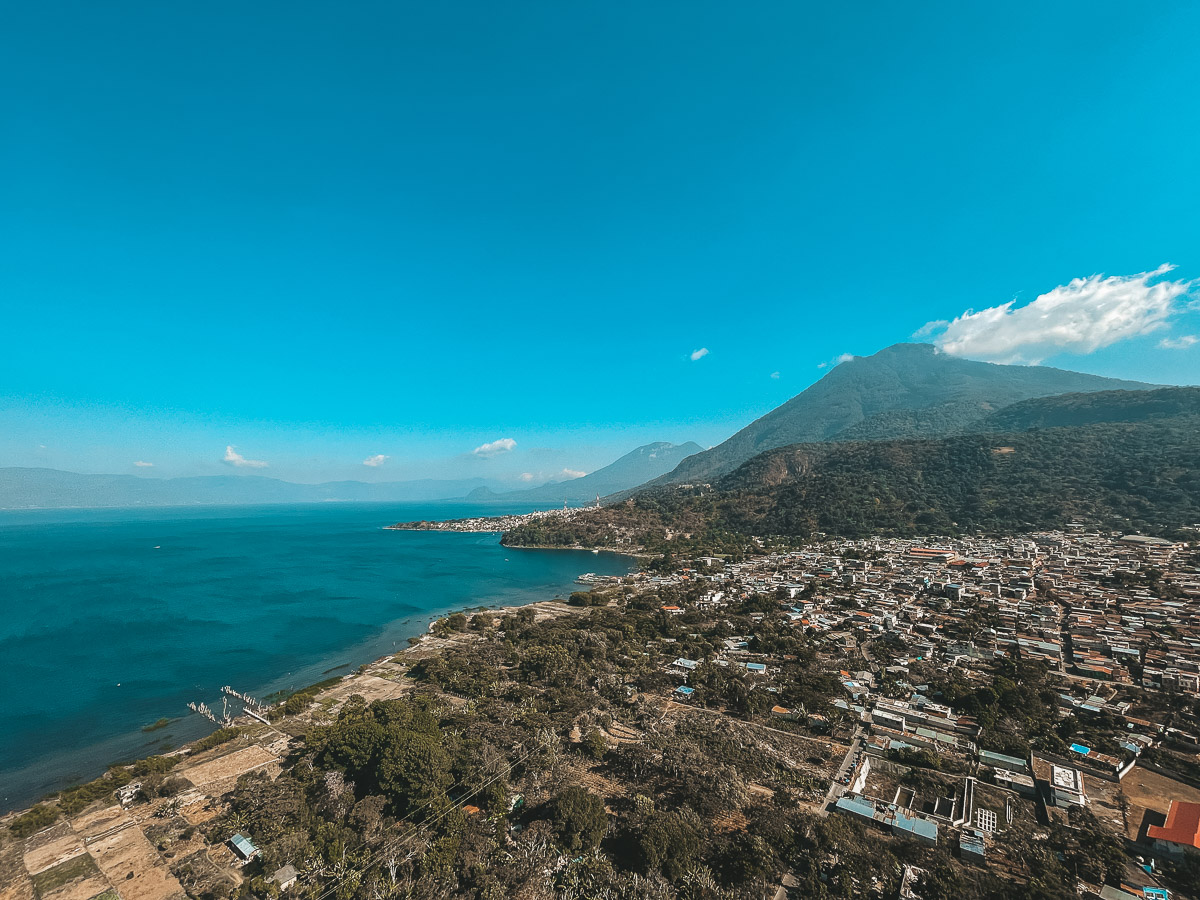 Mirador de Cerro Tzankujil
One of the more popular hikes to do on Lake Atitlan is the Mirador de Cerro Tzankujil. The popular part of this hike isn't the mirador but the cliff jump that is located inside the park. This jump makes for an adrenaline-packed day. It is 12 meters down from the platform into the lake.
Once in the park, you can either go do the jump first or keep hiking up to see the mirador. It really shows you how unique this lake is and why I can see myself coming back year after year.
Santa Catarina Palopo – Mirador Mario Mendez Montenegro
The last hike on this list is located next to the town of Panajachel. If you came by bus/shuttle you most likely came to this town before getting on one of the boats. You will then want to take a tuk-tuk from Panajachel to the town of Santa Catarina Palopo. This should cost between Q5 to Q10. Once there you can begin your hike by following the trail located on Alltrails.
The views of the lake are amazing. If you have completed each hike here then you've really seen the entire lake. The distance is around 6 miles and will take you a few hours but is well worth the trip.
Popular Activities (Other Than Hikes) Around Lake Atitlan
Lake Atitlan is a very special place and has a lot to offer. There are many different hikes, cooking classes, knitting, and Spanish schools that people come from all around the world to do. My favorite activities I did on Lake Atitlan were hiking Indian Nose, San Pedro Volcano hike, and attending a traditional Mayan ceremony. Below are some of the best tours to do in the area in and around San Marcos La Laguna on Lake Atitlan.
My Final Thoughts About the Hikes on Lake Atitlan
When you start to research and see pictures of Lake Atitlan, you become hooked. The beauty of this lake blows you away. That is the reason why I came but the reason I will be coming back is different. The hikes on Lake Atitlan are some of the most adventurous ones I've done in my life. There is nothing like climbing up a volcano to then seeing a massive lake with boats crossing it. The hikes on this list are some of the best in all Guatemala as well. Make yourself a list and start knocking them off one by one!