Juan Diego Falls Hike in El Yunque: The Secret Waterfall
When visiting El Yunque National Forest in Puerto Rico, you'll have many options for hikes to do. With the temporary closure of some trails (as of 2023), that list has shrunk. Juan Diego Falls is a short, beautiful trail to an epic can't-miss waterfall.
It can be a little difficult finding this trail. It isn't on Alltrails or many of the tours you'll go on to El Yunque. This makes Juan Diego Falls somewhat of a secret hike, or at least it used to be.
There are more hikers here now with the closure of La Mina waterfall. With how easy it is to do, Juan Diego Falls needs to be on every itinerary to El Yunque.
What is El Yunque National Forest?
El Yunque National Forest is located in the Northeast region of Puerto Rico. This is the only rainforest in the national forest system of the United States.
Even though its size is small (29,000 acres), it's one of the most biologically diverse in the entire country. There are opportunities to see some unique wildlife as well as beautiful plants.
Purchasing Tickets for El Yunque National Forest
Since the beginning of covid, you have not been able to drive up to the park and get a ticket. It is technically free to enter the park. But there is one problem. Since you have to purchase tickets online, there's a $2 processing fee added. Still a great price!
They only sell 300 tickets per day. Tickets will become available 30 days in advance for a specific date. After that time has passed, that date won't be open until 24 hours ahead of time.
For instance: tickets on August 2nd will become available for the first time on July 2nd. After that date, they will open again at 8 am & at 11 am on August 1st.
Use this link to purchase your El Yunque National Forest tickets today!
How to Get to El Yunque National Forest
Getting to El Yunque National Forest is pretty straightforward. It is located around one hour from San Juan and 30 minutes from Fajardo.
The best way to reach El Yunque is either by renting a car or on a tour.
Unlike some other countries, there isn't much of a public transport or bus system outside of San Juan. Just like the United States. Everyone and their mother has a car.
San Juan to El Yunque
With a Car: If renting a car, you will want to get on the Expreso PR-26 and head East. The fastest route is to stay on PR-66 but this route has tolls. If you don't have a toll pass then you can merge onto PR-3 that has no tolls. This will take around 10 minutes longer.
With a Tour: If you don't rent a car then I suggest this tour from GetYourGuide. You will go hiking and ride some natural water slides!
Fajardo to El Yunque
With a Car: Fejardo is where we stayed when visiting the park. We rented a car and it was an easy drive with zero tolls. You will want to head West on PR-3 until you reach PR-191. Take a left here. There will be a lot of winding roads until you reach the part of the park where you will show your ticket.
With a Tour: If you did rent a car but still decide to go with a tour from Fejardo, then I suggest this tour from GetYourGuide. You will go down multiple water slides and do some cliff jumping!
Want some beach activities to add to your list of things to do in Fajardo? Then I suggest visiting Playa Colora and the natural swimming pool along La Zanja Trail!
How to Get to Juan Diego Falls in El Yunque
Getting to Juan Diego Falls is rather easy. You will want to keep on PR-191. You will drive past La Coca Falls and La Coca Trail. There will be parking between KM 9.6 and 9.9. If you can't get one of the spots in the lot, then you will see others parking on the side of the road.
Juan Diego Creek or Quebrada Juan Diego is the sign you will be looking for. The trailhead begins right before the KM 10 marker.
If you're combining Las Paylas with El Yunque, simply keep heading up on PR-983. This will turn into PR-988 and that will lead you to the entrance of the park.
When hiking the Mount Britton Tower Trail first, then Juan Diego Falls will be on your left instead.
Is Juan Diego Falls Difficult?
Juan Diego Falls is an easy hike and great for all age groups! Hiking to the lower set of waterfalls is under a quarter of a mile long. The trail is easy to follow and you'll encounter nothing truly challenging.
The upper waterfall will require a bit more effort to reach. The trail becomes steep but it isn't for too long.
Quebrada Juan Diego
Quebrada Juan Diego is the creek that flows down from the waterfalls. As you're walking down the trailhead, you will see it on your right. The sign will also say this at the trailhead for Juan Diego Falls.
What to Bring to Juan Diego Falls
It doesn't matter too much what time of the year you come. El Yunque is still a rainforest, so you must come prepared. Below are some of the items I suggest bringing.
Best Places to Stay in San Juan
San Juan is the perfect starting point for your trip to Puerto Rico! There is a lot of history here as well as beautiful beaches. Below are some of the best places to stay in San Juan!
Condado Vanderbilt Hotel: This is a beautiful hotel located right on the water in San Juan! Start your trip off by relaxing poolside or at the beach. Only a few minutes away from Old San Juan.
Fortaleza Suites Old San Juan: If you're like me, then you want to be right where all the action is. This is one of the most beautiful hotels located in the heart of Old San Juan!
1802 at San Juan: This is a great budget option in San Juan. It's hard to find cheap hostel-like accommodations when visiting Puerto Rico but this is one of them.
Best Time of the Year to Visit Puerto Rico
The best time to visit Puerto Rico is usually between the months of December and April. This is considered the dry season and there is normally less rainfall.
If you want to visit Puerto Rico when travel is the cheapest, then the best time to visit is between June and October. During hurricane season, the prices are at a yearly low.
If you're interested in doing hikes like the infinity pool in Naguabo (El Yunque) then I would suggest coming in the dry season.
Similar Activities in Puerto Rico
Juan Diego Falls is a crazy adventure but there are so many different activities that you can do during your visit. Below are some of my favorites, which are free or extremely budget-friendly!
Juan Diego Falls Hiking Details
Distance: This hike is a 1/8th of a mile out & back trail.
Duration: On average it will take people 30 minutes to complete the upper falls trail
Difficulty: I'd rank this hike as easy to moderate. This will depend on which waterfall you go to.
Incline: The elevation for this hike is unavailable.
Hiking Guide: A guide is not needed for this hike and is easily accessible by the public.
My Experience Hiking Juan Diego Falls
After around 40 minutes of driving from Fajardo, we finally arrived at the parking spot right before the trailhead. Thankfully there were plenty of openings. Ideally, I don't want to park on the street.
The hike starts out gradually and slightly increases in elevation gain as you reach the first set of waterfalls known as the lower falls. This is where some people stop and is a great place to take a dip.
The trail to this point is well-defined and overall an easy hike.
Depending on where you're standing you can see the upper waterfall from here.
We hung out for a bit and then got back on the trail to reach the upper falls.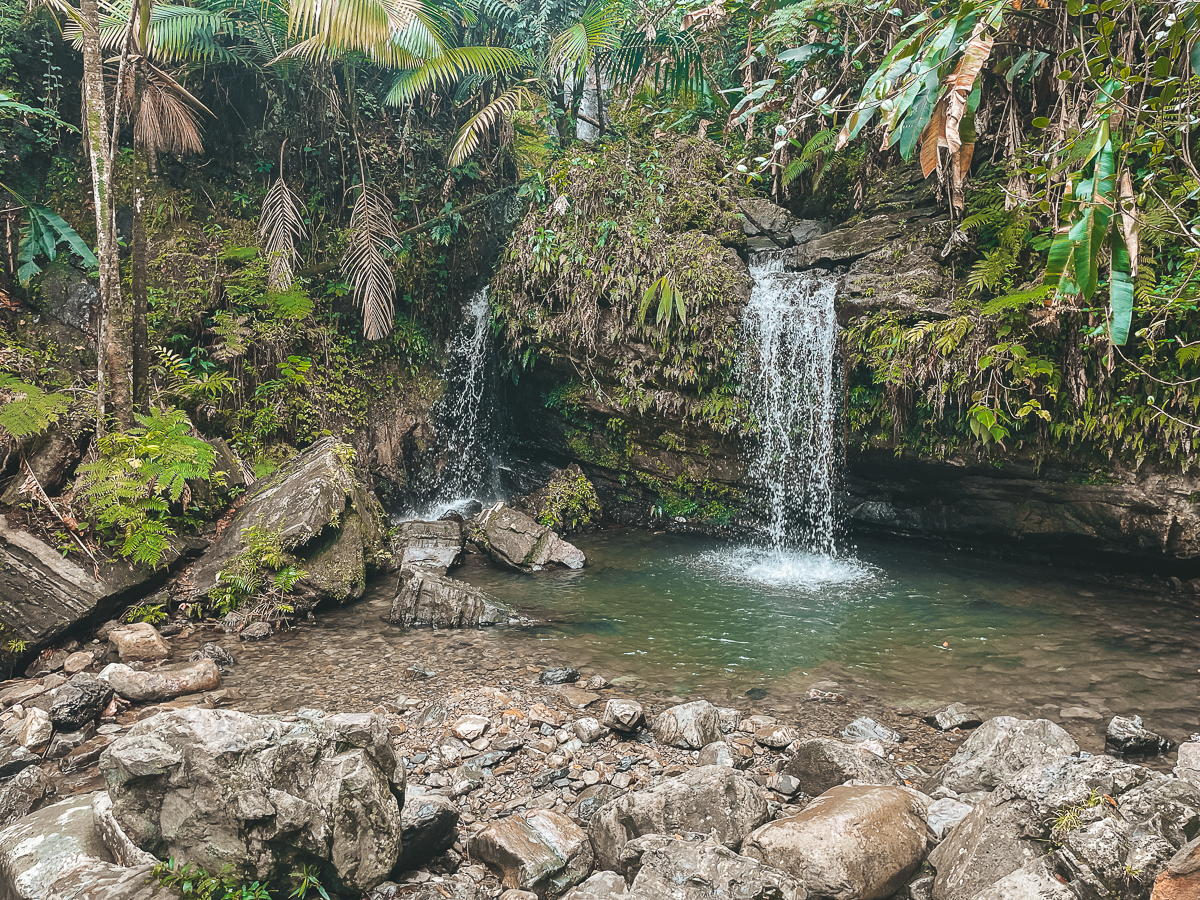 The Upper Falls
After getting back on the trail, it begins to become more steep and in some areas, muddy. I can see it being challenging for some but it's a short trail to the next set of waterfalls.
You will then get to a fork in the trail. If you take a right, you will be going off the "official" trail. This trail leads to other waterfalls and swimming areas.
By going straight, you will head toward the official upper waterfall. The trail begins to go down a steep patch. You'll have to climb over a log and down a (sometimes muddy) face.
This takes only a couple of minutes before you hit the main waterfall!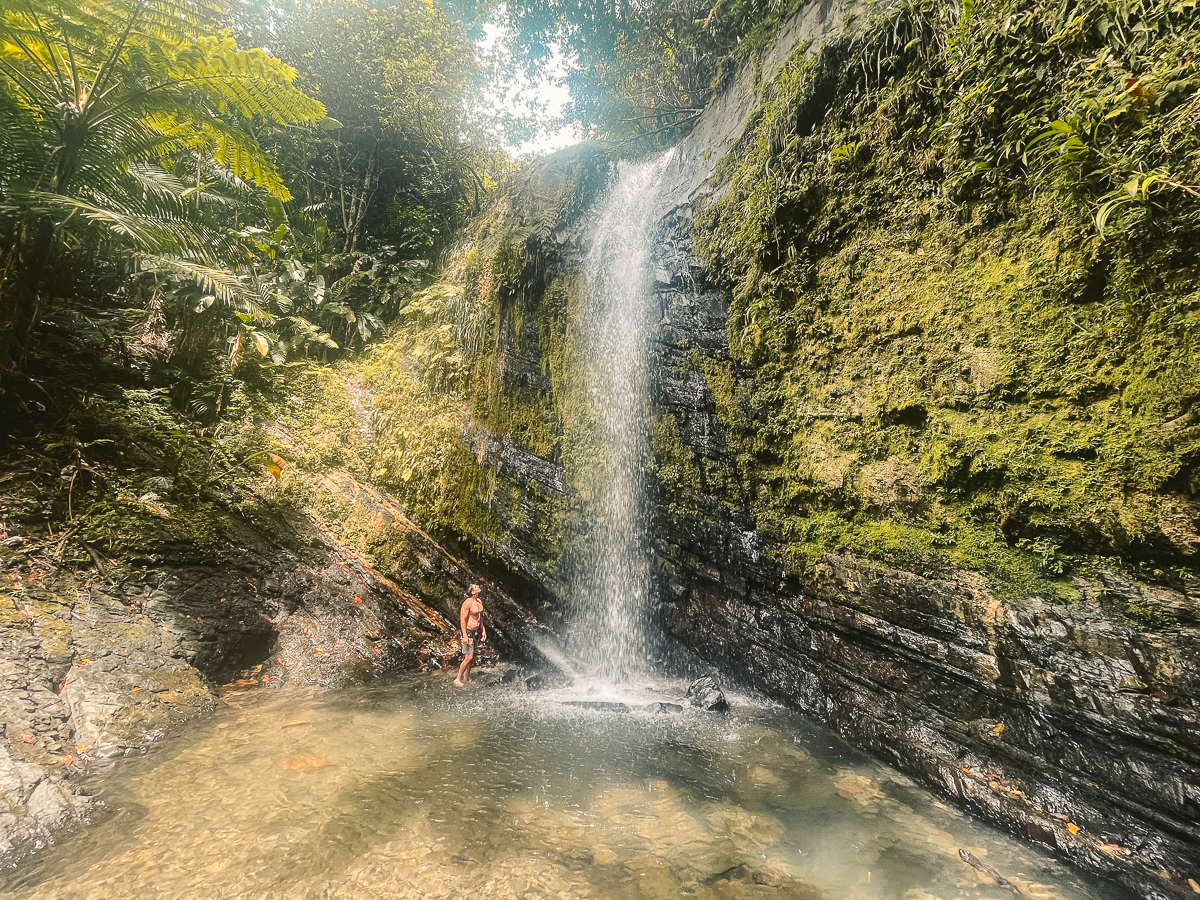 Final Thoughts on Juan Diego Falls in El Yunque
While Juan Diego Falls isn't a challenging hike, it's still a rewarding one. There wasn't much of a line to get photos with the waterfall either. There's a 30-minute parking limit outside the trailhead because it's so popular but this won't be an issue. You can easily add Juan Diego Falls to your El Yunque National Forest itinerary.