Cerro de los Cielos: The Best Viewpoint in Puerto Rico
Puerto Rico has some amazing hikes spread around the island. There's adventure around every corner. One of the greatest viewpoints we saw in all of Puerto Rico was when we hiked Cerro de los Cielos near Cayey.
Cayey is a mountain south of San Juan and about an hour's drive from Ponce. We saw a baseball game here and it was one of our highlights of the tip. The day after we hiked to this viewpoint and it was fantastic besides one thing…
In this guide, I'll go over everything you need to know about the Cerro de los Cielos hike and what the one issue was for us.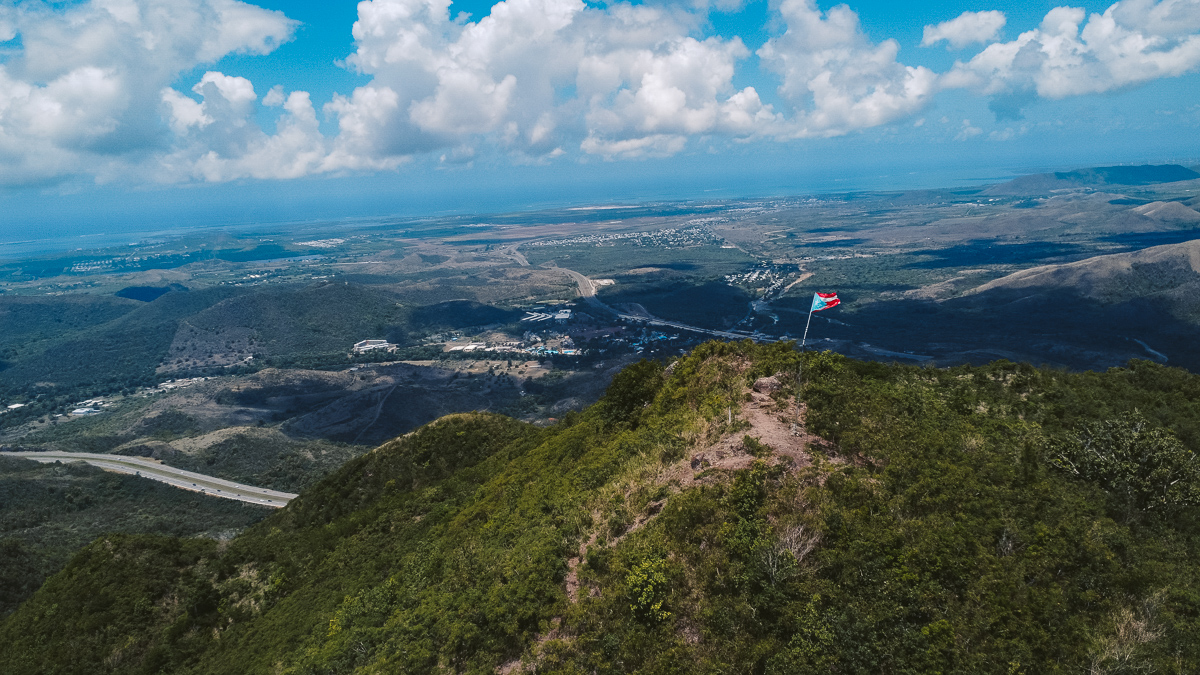 How to Get to Cerro de los Cielos
If you're coming from Cayey then it's only about 30 minute drive. It's only around an hour's drive. That's still not bad!
If you don't want to do this hike as well as many others on the island, then it's necessary you rent a car.
Unfortunately, there isn't a lot of public transport throughout the whole island. Only in the bigger cities like San Juan and Ponce can you find some.
San Juan to Cerro de los Cielos
If you're staying in San Juan then you'll want to make your way south on PR-18. This will change eventually to PR-52.
Stay on PR-52 for the majority of the route until you get very close. You'll have to get off the exit and make a couple of turns. I suggest following the route from Google Maps once you drive for 30 minutes or so.
Another great hike we did that's close to San Juan is the Charco Prieto waterfall. Check it out!
Things to Know Before Hiking to Cerro de los Cielos
When hiking in Puerto Rico (or doing any activity for that matter) you want to be prepared. In this next section, I'll go over information about that hike you should know before starting.
What to Bring
Cerro de los Cielos isn't an easy hike. You'll want to come with the right gear in order to enjoy yourself. Below are the items I suggest bringing with you on this hike.
Wasps
This next section is the reason the hike wasn't as fun as we had hoped. There were hundreds, and I mean hundreds, of wasps at the top of this hike.
These wasps didn't show up until the swing which is two seconds from the main viewpoint. The wasps didn't bother us at all but it was still shocking to see.
I haven't seen so many wasps in one place before. I'm not sure if they are always there or only during the summer but be careful.
Cerro de los Cielos Hiking Details
Distance: This hike is a 3.2-mile out & back trail.
Duration: On average it will take people 2 – 3 hours to finish. This depends on fitness level and time at the top.
Difficulty: I'd rank this hike as moderate because of the heat and steep sections.
Incline: The elevation for this hike is around 1394 feet or 425 meters.
Hiking Guide: A guide is not needed for this hike and is easily accessible by the public
I suggest either downloading the map off Alltrails or using Mapsme.
Travel Insurance
No matter where you're traveling to in the world, you're gonna run into accidents. And you want to be covered when these unforeseen things happen.
That's where SafetyWing travel insurance comes in. SafetyWing is one of the most known travel insurance companies in the world. They work great for how much I travel per year.
You'll be covered up to $250,000 and their reimbursement speed is unmatched. They'll even cover you for a short period of time when arriving back home.
Best Places to Stay in San Juan, Puerto Rico
San Juan is the perfect starting point for your trip to Puerto Rico! There is a lot of history here as well as beautiful beaches. Below are some of the best places to stay in San Juan!
Condado Vanderbilt Hotel: This is a beautiful hotel located right on the water in San Juan! Start your trip off by relaxing poolside or at the beach. Only a few minutes away from Old San Juan.
Fortaleza Suites Old San Juan: If you're like me, then you want to be right where all the action is. This is one of the most beautiful hotels located in the heart of Old San Juan!
1802 at San Juan: This is a great budget option in San Juan. It's hard to find cheap hostel-like accommodations when visiting Puerto Rico but this is one of them.
My Experience Hiking to Cerro de los Cielos
Cerro de los Cielos, also known as El árbol solitario, is an easy trail to follow. There really isn't much to it. The neighbors next to the trailhead are super friendly.
When we were walking up to the trailhead after parking on the side of the road, they stopped us and told us we can park at their house. I love friendly locals more than anything!
Keep walking up the road and the road turns into the trial.
The train can get a bit dense with vegetation in certain sections. But even with this, the trail is pretty straightforward. We walked up some steep sections but overall it was rather gradual.
But let me tell you, it was HOT. This was our first hike in the straight sun and we felt it. Make sure to bring your sunscreen!
After about an hour to an hour and a half, we reached the swing. It was at this point we spotted the hundreds of wasps swarming around each bush or tree.
I've truly never seen anything like it. But we made it this far, we had to walk the next 25 feet to reach the summit. And let me tell you, it was spectacular!
The summit of Cerro de los Cielos reminded me of hikes in Oahu, Hawaii. The highway was maneuvering around the mountain and we could see the ocean at the same time.
Final Thoughts on the Cerro de los Cielos Hike
The Cerro de los Cielos hike was honestly great. It may have been hot but the trail was easy to follow and the view was the cherry on top. If it wasn't for the wasps, then this would have been in contention for my favorite hike in Puerto Rico. The wasps suck but I still think it's worth visiting! Your jaw will drop at the 360 views this mountain in Puerto Rico offers.
Thank you for reading my guide on Cerro de los Cielos hike in Puerto Rico! I hope this blog has helped you plan your itinerary to this beautiful island.