Charco Prieto Waterfall: A Day Trip from San Juan
When I think of Puerto Rico, I think of a tropical paradise with waterfalls around every corner. But the reality is that not many people get to see these natural wonders. Chances are that could be you, especially if you don't travel to El Yunque National Forest. What if I told you there's another waterfall near San Juan that you could visit instead? Charco Prieto waterfall is an excellent day trip from San Juan if you're short on time.
The great thing about going to this waterfall instead of the ones like Juan Diego Falls is that there will be a lot fewer people there. This makes or breaks a nature experience for me.
In this guide, I will go over all the details you need to know about Charco Prieto Waterfall and if it's worth visiting.
What is Charco Prieto?
Charco Prieto is a 200-foot high (or 60 meters) waterfall in Puerto Rico. The trail to get here is generally easy to follow and not that strenuous. It's a great trip for any adventurer!
The roads in the mountains of Puerto Rico are super winding and sometimes steep. You'll know you've arrived when you see the Charco Prieto sign located in the picture above.
Where is Charco Prieto Waterfall?
Charco Prieto waterfall is located just 45 minutes south of San Juan. The closest town to the trailhead is called Barrio Nuevo, in the Bayamón region.
Driving through these parts of Puerto Rico gave me the feeling of what local life here on the island is like.
How to Get to Charco Prieto Waterfall
Puerto Rico isn't like other Latin American countries I've been to. Unless you book a tour, you'll need to rent a car to do this hike.
I suggest looking at Discovercars for all of the best deals on cars in Puerto Rico! It's a metasearch engine. This means they search every dealership on the island to ensure you get the best price.
San Juan to Charco Prieto Waterfall
If you're coming from San Juan, you'll want to head down PR-2. After a few minutes, merge onto PR-20 towards Guaynabo.
After another few minutes, you'll take the exit that leads you to PR-837. The roads are windy and there're many turns. I suggest putting the address into Google Maps.
We parked close to the bridge with the Charco Prieto sign. The trailhead is very close to that.
Things to Know Before Hiking to Charco Prieto Waterfall
These hikes in Puerto Rico are a totally different ball game than the activities you'll be doing in San Juan. Most people know what to bring to the beach. You don't need much.
In this next section, I'll be going over some things that I think are important to know before you head off to do this hike.
What to Bring
The last thing you want to do is show up to a hike in the middle of the jungle and wish you brought something that you didn't. That can make the experience not enjoyable.
Even though the hike is considered easy, here are a few things I think you should bring with you.
Snakes
When we were reading the many reviews of this hike on Alltrails, the topic that kept being talked about was the snakes. Personally, we didn't see any on this hike but they are there.
The snake you want to watch out for is the Puerto Rican Racer. This is a brown snake that is venomous and could hospitalize you for a couple of days.
Don't let this deter you from doing the hike. On our last hike in Puerto Rico, we saw four snakes but they are more afraid of you than you are of it.
Just be sure to watch where you're putting your hands when climbing because they like to sunbathe.
Charco Prieto Waterfall Hiking Details
Distance: This hike is a 1-mile out & back trail.
Duration: On average it will take people 45 minutes to an hour to finish. This depends on fitness level and time at the swimming hole.
Difficulty: I'd rank this hike as easy to moderate because of the potential wet terrain and river crossings.
Incline: The elevation for this hike is around 285 feet or 87 meters.
Hiking Guide: A guide is not needed for this hike and is easily accessible by the public
I suggest downloading Mapsme offline map of the region for the trail.
Travel Insurance
No matter where you're traveling in the world, especially Puerto Rico, it's smart to be covered if an accident occurs.
My go-to and also one of the best in the business today is SafetyWing. They offer multiple plans to fit your style of travel. You can choose a long-term and short-term plan!
And don't worry, you'll be covered for a short period of time once we arrive back home. You'll have coverage of up to $250,000 and the time they take to reimburse you is unmatched!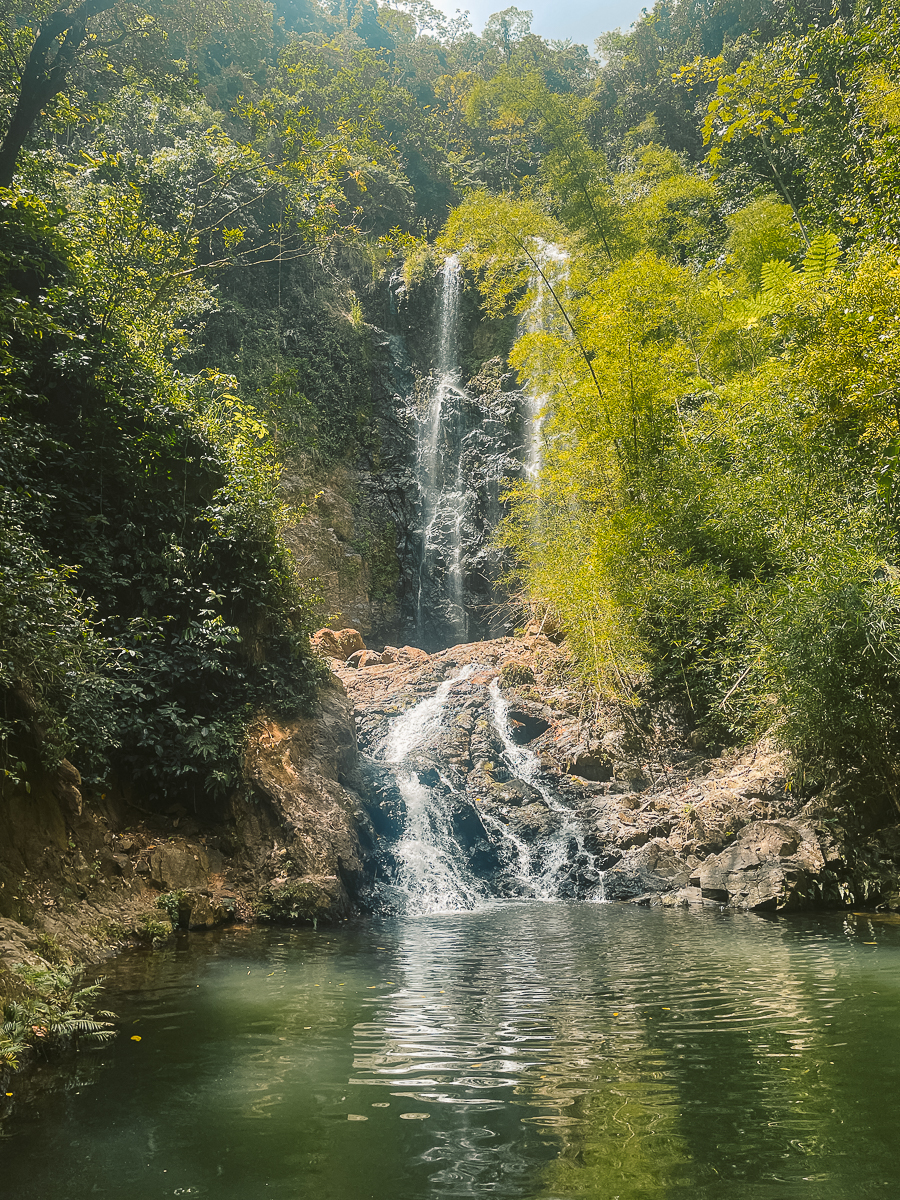 FAQs About Charco Prieto Waterfall
What is the Most Famous Waterfall in Puerto Rico?
There are many waterfalls all around Puerto Rico but many say La Coca Falls is the most famous waterfall in Puerto Rico. This has a large part to do with it being located in El Yunque.
If you're looking for more of an adventure when visiting, I suggest hiking down La Coca Trail to a wonderful swimming hole. This trail begins on your left shortly after La Coca Falls.
How Many Waterfalls are in Puerto Rico?
There are around 60 waterfalls in Puerto Rico that are possible to visit. But it's said that there could be over 500 waterfalls on the whole island ranging in different sizes.
Some waterfalls that I suggest would be Charco Pilon and Cascada Gozalandia. If you're looking for more of a water adventure, then check out Las Paylas and Las Tinajas Falls.
Does Puerto Rico Have Waterfalls?
Yes! Puerto Rico is home to over 500 different waterfalls all over the island. Better get exploring!
What is the Largest Waterfall in Puerto Rico?
La Niebla is known to have the largest waterfall in Puerto Rico. Check it out here on Alltrails if you're interested in visiting.
Is Charco Prieto Part of El Yunque?
Charco Prieto is not part of El Yunque National Forest. I do suggest visiting that park as it's one of the top things to do in Puerto Rico.
One of the best hikes to do in the park is Mount Britton Tower Trail. Hopefully, you have a clearer day in the park than we did!
Best Places to Stay in San Juan
San Juan is the perfect starting point for your trip to Puerto Rico! There is a lot of history here as well as beautiful beaches. Below are some of the best places to stay in San Juan!
Condado Vanderbilt Hotel: This is a beautiful hotel located right on the water in San Juan! Start your trip off by relaxing poolside or at the beach. Only a few minutes away from Old San Juan.
Fortaleza Suites Old San Juan: If you're like me, then you want to be right where all the action is. This is one of the most beautiful hotels located in the heart of Old San Juan!
1802 at San Juan: This is a great budget option in San Juan. It's hard to find cheap hostel-like accommodations when visiting Puerto Rico but this is one of them.
Similar Activities in Puerto Rico
Charco Prieto Waterfall is a crazy adventure but there are so many different activities that you can do during your visit. Below are some of my favorites, which are free or extremely budget-friendly!
My Experience Hiking to Charco Prieto Waterfall
We were visiting Puerto Rico for six weeks and been to many places around the island. So instead of doing this hike while staying in San Juan, we did it a little bit later.
We were driving from the town of Cayey, which by the way I highly suggest visiting! The distance on Google Maps to Charco Prieto was around the same as from San Juan.
It said 50 minutes on our maps but ended up taking us 90 minutes. These Puerto Rican mountain roads are no joke!
When we finally arrived, we found a spot on the side of the road near the bridge. There were no other cars around, my favorite site!
If you follow Mapsme, the trail will be easy to find. Just look for the dotted lines on the map and there's a wooden Puerto Rican flag by it.
The trail begins through dense brush of bushes and greenery. Almost immediately upon starting the hike we had to walk across a river. Thankfully this was fairly small.
The easiest way to make your way to the end is by following the river. There will be trails on the side of it leading the way. Sometimes not as apparent as others.
At this point, we were anxiously looking for snakes around every corner. The newest comment on Alltrails mentioned they saw six snakes! I don't know about you but that's a lot.
So seeing that comment made it seem like these guys were everywhere.
There were some sections when we crossed the river and missed a side trail. But a lot of the rocks are so big that it's not too big of a deal.
Every time we got to a new river crossing, I looked over to see if I could see a trail on the other side.
The trail is actually quite short and fun! I would say the way back was probably better because we weren't nervous about seeing snakes anymore.
Nevertheless, after a few more river crossings we could start to hear water splashing down. That could only mean one thing, we were close.
Depending on what time of year you visit, there's a chance some of these rocks will be slippery. Be careful when going and try to go on a day after no rain!
Upon arriving at Charco Prieto Waterfall, we saw that the path stopped in front of a large body of water. It was here that you had to then climb to get to the main section.
If you're feeling adventurous then go right ahead! We tried to fly the drone here but it GPS was giving us trouble. Maybe next time, right?
The waterfall was stunning and there were no other souls around. We loved it! On our way back we saw a few others heading to the waterfall.
If you want to do this hike with little to no people, I suggest going early and on a weekday.
Final Thoughts on the Charco Prieto Waterfall
If you're staying in San Juan for an extended period of time, then this hike is a must! Charco Prieto is one of the largest waterfalls in all of Puerto Rico. Combining that with it being a short and easy hike makes it great for the whole family. Just watch out for snakes! Puerto Rico is full of adventure. I would suggest spending less time in San Juan and seeing what the other parts of the island have to offer.
Thank you for reading my guide on hiking to the Charco Prieto waterfall! Hopefully, this has helped you plan your itinerary to this spectacular island.