Mount Britton Tower Trail in El Yunque: Things to Know
Puerto Rico is known for its biodiversity and its beaches (of course)! You'll most likely visit El Yunque when traveling to Puerto Rico. There are many trails to go on in this fantastic park! One of the ones I suggest is hiking the Mount Britton Tower trail!
There are a few towers you can visit in the park. The top two towers to visit are Mt. Britton Tower and El Yunque Peak Tower.
With the damage from hurricanes in the past, some trails are not open like La Mina waterfall and a portion of the 5-mile trail to El Yunque Peak Tower.
In this blog, I'll go over why you should hike the Mount Britton Tower Trail as well as some helpful tips!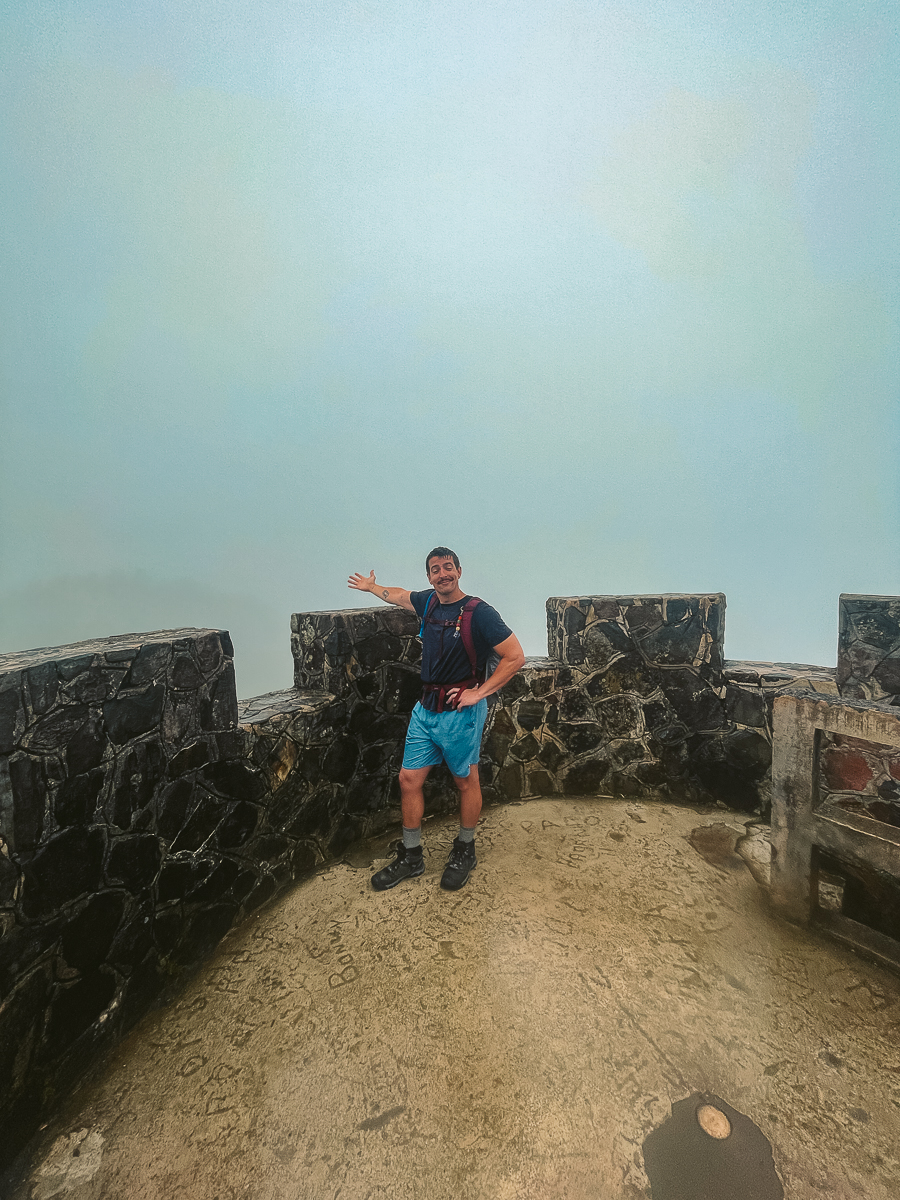 What is El Yunque National Forest?
El Yunque National Forest is a highlight of any trip to Puerto Rico. This rainforest is located in the Northwestern part of the island. It's also the only rainforest in the United States!
Even though its size is small (29,000 acres), it's one of the most biologically diverse in the entire country. There are opportunities to see some unique wildlife as well as beautiful plants.
Purchasing tickets for El Yunque National Forest
When visiting El Yunque, you must have a ticket to enter. There are only a certain amount of cars allowed in the park per day. Before Covid, you used to be able to get the ticket for free.
Since then, they have gone to a digital-only system and this requires a processing fee. So, in total, the cost to enter the park is $2.
They only sell 300 tickets per day. Tickets will become available 30 days in advance for a specific date. After that time has passed, that date won't be open until 24 hours ahead of time.
For instance: tickets on August 2nd will become available for the first time on July 2nd. After that date, they will open again at 8 am & at 11 am on August 1st.
Use this link to purchase your El Yunque National Forest tickets today!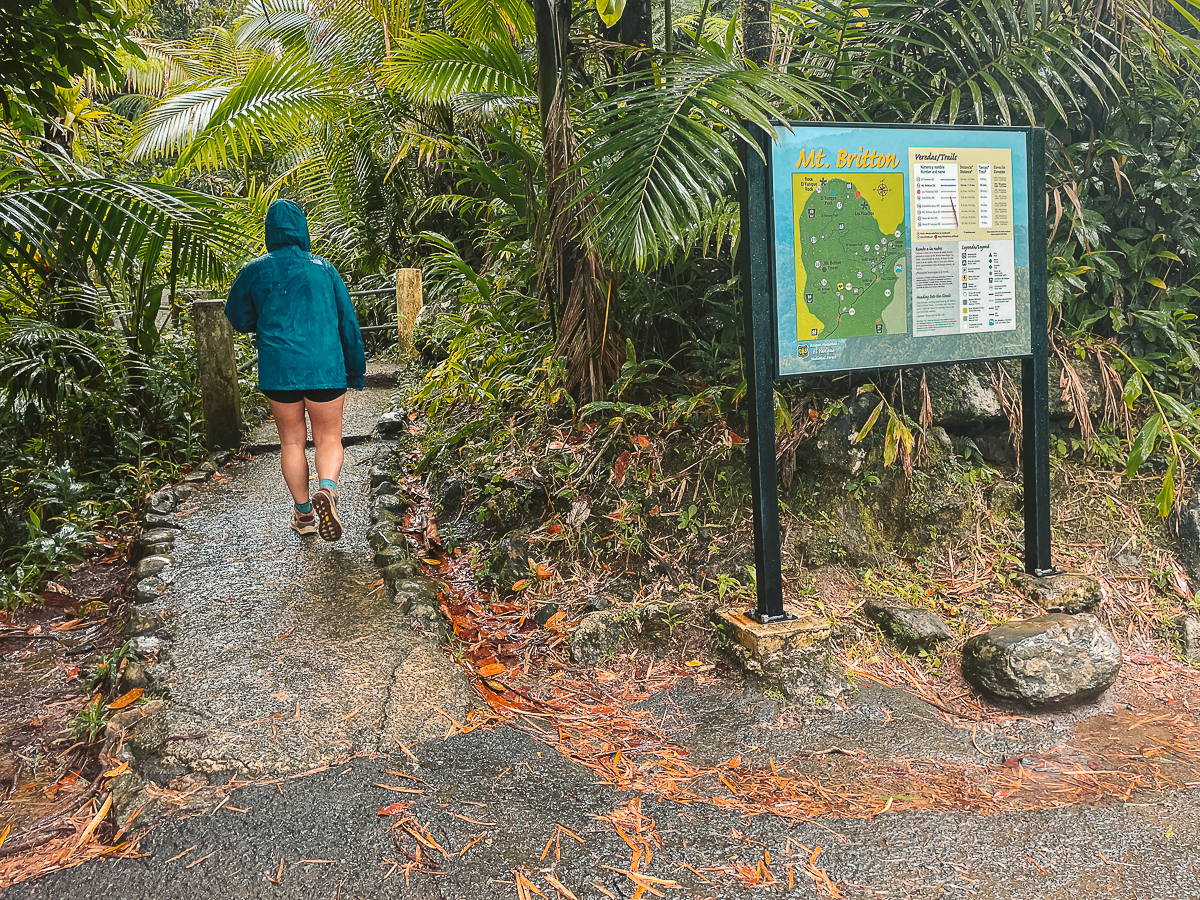 How to Get to El Yunque National Forest
Getting to El Yunque National Forest is pretty straightforward. It is located around one hour from San Juan and 30 minutes from Fajardo.
The best way to reach El Yunque is either by renting a car or on a tour.
Unlike some other countries, there isn't much of a public transport or bus system outside of San Juan. Just like the United States. Everyone and their mother has a car.
How to Get to Mount Britton Tower Trail
Once you enter El Yunque National Forest on PR-191, you'll pass a few other attractions along the way to Mount Britton Tower Trail.
If you have time or are here for multiple days, you can try out other hikes like Juan Diego Falls, La Coca Trail or relax at Las Paylas.
After some time, you'll pass La Coca Falls on your right and further up, Juan Diego Falls as well. Keep driving until you can take a sharp right on PR-9938.
Along this road is the trailhead for Mount Britton Tower Trail.
Other Activities to Do Near Fajardo:
Things to know About Mount Britton Tower Trail
Mount Britton Tower Trail is a very popular hike to do in El Yunque. I highly suggest getting the early ticket into the park so you can beat the crowd.
Arriving early to the park is a great way to try and avoid the bad weather. We arrived later than we would have liked. It was raining and super foggy at the top of the tower!
Below are some other things to keep in mind when hiking Mount Britton Tower Trail.
Mount Britton Tower Trail Hiking Details
Distance: This hike is a 1.6-mile out & back trail.
Duration: On average it will take people 1 – 1.5 hours to finish. This depends on fitness level and time at the tower.
Difficulty: I'd rank this hike as easy to moderate depending on the conditions.
Incline: The elevation for this hike is around 649 feet or 198 meters.
Hiking Guide: A guide is not needed for this hike and is easily accessible by the public.
Is Mount Britton Tower Trail Difficult?
Mount Britton Tower Trail is not a difficult hike. It's great for all fitness levels and for the whole family in general!
The actual trail is in great condition and is paved. This is beneficial for multiple reasons. It'll help create fewer erosion problems and gives the trail access to more people.
What to Bring
Hiking in El Yunque is different than a lot of locations across the United States. It's a rainforest after all right…so you want to come prepared!
Below are some things I suggest bringing with you when visiting the park.
Where to Park
Parking in El Yunque National Forest can sometimes be difficult. When doing popular hikes like Mount Britton Tower Trail, you'll have a few options.
When you drive past the trailhead on your right, there'll be some more designated spots along the road. Also a great few from here!
Still, try to arrive at the trail early so you can easily find a parking spot.
Best Places to Stay in San Juan
San Juan is the perfect starting point for your trip to Puerto Rico! There is a lot of history here as well as beautiful beaches. Below are some of the best places to stay in San Juan!
Similar Activities in Puerto Rico
Mount Britton Tower Trail is a crazy adventure but there are so many different activities that you can do during your visit. Below are some of my favorites, which are free or extremely budget-friendly!
My Experience Hiking Mount Britton Tower Trail
After a few days of staying in San Juan and seeing the history there, we headed to Fajardo. It was nice to get out of the big city and start to see some nature!
Our first day hiking in Puerto Rico we headed to El Yunque. Basically, this whole time in Fajardo would be focused on this area with some others sprinkled in.
We then headed to El Yunque to hike Mount Britton Tower Trail and also hike La Coca trail.
The rain had just started as we found a parking spot. We felt the effects of being in a rainforest immediately, and I was all for it.
Paved Trail to the Road
I wasn't expecting the trail to be paved but it was a nice treat! It was rather small, so anytime someone came from the opposite way, we had to stand to the side.
The trail during this part isn't long, maybe half a mile long. There are a few shelters you can sit underneath if you need a break or want to get away from the rain.
After around 15 minutes or so, you'll reach the road. From here you'll have to follow it to the right until you get back on the Mount Britton Tower Trail.
Arriving at Mt. Britton Tower
We had hoped that the sky would clear up by the time when arrived at Mount Britton Tower. It didn't but that doesn't mean it was a waste!
The hike was great and the perfect warmup for the rest of our trip to Puerto Rico.
Final Thoughts on the Mount Britton Tower Trail
If the weather panned out, this could have been one of our favorite hikes during our trip. Still, I think it's worth the hike up because it's much shorter and has the opportunity to offer spectacular views! Be sure to get there early to try and have the place to yourself.
Thanks for reading my guide on the Mount Britton Tower Trail! I hope this has helped you plan your Puerto Rico itinerary.