Las Paylas (Las Pailas): An Epic Natural Waterslide
Puerto Rico is full of adventure around every corner. And all of it is either free or super cheap! I seem to find new waterfalls or natural waterslides in every new location we go to. If you're looking for a great day in the water, I suggest visiting Las Paylas!
Also called Las Pailas, Las Paylas is something you can do before visiting El Yunque or after. It was more fun than I thought it would be. Make sure you get there early though!
Fajardo is a fantastic launching point for this activity. Even if you're basing yourself in San Juan (as most do) I still would highly recommend visiting the natural waterslide of Las Paylas.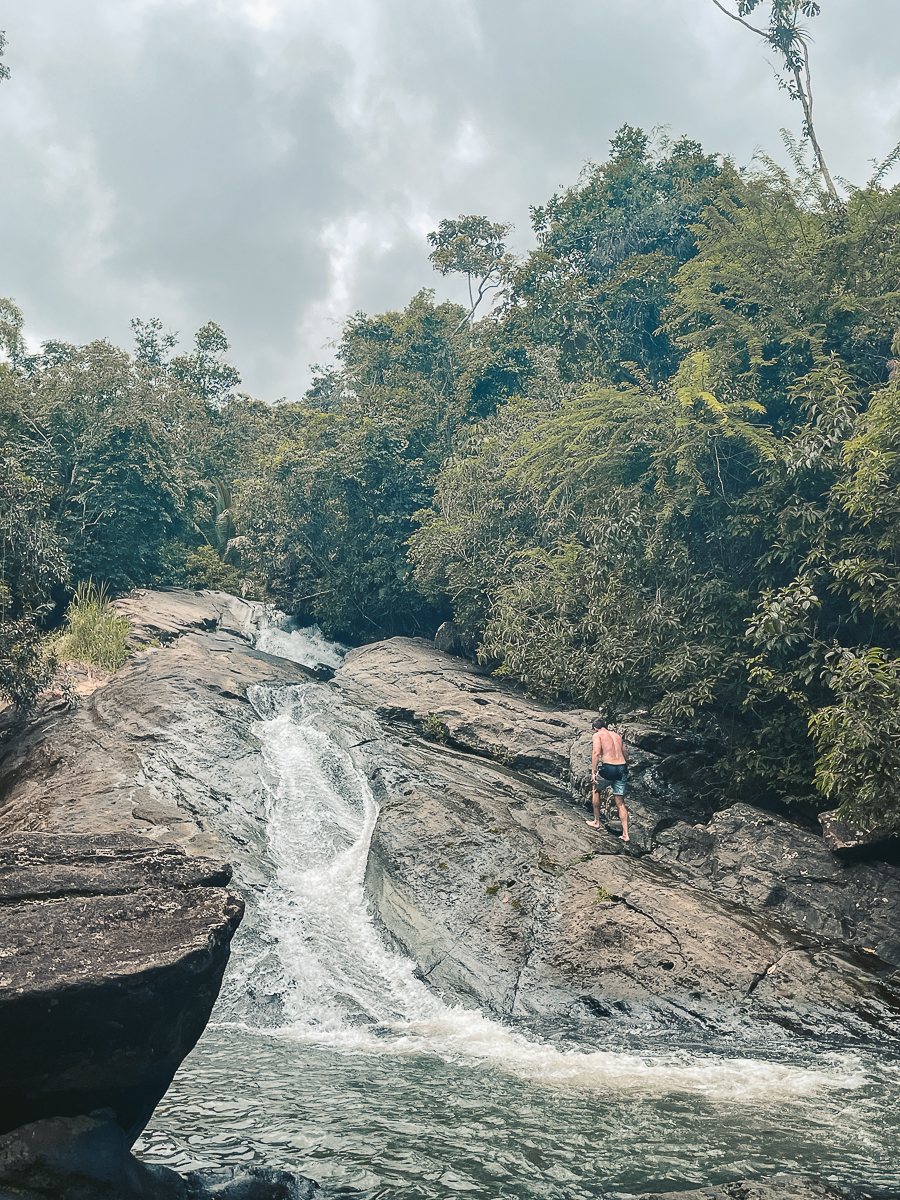 What is Las Paylas (Las Pailas)?
Las Paylas is a natural waterslide as well as an overall swimming spot in Puerto Rico. This was one of our favorite activities that we have done in the first couple of weeks here.
When you arrive you will see the waterslide to your left. You're able to pick multiple spots to go down. A lot of people were also just hanging out in the water watching others go down.
If you keep following the water down it will go through other rock formations. At the end of this will be another smaller slide and a bigger body of water.
A lot of people were hanging out here and even cliff-jumping!
Where is Las Paylas (Las Pailas)?
Las Paylas (also called Las Pailas) is located outside of El Yunque National Forest. It's also only a 12-minute drive away from the popular Liquillo Beach in Luquillo.
Even though it's technically not in El Yunque premises, you're in the rainforest. You can do hikes like La Coca Trail and Juan Diego Falls beforehand and relax at Las Pailas afterward.
How to Get to Las Paylas (Las Pailas)
Getting to Las Paylas is fairly easy if you have a rental car. If you don't have one then finding a tour to this specific spot might be difficult. I would suggest taking a tour from San Juan that will take you to a different natural waterslide with a rope swing.
San Juan to Las Paylas
Driving from San Juan to Las Paylas (Las Pailas) will take around an hour. You will want to get on PR-66 and head East.
The fastest route is to stay on PR-66 but this route has tolls. If you don't have a toll pass then you can merge onto PR-3 that has no tolls. This will take around 10 minutes longer.
Once you arrive at Luqillo you will want to take a right on PR-991 and then another right on PR-983.
Fajardo to Las Paylas
Fajardo is where we stayed when visiting the park. We rented a car and it was an easy drive with zero tolls. You will want to head West on PR-3 until you reach Luquillo.
Take a left here on PR-991. After a few minutes on this road, you will then want to take a right on PR-983.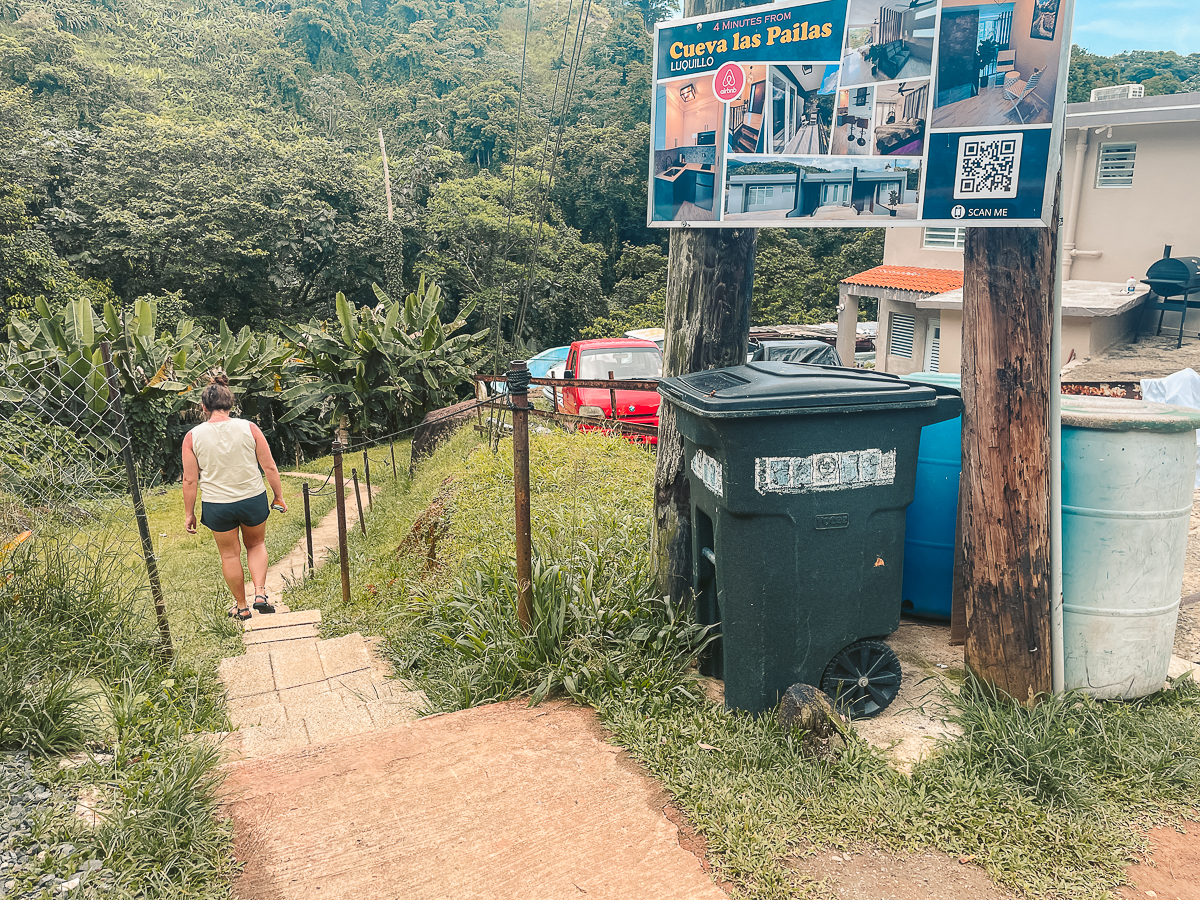 Things to Know Before Going to Las Paylas (Las Pailas)
Puerto Rico is a unique and fun experience for all. There isn't anything that quite compares to it in the United States. Here are a few things to know before visiting.
Things to Bring
Even though Las Pailas isn't technically in the official part of El Yunque, you're still in a rainforest. You'll want to bring the proper items to fully enjoy your time!
Below are a few items that I suggest bringing with you:
Best Time to Visit
Puerto Rico is a great destination to visit year-round. The best time for the least amount of rainfall is during the dry season. This normally lasts from December through March.
If you want cheaper prices then I would suggest visiting during the months of April to August. The cheapest months to visit is between August through November. This is also hurricane season.
If you're interested in doing hikes like the infinity pool in Naguabo (El Yunque) then I would suggest coming in the dry season.
Parking for Las Paylas
Las Paylas or Las Pailas is located directly behind someone's home. When you reach the location, there will be someone outside directing traffic on where to park.
The cost to park here is $5 per car and $1 per person. This isn't a bad deal, so we did this option.
I've heard it's possible to park up the street and take a different trail. I didn't see how the trail was but we saw some people walking down it.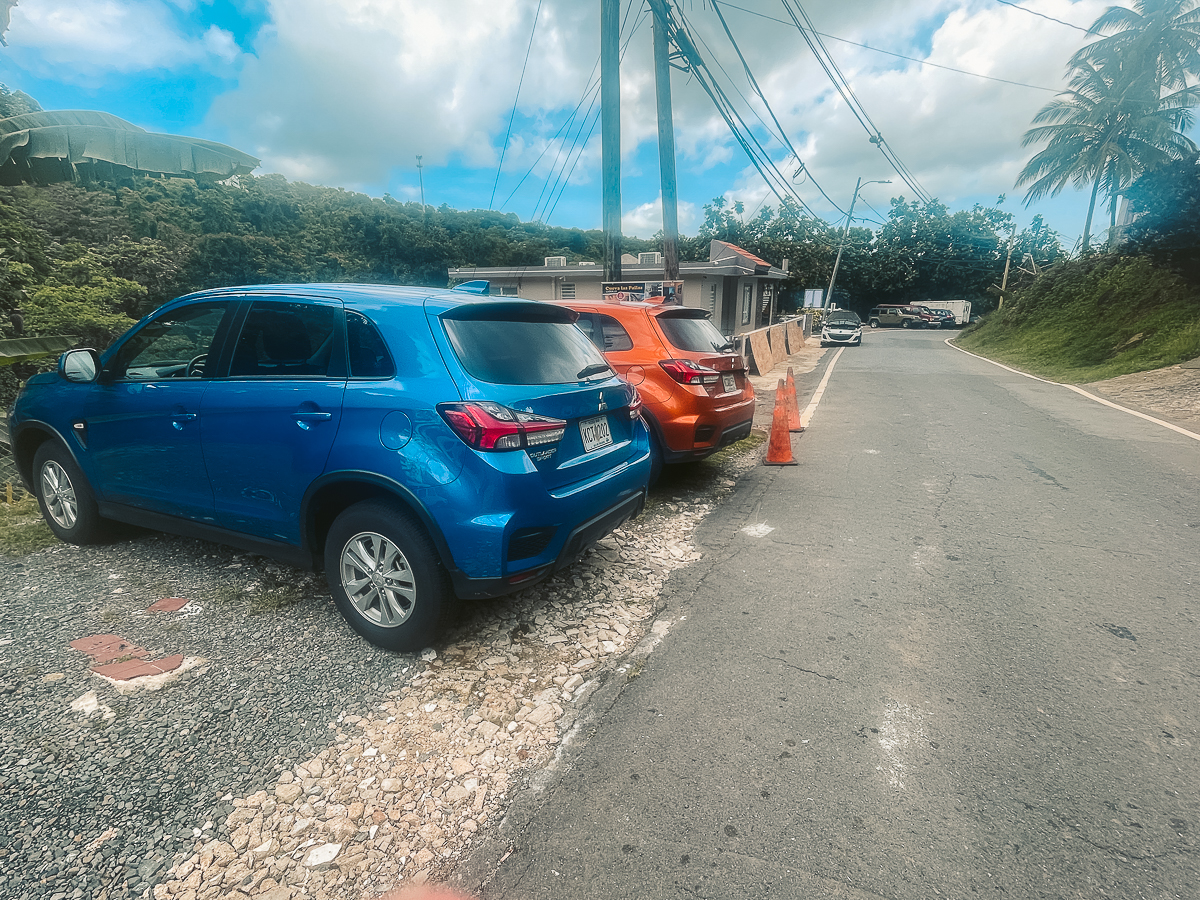 What to Do at Las Paylas (Las Pailas)
When visiting Las Pailas, there are activities to do for the whole family. You can hang out here all day if you wanted! I have met people who had visited multiple times during their trip to Puerto Rico.
This is completely different than activities like hiking the Mount Britton Tower Trail. Below are the different activities you can do while visiting here.
Go Down the Natural Waterslide
The main attraction at Las Paylas is the waterslide. The upper waterslide is around 30 feet long. This can change depending on where you start.
My number one tip when going down is to keep your hands out straight to the side. This will help you not hit the side. If you tuck your legs and cross your arms, you will go fast and it will likely not be as fun.
There is also a lower natural waterslide here. If you start heading to the bigger body of water to the right, you will see a small waterfall. This is a smaller slide than many people do.
You can go on it and take some pictures while in the water below!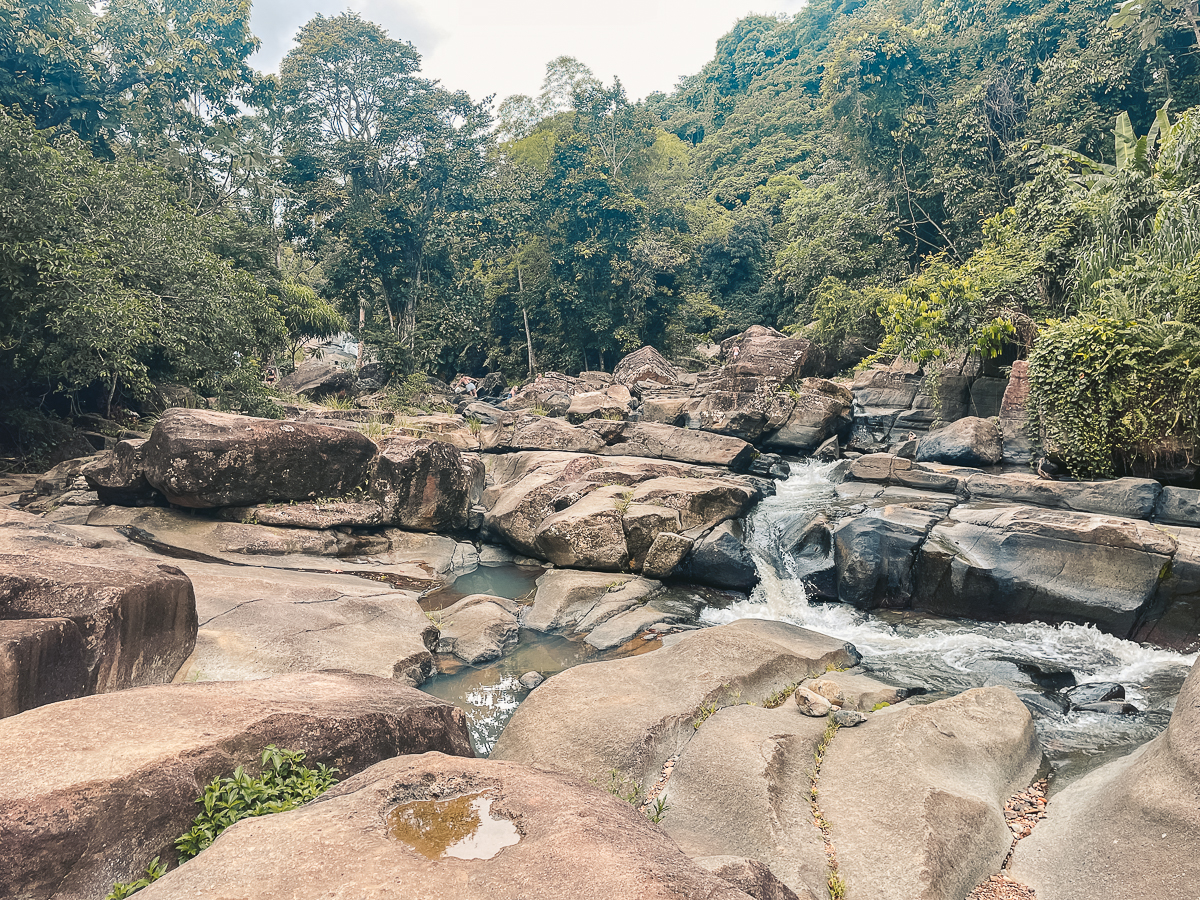 Cliff Jump
As you follow the rocks and water down to the right you will see a larger body of water. A lot of people use this area to hang out as it's much larger than the upper side.
There's a big rock you're able to jump off of. I didn't do it myself but I saw others do it. Be careful as I've heard it's shallower than you expect.
Interested in other water activities in Fajardo? Check out Playa Colora and La Zanja trail!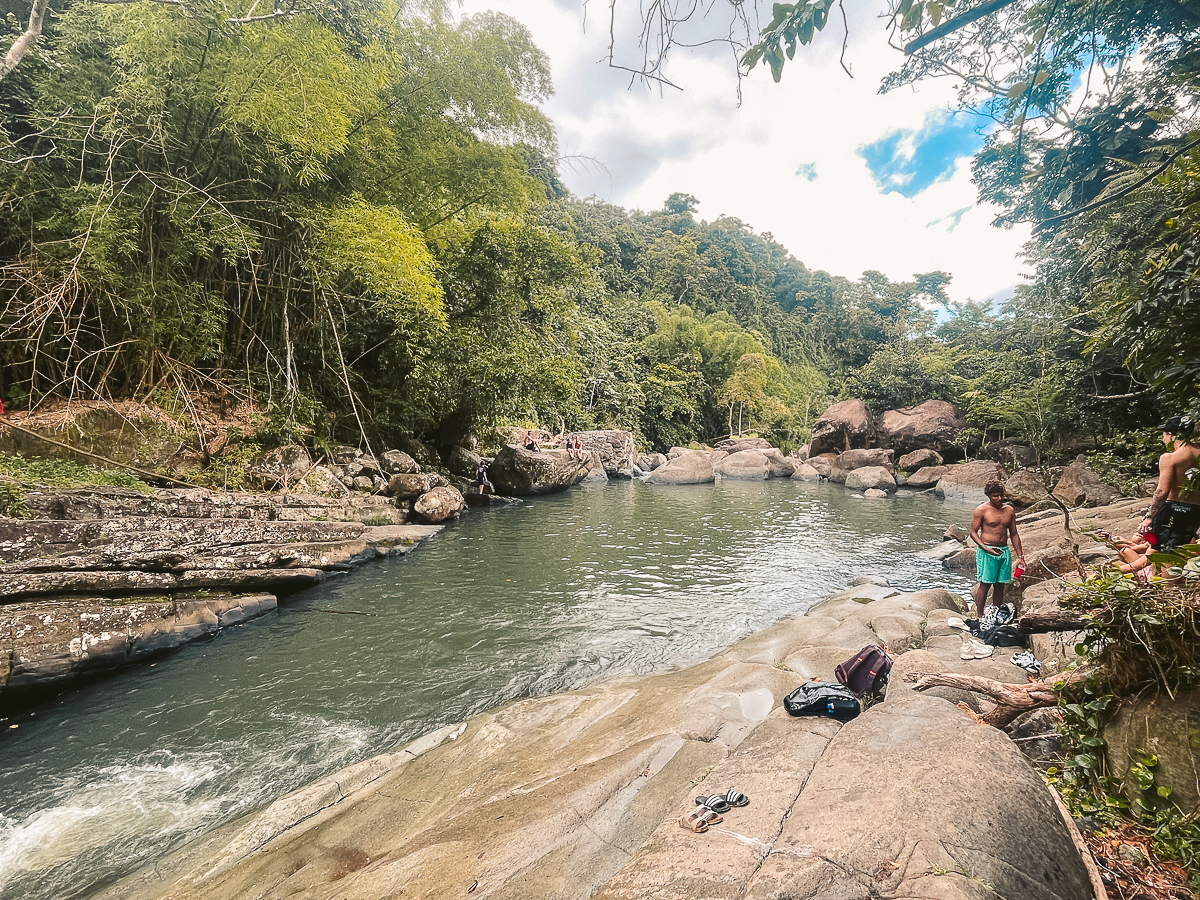 Best Places to Stay in San Juan
San Juan is the perfect starting point for your trip to Puerto Rico! There is a lot of history here as well as beautiful beaches. Below are some of the best places to stay in San Juan!
Condado Vanderbilt Hotel: This is a beautiful hotel located right on the water in San Juan! Start your trip off by relaxing poolside or at the beach. Only a few minutes away from Old San Juan.
Fortaleza Suites Old San Juan: If you're like me, then you want to be right where all the action is. This is one of the most beautiful hotels located in the heart of Old San Juan!
1802 at San Juan: This is a great budget option in San Juan. It's hard to find cheap hostel-like accommodations when visiting Puerto Rico but this is one of them.
Similar Activities in Puerto Rico
Las Paylas is a crazy adventure but there are so many different activities that you can do during your visit. Below are some of my favorites, which are free or extremely budget-friendly!
My Experience at Las Paylas (Las Pailas)
I'm not sure what I was expecting when I visited Las Paylas. We left later than I would have liked, so naturally I was nervous about there being a large crowd.
There was a larger crowd than I would have liked but it wasn't bad. As we left there were larger groups coming down. I would suggest trying to get there around 9 am or 10 am.
My favorite part was going down the natural waterslide. Shocking!
It's crazy how smooth the rock is. I've never experienced natural waterslides are great as the ones here in Puerto Rico. And all for only $7!
We were heading to Las Tinajas Falls, so we didn't stay too long. We could have easily stayed down at the larger swimming hole for a couple more hours.
The greatest part was everyone cheering you on when you went down the slide. Everyone is on the same team!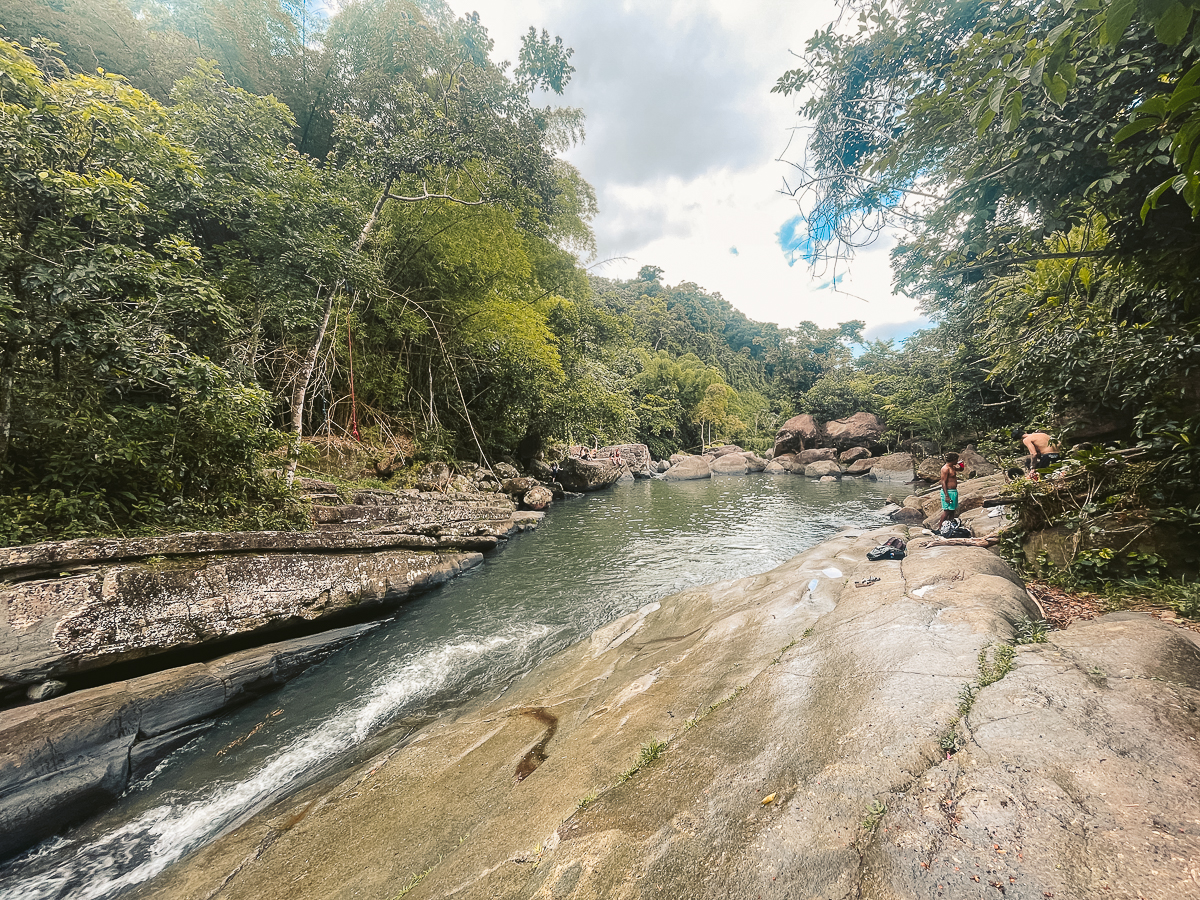 Final Thoughts on the Las Paylas Natural Waterslide
I wish I had more time because I could have gone down the natural waterslide 10 more times if I could! Even the surrounding area was amazing to hang around at. It's nice that they have different sections for people to hang out at. This helps lower the crowd size at the upper waterslide. Overall, if you're looking for a cheap and easy activity near San Juan then I highly suggest visiting Las Paylas (Las Pailas)!
Thank you for reading my guide on Las Paylas! I hope this motivates you to go out and have an adventure of a lifetime.