Cabo Rojo Lighthouse Hike: Visiting Puente de Piedra
There is a spot in Puerto Rico that you might have seen on Instagram. A natural bridge by the name of Puente de Piedra. This bridge is along the Cabo Rojo Lighthouse trail and showcases some of the best views on the island.
Cabo Rojo is a great destination that is located near popular attractions like Charco El Pilon and Gozalandia waterfall. There is so much to do here that it should be on everyone's itinerary. The heat during this day was brutal but was the hike to the natural bridge worth it?
In this guide, I'll go over how to reach Puente de Piedra and if it's worth visiting.
What is Puente de Piedra?
Puente de Piedra translates to 'stone bridge' as it's a natural bridge located in the Southwestern part of Puerto Rico.
This bridge has become popular in recent years due to social media and local magazine attention. Locals also call it "El Punte Natural".
Where is Puente de Piedra?
Puente de Piedra is located near the Cabo Rojo Lighthouse. You can reach the lighthouse, this natural bridge, and Playa Sucia by taking the Cabo Rojo Lighthouse trail.
This trail passes by another popular attraction, Las Salinas. Unfortunately, the pink salt area had been destroyed when we arrived due to recent hurricanes.
Other Popular Activities in Puerto Rico
Puerto Rico is full of adventure and thus, there are so many different activities that you can do during your visit. Below are some of my favorites, which are free or extremely budget-friendly!
How to Get to Puente de Piedra?
When visiting this part of the island, it's fairly easy to reach the Cabo Rojo Lighthouse trail. It's necessary to rent a car while visiting Puerto Rico.
We rented a car for six weeks and are so glad we did. The freedom it gave us to seek out adventure was unmatched.
Rincon to Cabo Rojo Lighthouse Trail
Once in our car, we follow Google Maps to the starting point of the Cabo Rojo Lighthouse trail. We knew we had arrived when we saw a lot of cars parked alongside the road as you can't drive up too far anymore.
If you're coming from Rincon, then you'll want to do the same thing and follow PR-2 and PR-100 south. You'll then want to make a slight right onto PR-301.
Things to Know Before Hiking to Puente de Piedra
When adventuring through Puerto Rico, it's important to do your research before heading out. There are a few things I wish I had known before hiking the Cabo Rojo Lighthouse trail.
Things to Bring
You want to bring the right gear when hiking on a tropical island like Puerto Rico. The last thing you want is to forget something and ruin your experience.
Below are some items I suggest bringing with you on this hike and for your entire vacation in Puerto Rico.
Cabo Rojo Lighthouse
This area isn't only famous for Puente de Piedra (natural bridge) and the Cabo Rojo Lighthouse. It's truly a spectacle to see when arriving.
The lighthouse is out on this small peninsula and the shape of the landscape takes your breath away.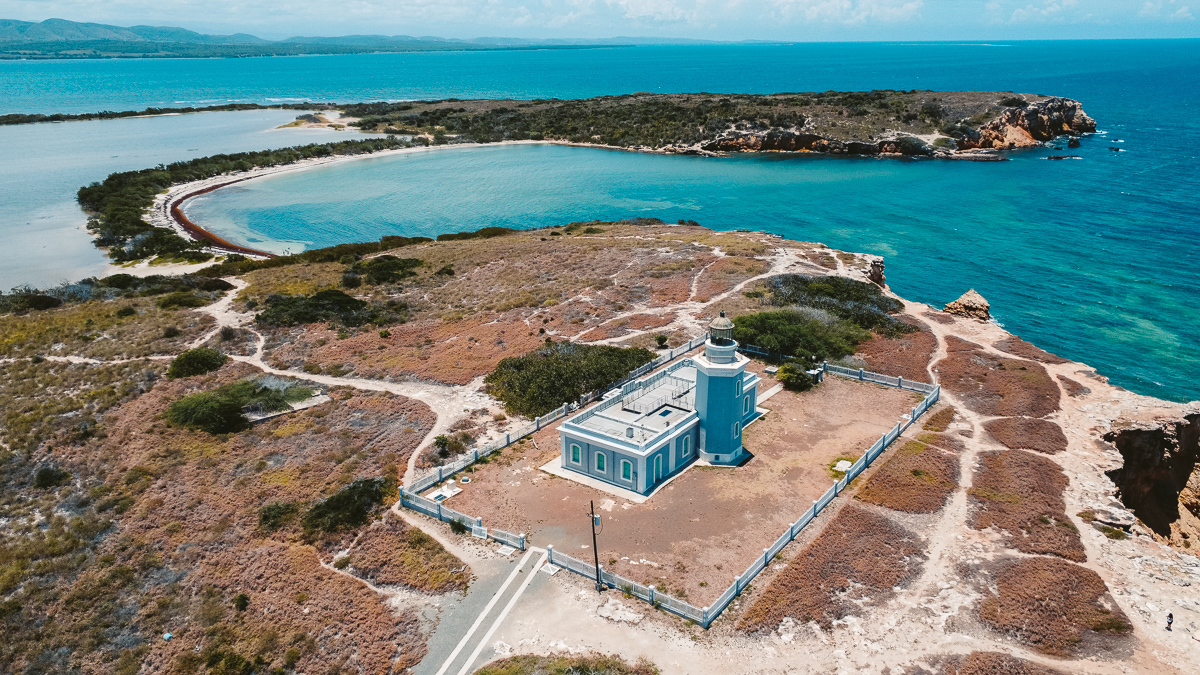 Pink Salt
When driving to the Cabo Rojo Lighthouse trailhead, you'll drive past (or park next to) and pink salt flat. When we visited it wasn't pink and the area was not in great condition.
Be warned that this area does not smell good. It smells like rotten eggs but after walking along the trail for around five minutes, we didn't smell it anymore.
Hopefully, you have better luck when you visit this area.
Hiking details for Cabo Rojo Lighthouse Trail
Distance: This hike is a 2.7-mile loop trail.
Duration: On average, it will take people 2 hours to finish. This depends on fitness level and time at the natural bridge.
Difficulty: I'd rank this hike easy because of the minimal elevation gain but the heat can play a factor.
Incline: The elevation for this hike is around 52 feet or 16 meters.
Hiking Guide: A guide is not needed for this hike and is easily accessible by the public.
I suggest either using Mapsme or Alltrails to be sure you're on the right trail.
Best Places to Stay in Rincon, Puerto Rico
Rincon is a surfer's paradise. There are plenty of shops, restaurants, and nightlife options all in town! Below are some of the best places to stay for all types of budgets!
Rincon Beach Resort: Looking to relax during your Puerto Rico visit entirely? You won't find a better deal for a resort on the island.
Coconuts Palms Inn: This is one of the most stunning accommodations in Rincon that's also a great price!
Sunset Paradise Villas: Does a hot tub overlooking the ocean sound fun to you? Then look no further than this spectacular hotel!
My Experience Hiking to Puente de Piedra
When I saw the photo of Puente de Piedra (natural bridge), I had to prioritize seeing this. The cool thing is there are so many other things to see and do in the same area.
We got our day packs together and drove in our car to the Cabo Rojo Lighthouse trailhead. I was keeping my fingers crossed that we'd see the pink salt but that didn't work.
We parked our car and tried to hike as fast past the rotten egg smell. The sun was blaring down on us but that wouldn't ruin our mood.
The trail is pretty flat and was still technically the road. You aren't allowed to drive in this area anymore or at least not when we visited.
Right when the road ended, we took the first trail to the right. This lead us directly to Puente de Piedra.
After we took some photos at El Puente Natural, we headed towards the Cabo Rojo Lighthouse.
We visited during the week, so the lighthouse was closed, but seeing it was amazing. The white of the building helped make its green windows truly stand out.
Walking around this area, to the east, you can see a popular spot called Playa Sucia. We didn't make it down there as the rain clouds rolled in.
If you have time, I suggest you bring your swimsuit and check it out!
As was the theme of our entire trip to Puerto Rico, we made it to the car only a few minutes before it started pouring rain. It's actually quite refreshing because of how hot it's been.
Final Thoughts on Hiking the Cabo Rojo Lighthouse Trail to Puente de Piedra
If you're visiting Cabo Rojo or even Rincon, this part of the island has to be at the top of your list of things to see. It's free and easily accessible. There are small sections of beach that you can relax in all day if you'd like! I highly suggest visiting the Cabo Rojo Lighthouse and taking photos of the natural bridge!
Thank you for reading my guide on visiting Puente de Piedra along the Cabo Rojo Lighthouse trail! I hope this has helped you plan your itinerary to this beautiful island.