La Coca Trail in El Yunque: Is it Difficult?
When visiting Puerto Rico, there are some places you don't want to miss. If you like adventure, then El Yunque National Forest is that place. Some trails in the park are great for the whole family. Others are more challenging that might not be suited for some. One of those hikes is called La Coca Trail.
When I visited this area of El Yunque, I wasn't sure what to expect. We did this trail during their rainy season. That didn't help.
With trails like the one to El Yunque Tower and La Mina Falls being closed, it makes life difficult. This doesn't leave many challenging hikes available on Road 191.
In this blog, you will find out all the details about La Coca Trail. This includes if it is difficult or not.
What is El Yunque National Forest?
El Yunque National Forest is located in the Northeast region of Puerto Rico. This is the only rainforest in the national forest system of the United States.
Even though its size is small (29,000 acres), it's one of the most biologically diverse in the entire country. There are opportunities to see some unique wildlife as well as beautiful plants.
How to Purchase a Ticket for El Yunque National Forest
Since the beginning of covid, you have not been able to drive up to the park and get a ticket. It is technically free to enter the park. But there is one problem. Since you have to purchase tickets online, there is a $2 processing fee added. Still a great price!
They only sell 300 tickets per day. Tickets will become available 30 days in advance for a specific date. After that time has passed, that date won't be open until 24 hours ahead of time.
For instance: tickets on August 2nd will become available for the first time on July 2nd. After that date, they will open again at 8 am & at 11 am on August 1st.
Use this link to purchase your El Yunque National Forest tickets today!
How to Get to El Yunque National Forest
Getting to El Yunque National Forest is pretty straightforward. It is located around one hour from San Juan and 30 minutes from Fajardo.
The best way to reach El Yunque is either by renting a car or on a tour.
Unlike some other countries, there isn't much of a public transport or bus system outside of San Juan. Just like the United States. Everyone and their mother has a car.
San Juan to El Yunque National Forest
With a Car: If renting a car, you will want to get on the expreso PR-26 and head East. The fastest route is to stay on PR-66 but this route has tolls. If you don't have a toll pass then you can merge onto PR-3 that has no tolls. This will take around 10 minutes longer.
With a Tour: If you don't rent a car then I suggest this tour from GetYourGuide. You will go hiking and ride some natural water slides!
Fajardo to El Yunque National Forest
With a Car: Fejardo is where we stayed when visiting the park. We rented a car and it was an easy drive with zero tolls. You will want to head West on PR-3 until you reach PR-191. Take a left here. There will be a lot of winding roads until you reach the part of the park where you will show your ticket.
With a Tour: If you did rent a car but still decide to go with a tour from Fejardo, then I suggest this tour from GetYourGuide. You will go down multiple water slides and do some cliff jumping!
Looking for more activities in Fajardo that involve the beach? Try visiting the secret beach of Playa Colora and swimming in the natural pool along the La Zanja trail!
How to Get to La Coca Trail
Finding La Coca Trail is pretty straightforward. It's located between La Coca Falls and Yokahu Tower on PR-191. It's also slightly before Juan Diego Falls.
If you have more time, you hike the Mount Britton Tower Trail. Just keep driving along PR-191.
The parking lot for the actual trail is very small and can only fit between three and four cars max. If you can't get a parking spot then either park at Yokahu Tower or La Coca Falls.
If you're combining Las Paylas with El Yunque, simply keep heading up on PR-983. This will turn into PR-988 and that will lead you to the entrance of the park.
Is La Coca Trail Difficult?
La Coca Trail is considered a difficult hike. What made it the hardest in my opinion was how wet the rocks were. It had rained before we arrived as well as the day before.
The path was muddy in parts and it also had two river crossings that weren't the easiest.
I knew we were going to be by ourselves at the swimming hole, so we pushed on.
La Coca Falls
When driving up PR-191, you will see La Coca Falls on your right before reaching the trailhead. There really isn't much to this waterfall. It was more of a trickle than water falling.
Maybe it's better at a different time of the year. You can climb on the rocks and take photos from the road if you want!
What to Bring For La Coca Trail
It doesn't matter too much what time of the year you come. El Yunque is still a rainforest, so you must come prepared. Below are some of the items I suggest bringing.
Similar Activities in Puerto Rico
La Coca Trail is a crazy adventure but there are so many different activities that you can do during your visit. Below are some of my favorites, which are free or extremely budget-friendly!
Best Places to Stay in San Juan
San Juan is the perfect starting point for your trip to Puerto Rico! There is a lot of history here as well as beautiful beaches. Below are some of the best places to stay in San Juan!
Condado Vanderbilt Hotel: This is a beautiful hotel located right on the water in San Juan! Start your trip off by relaxing poolside or at the beach. Only a few minutes away from Old San Juan.
Fortaleza Suites Old San Juan: If you're like me, then you want to be right where all the action is. This is one of the most beautiful hotels located in the heart of Old San Juan!
1802 at San Juan: This is a great budget option in San Juan. It's hard to find cheap hostel-like accommodations when visiting Puerto Rico but this is one of them.
Best Time of the Year to Visit Puerto Rico
The best time to visit Puerto Rico is usually between the months of December and April. This is considered the dry season and there is normally less rainfall.
If you want to visit Puerto Rico when travel is the cheapest, then the best time to visit is between June and October. During hurricane season, the prices are at a yearly low.
If you're interested in doing hikes like the infinity pool in Naguabo (El Yunque) then I would suggest coming in the dry season.
La Coca Trail Hiking Details
Distance: This hike is a 3.2-mile out & back trail.
Duration: On average it will take people 2 – 3 hours to finish. This depends on fitness level and time at the swimming hole.
Difficulty: I'd rank this hike as moderate to difficult because of the wet terrain and river crossings.
Incline: The elevation for this hike is around 974 feet or 294 meters.
Hiking Guide: A guide is not needed for this hike and is easily accessible by the public.
For more details and reviews on La Coca Trail, you can view it on Alltrails.
My Experience Hiking La Coca Trail
When I first looked at the details for La Coca Trail, I thought it wouldn't be as hard as some sites said. 3.2 miles? That's a cakewalk.
Unfortunately, it wasn't. This might be a different experience for you. The trail is made out of a lot of big rocks. When these get wet, you have to walk slowly or you'll slip.
It took us a lot longer because we were taking our time. There are a lot of tree snails throughout the hike. So, be on the lookout!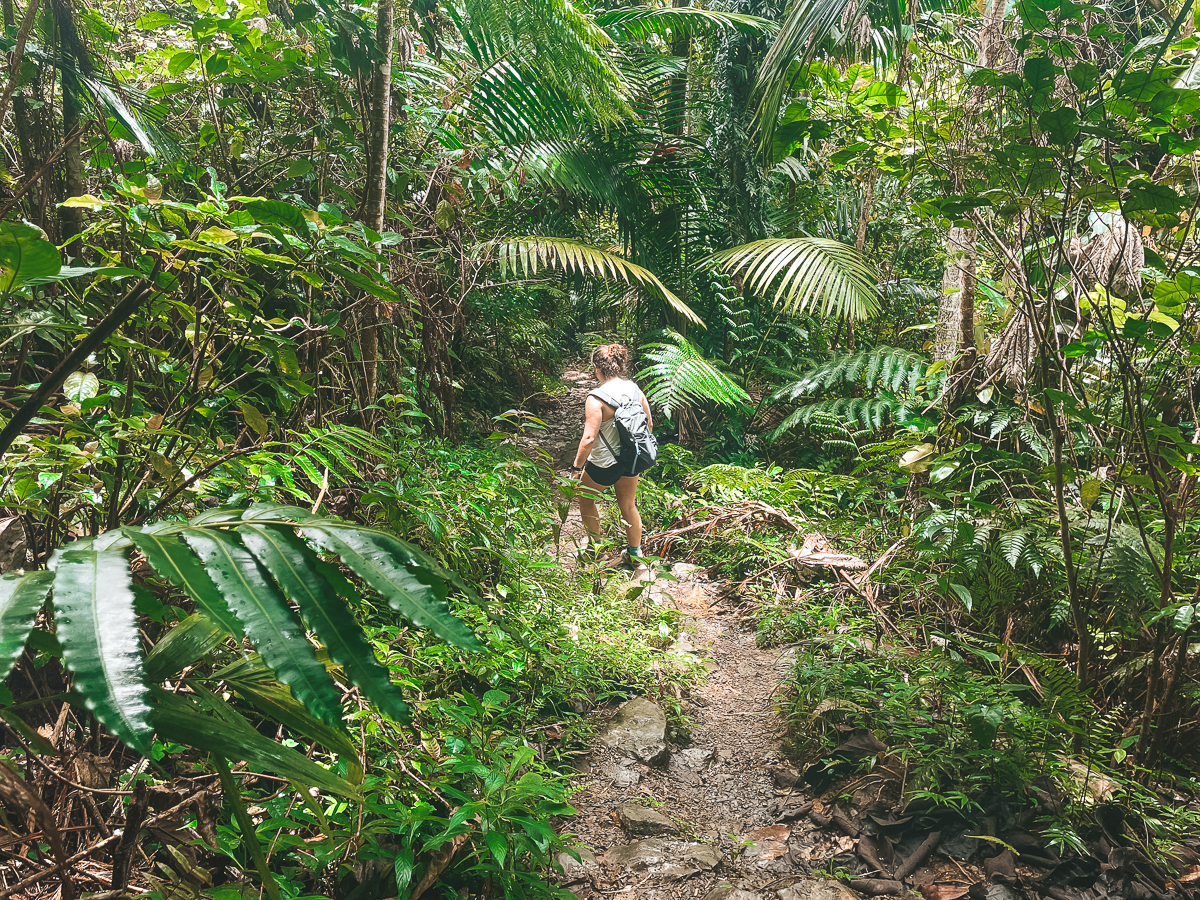 First River Crossing
I was following La Coca Trail on Maps.me and it didn't show that we would be crossing a river. So I was shocked when we came upon our first one.
It was difficult to not get wet because the rocks were slippery but the first one was easier than the second one.
You'll be fine if you have water shoes. We didn't want to submerge our entire boot this early into the hike.
The trail turned into easier terrain for a few minutes after the river crossing. It then went back to the slippery rocks we'd been dreading.
Second River Crossing
After about another 15 minutes of hiking on La Coca Trail, we reached the second river crossing. The rocks seemed smaller and farther between.
Sadly we slipped in once but we knew we were getting close, so we kept moving.
The trail got slightly denser around us and muddier. We still had to take our time on the bigger rocks because everything was still so wet.
Another 30 minutes later and we arrived at the end of La Coca Trail!
La Coca Trail Swimming Holes
We were so happy once we finally arrived. It seemed like the longest 1.6 miles we've ever done. And we've done some long and difficult hikes before.
There is something about rainforest hikes that you can't compare them to anything else.
I love the nature that I'm always around but sometimes the conditions aren't the best. We jumped in the water, cooled off, and loved every minute of it!
Final Thoughts on La Coca Trail in El Yunque National Forest
La Coca Trail was harder than we both thought. There were comments about it being wet but I took them with a grain of salt. Overall, I enjoyed how secluded we felt the entire time. Not many people do this hike, which is unique in El Yunque.
I want to try this hike again but when I know the conditions are better and not as wet. If you're up for a challenge, then I suggest hiking La Coca Trail!