Playa Colora in Fajardo, Puerto Rico: The Secret Beach
When visiting Puerto Rico, you may want to leave the hustle and bustle of San Juan. Fajardo is that perfect destination. Here you'll be closer to places like El Yunque and Playa Colora.
Fajardo is known for its beaches, with popular spots like Seven Seas and nearby Liquillo Beach nearby. It's an ideal strategy to want to find those secluded beaches. Get away from the crowds.
Well, you're in luck! Thankfully Fajardo has a few secret beaches you can visit. Playa Colora is one of them and was our favorite out of the bunch.
It's an easy walk through the woods around Seven Seas Beach!
In this guide, I will go over everything you need to know when wanting to visit Playa Colora.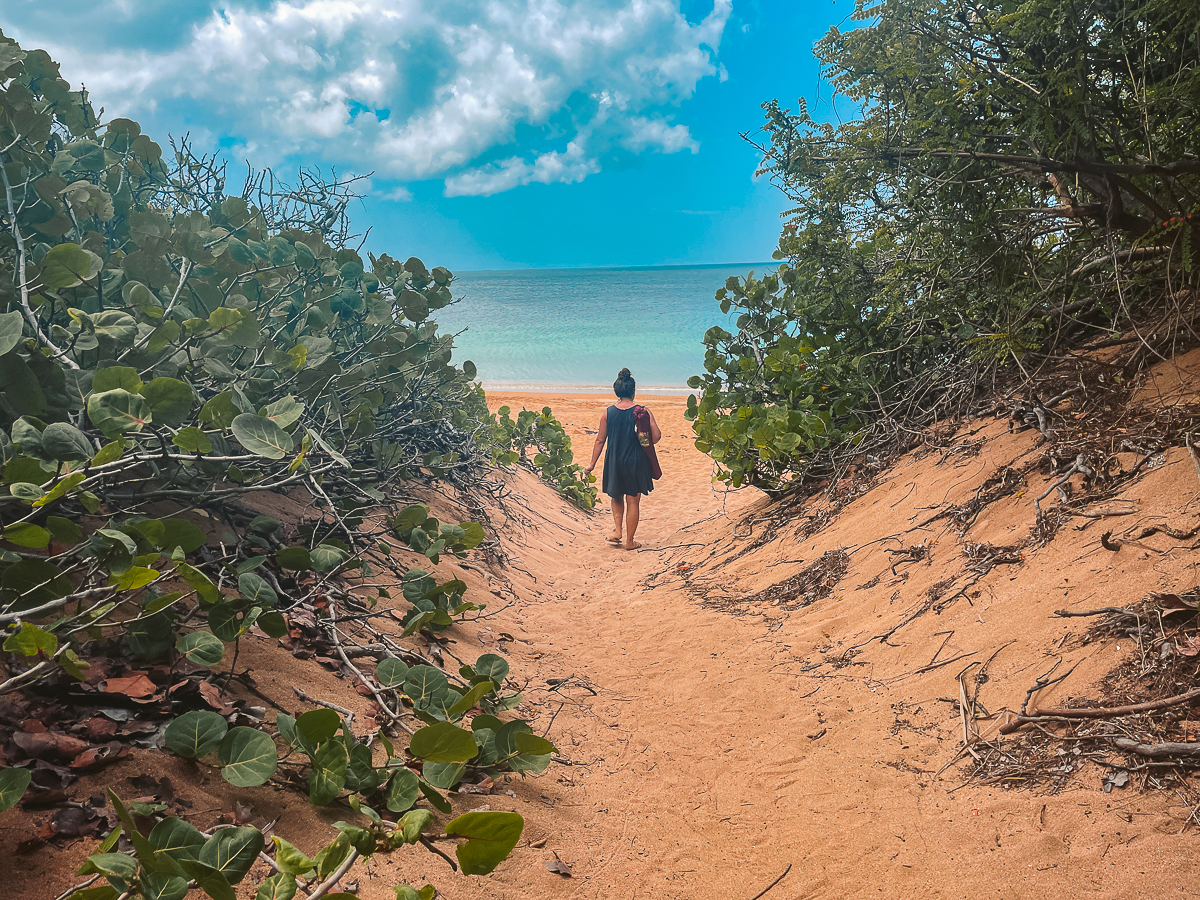 What is Playa Colora?
Playa Colora is a hidden bench on the peninsula near Seven Seas Beach in Fajardo. This beach is known for its rough waters and the locals strongly encourage them to not swim.
We visited during the summer months (June) when the water was calm and there were people swimming. Use your better judgment and don't go out if it looks rough.
The currents are strong here and can take you out far if you're not careful.
How to Get to Playa Colora in Fajardo
If you are staying in San Juan, then you will want to make your way to Seven Seas Beach in Fajardo. This is easily an hour-long drive if you're staying in Old San Juan.
It's almost mandatory to rent a car if you want to visit the other parts of the island (especially on your own time).
It's still worth the drive if you leave early enough. Or you can stay in Fajardo as we did!
This is a great activity to do after hikes like the Mount Britton Tower trail and La Zanja Trail!
Fajardo to Playa Colora
Playa Colora is located in the very far Northeast corner of the island. This means the time it takes you to get here can vary. We stayed just a short walk away and loved it!
When we visited here in June of 2023, there was a lot of construction going on in the area of Seven Seas. This forced the traffic to reroute and make it one-way traffic in certain areas.
Once you get close to Seven Seas Beach you can find parking and then start following the path West and slightly Northwest.
There will probably be others walking there and you can just follow them. The path is easy to follow and flat.
Once you make it to the trail you'll take the first right and continue for the next 15 minutes. Playa Colora is closer than Playa Escondida.
Take the first big right turn after this time to reach Playa Colora.
Playa Colora Hiking Details
Distance: This hike is a 2.2-mile out & back trail. This distance is for both beaches. If visiting only Playa Colora than the distance would be 1.6 miles.
Duration: On average it will take people 40 minutes roundtrip to finish.
Difficulty: I'd rank this hike as moderate to difficult because of the wet terrain and river crossings.
Incline: The elevation for this hike is around 134 feet or 41 meters.
Hiking Guide: A guide is not needed for this hike and is easily accessible by the public.
To read more reviews and view the trail, you can check this out on Alltrails.
Things to Know Before Visiting Playa Colora
Playa Colora is one of my favorite beaches we've visited during our time in Puerto Rico. This might have been different if we were here when the waves were rough.
The fact there were far fewer people here than on most other beaches made it the cherry on top. It was great!
If you're looking for other great water activities then I highly suggest looking into the infinity pool hike and Las Paylas!
What to Bring
Puerto Rico is a beautiful island in the Caribbean. This can be a trip of a lifetime. There's no need to ruin it by not bringing the right items with you.
Below are some of the items I recommend bringing with you:
Strong Current
We were warned multiple times when visiting this area of Fajardo that the water at Playa Colora was extremely rough. We weren't even going to stop by here because of those statements.
Good thing we did because the water was extremely calm and not crowded at all. This is probably because we came during one of the summer months (June).
Just keep in mind that the conditions could be rough if you visit during a different time of the year.
How to Get to Playa Escondida
Arriving at Playa Escondida is simple. Instead of taking the right turn to head towards Playa Colora, simply keep heading straight.
A few times you'll come across sections that are flooded with water. Don't worry as they have rerouted this part so you won't have to go through it.
This area you're hiking through is known as a mangrove and is unique!
Parking at Seven Seas Beach
There are a couple of options for parking when driving to Seven Seas Beach. There was a lot of construction, so I think this narrowed our options slightly.
Paid Parking
If you want easy access to the Playa Colora trail then I suggest paying for parking! The Seven Seas parking lot opens from 8:30 until 5 pm every day. The cost is $5 USD and is worth it in my opinion.
This parking lot gives you easy access to the beach that leads straight to the Playa Colora trail.
Parking on the Street
When staying in Fajardo and visiting Seven Seas Beach, we didn't see a ton of street parking. This is where a majority of the construction was going on and it was turned into a one-way street.
We have heard that before all this was going on that there was a small selection of parking along the road near the restaurants in this area.
As you keep making your way down the street toward Kalizo Seafood Bar & Grill we saw some cars parked where they could.
You can find a spot near here if you wanna save the money.
Best Places to Stay in San Juan
San Juan is the perfect starting point for your trip to Puerto Rico! There is a lot of history here as well as beautiful beaches. Below are some of the best places to stay in San Juan!
Condado Vanderbilt Hotel: This is a beautiful hotel located right on the water in San Juan! Start your trip off by relaxing poolside or at the beach. Only a few minutes away from Old San Juan.
Fortaleza Suites Old San Juan: If you're like me, then you want to be right where all the action is. This is one of the most beautiful hotels located in the heart of Old San Juan!
1802 at San Juan: This is a great budget option in San Juan. It's hard to find cheap hostel-like accommodations when visiting Puerto Rico but this is one of them.
Similar Activities in Puerto Rico
Visiting Playa Colora is a crazy adventure but there are so many different activities that you can do during your visit. Below are some of my favorites, which are free or extremely budget-friendly!
My Experience Hiking to Playa Colora in Fajardo
This was our "rest & relax" day while staying in Fajardo for two weeks. We had been doing major hikes in El Yunque like Juan Diego Falls and La Coca Trail.
These activities took a lot out of us but we can't just completely relax, right? So we decided to take a short walk to Playa Colora!
This was my favorite beach we visited while staying here and it's easy enough for the whole family to do as well!
The trail from Seven Seas Beach to Playa Colora
This is one of the trails in Puerto Rico where it isn't necessary to have any type of special map like Alltrails or Mapsme.
You can simply follow the trail on Google Maps or if you go on the weekend, then the trail of other people walking.
Parking was scarce and we had to wait in line for the parking lot but I'm glad we did. The heat during the summer here is no joke.
We started the walk and passed some bathrooms that are right at the beginning of the beach entrance from the parking lot.
There are some vendors if you're interested in any food or special drinks like a Piña Colada! They looked amazing by the way.
You'll have to cross a very small section of water that is coming from the mangroves. Keep walking towards the mangroves and you will see an opening in the forest.
We walked for a few more minutes before we had to take a right but after that, the trail was simple to follow. There won't be any other real turns until you reach the turn for Playa Colora.
My girlfriend and I both wore flip-flops and we were perfectly fine. The trail was manageable for all kinds of footwear and you can still wear regular beach attire.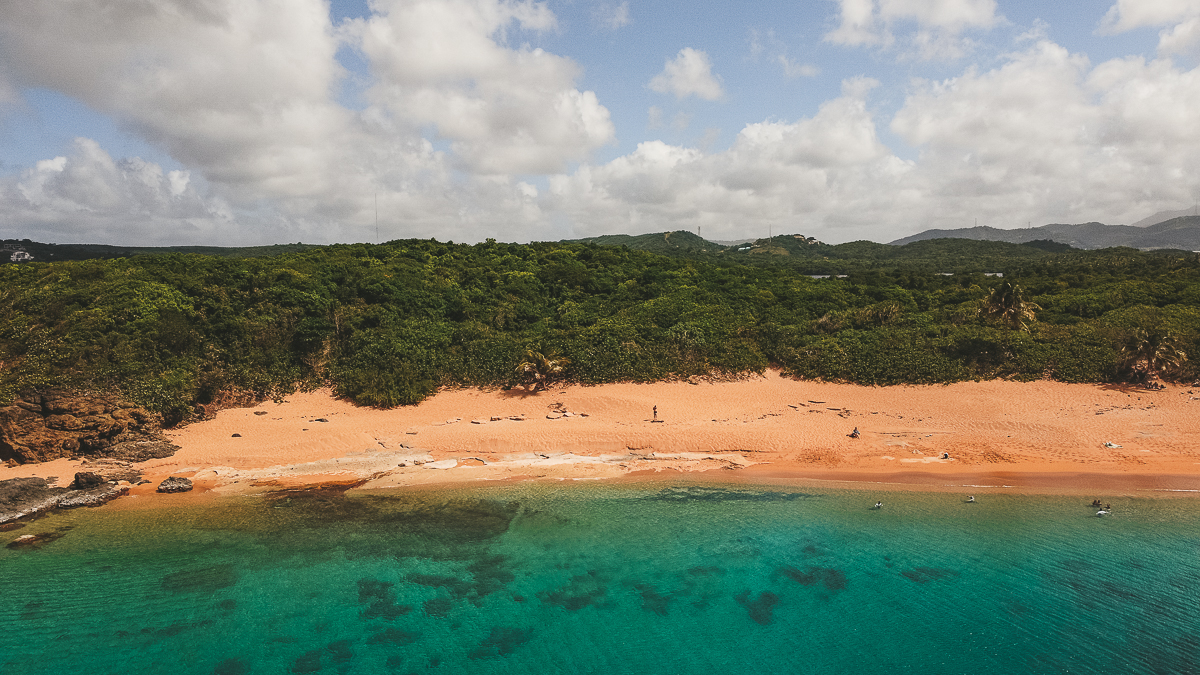 Playa Escondida vs Playa Colora
This post is about Playa Colora for a reason. We both enjoyed it so much more than Playa Escondida. When we arrived there we almost turned around and went back.
There is a larger crowd by far at Playa Escondida and the water wasn't as clear as Playa Colora. This was most likely due to it being the summer and the waters more calm.
If you were to visit during the winter then things might be different but it's still worth it to check both out.
If you have a larger group then you might like Playa Escondida better.
Final Thoughts on Playa Colora in Fajardo Puerto Rico
Even if you're staying in San Juan, I believe visiting Playa Colora would be fun for the whole family! The parking is cheap and the beaches are spectacular!
There are plenty of restaurants around the area too that you can try out before heading back into town. I'd definitely come back here when I visit the island again!
Thank you for reading my guide on Playa Colora in Fajardo! I hope this helped you decide where to go when planning your vacation.