Infinity Pool Hike in Naguabo (El Yunque): Complete Guide
When I first stumbled upon this hike, I was blown away. Information on it was limited but I knew I wanted to do the infinity pool hike in Naguabo (El Yunque).
There is nothing I like more than a hike that involves multiple ropes and ladders to reach the top. And the top is also the most beautiful viewpoint in Puerto Rico (Cerro de los Cielos is a great viewpoint too).
This hike is nothing compared to others in El Yunque, like Juan Diego Falls and La Coca Trail.
Get ready for one hell of an adventure. You won't regret it.
In this guide, I will give a detailed explanation of how to reach the famous infinity pool in Naguabo (El Yunque).
What is the Infinity Pool Hike in Naguabo?
An infinity pool gives the impression that the water flows into another larger body of water. This is a hike to a natural infinity pool. One overlooking a vast rainforest in the Caribbean.
Where is the Infinity Pool Hike in Naguabo?
Naguabo is the closest town to the start of the trail for this hike. Technically the hike is located inside El Yunque National Forest.
Since this hike isn't located inside the main part of the park, you don't have to pay to enter. The part of El Yunque you'll be driving to is called the Sabana River Recreational Area.
Follow Google Maps to Sabana River Recreational Area. Then proceed to either use Alltrails or Mapsme. On Mapsme, follow "Naguabo Infinity Pool Trail".
My suggestion would be to have both Alltrails map and Mapsme downloaded. Both were very accurate.
How to Get to Inifity Pool in Naguabo
Getting to the infinity pool trailhead in Naguabo is fairly simple if you have a car. It's necessary to rent a car for the entirety of your trip when visiting Puerto Rico.
There used to be tours that would take you on this hike but not anymore. Maybe they'll start back up again in the future.
If you want to do a similar activity then you can visit Las Paylas. The tours shown below are excellent too!
Fajardo is a great base for adventuring to El Yunque for hikes like the Mount Britton Tower trail and this hike.
It is only around a 40-minute drive to the trailhead. San Juan is double the length but still a decent place to base yourself.
Things to Know Before Hiking the Infinity Pool in Naguabo (El Yunque)
The infinity pool hike in Naguabo isn't for the faint of heart. This hike is in a rainforest and a dense part of it. Below are a few things you should know before heading out.
Interested in other water activities near Fajardo? Check out Playa Colora and La Zanja Trail (natural pool).
Things to Bring
Even though the Naguabo infinity pool isn't technically in the official part of El Yunque, you're still in a rainforest. You'll want to bring the proper items to fully enjoy your time!
Below are a few items that I suggest bringing with you:
Sabana River Recreational Area
The Sabana River Recreational Area is technically closed but there is a community that keeps it clean. Please leave no trace!
Since this area is closed, you'll have to park at the gate and walk on the road to the recreational area.
This is where the trailhead technically begins.
Infinity Pool Naguabo Hiking Details
Distance: This hike is a 3.7-mile out & back trail.
Duration: On average it will take people 5 – 6 hours to finish. This depends on fitness level and time at the infinity pool.
Difficulty: I'd rank this hike as moderate to difficult because of the wet terrain and multiple rope climbs.
Incline: The elevation for this hike is around 744 feet or 227 meters.
Hiking Guide: A guide is not needed for this hike and is easily accessible by the public.
Follow Mapsme or download the trail from Alltrails. This is a must!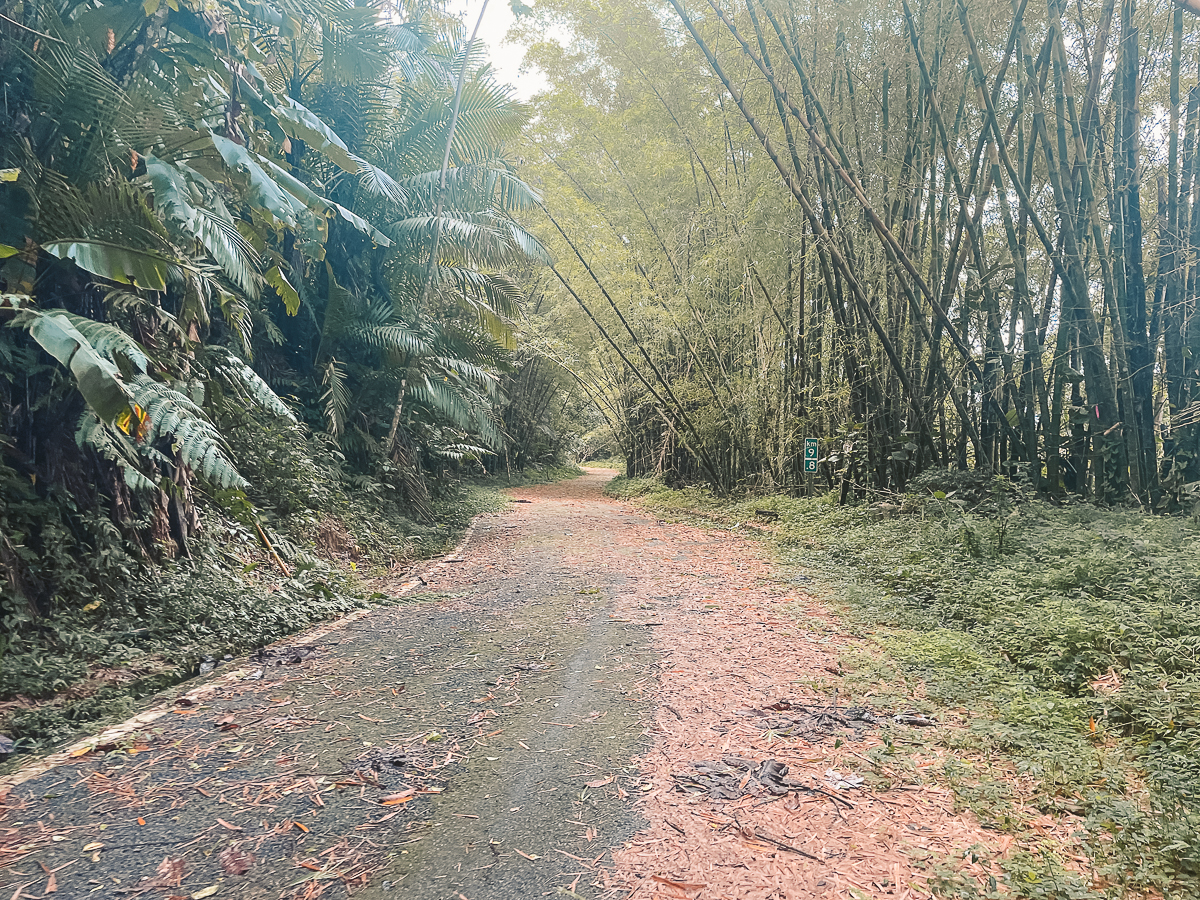 Similar Activities in Puerto Rico
The infinity Pool hike is a crazy adventure but there are so many different activities that you can do during your visit. Below are some of my favorites, which are free or extremely budget-friendly!
Best Places to Stay in San Juan
San Juan is the perfect starting point for your trip to Puerto Rico! There is a lot of history here as well as beautiful beaches. Below are some of the best places to stay in San Juan!
Condado Vanderbilt Hotel: This is a beautiful hotel located right on the water in San Juan! Start your trip off by relaxing poolside or at the beach. Only a few minutes away from Old San Juan.
Fortaleza Suites Old San Juan: If you're like me, you want to be right where all the action is. This is one of the most beautiful hotels in the heart of Old San Juan!
1802 at San Juan: This is a great budget option in San Juan. It's hard to find cheap hostel-like accommodations when visiting Puerto Rico but this is one of them.
My Experience on the Naguabo Infinity Pool Hike in El Yunque
After driving on a small road up the mountain for 15 minutes, we finally arrived at the gate. There were a couple of cars there already.
Many people drive here to enjoy nature and it's a great place to do it because there aren't many others around.
This part of the hike on the road added almost an extra mile. The 3.7 round-trip is from the trailhead.
Once you arrive at the recreational area, you'll want to turn to the right and see a gate immediately. You'll see room to get around it on the left-hand side.
After hopping around the 2nd gate, you'll walk down some stairs. These reminded me of Jurassic Park. It surely added to the feeling of this jungle hike.
After hiking on the infinity pool trail in Naguabo for around 30 more minutes, you'll arrive at the first set of ropes.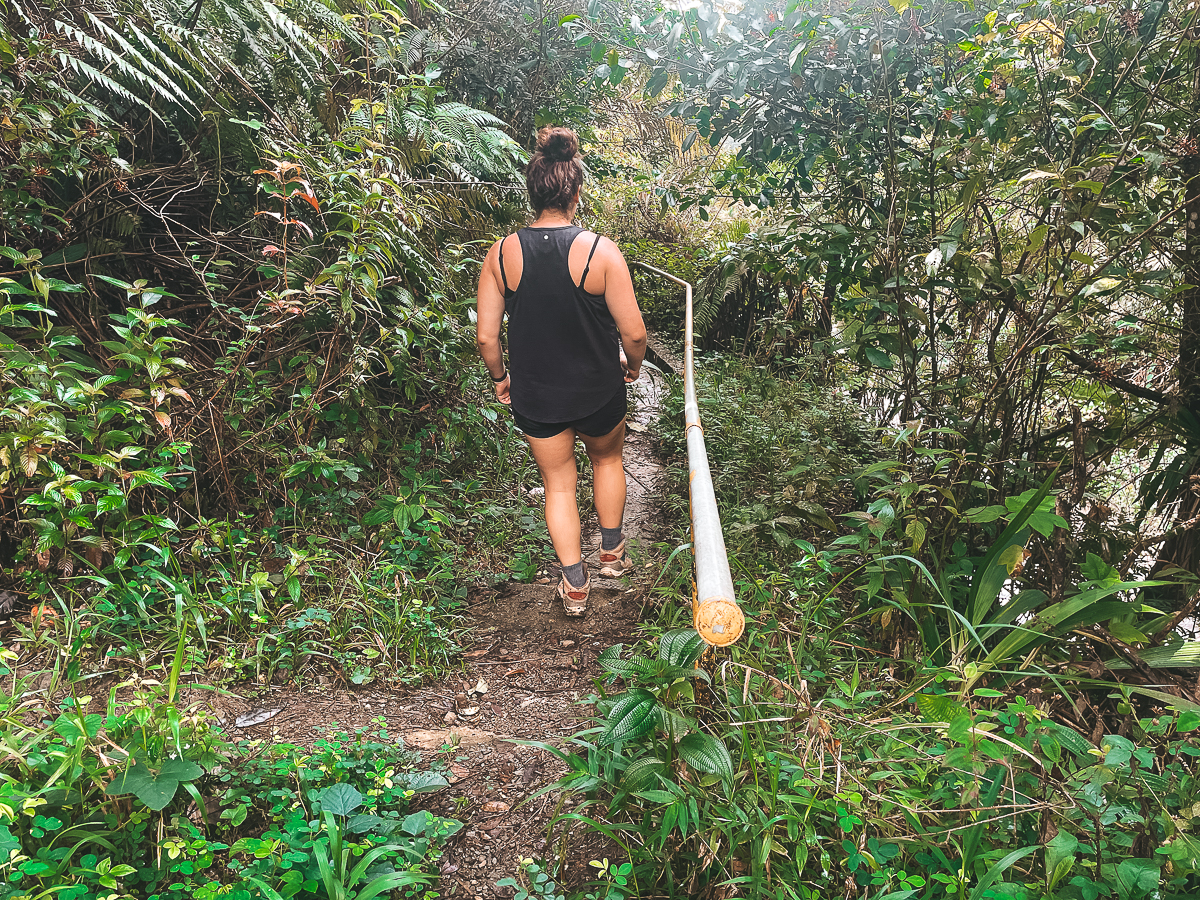 The First Rope Sections
After some time, you'll arrive at an area where you hold a rope to climb down. This next part is where we got lost for a little bit.
We crossed the small river and saw a rope lying on a rock to our left. In my head, I thought this had to be the way. We climbed up and then looked at our maps. It wasn't.
When you go down the waterfall/small stream, you want to keep going straight. After a few steps, you'll see a large green rope.
This rope is secured around a large piece of cement. After this section, it'll be another 50 minutes until the bridge.
The Bridge
The bridge is hard to miss. It crosses over a big river and is, in some ways, surreal. Take a few photos here and then start crossing.
Once you get to the end of the bridge, there will be a path to your right going down. Follow for the next hour or so.
Climbing the Ladder
Walking through the dense forest, we stumbled across some muddy sections. The trail is still obvious, but there might be issues if we come during the peak rainy season.
The next main section is getting to the ladder that you climb up. This part of the hike is almost as cool as the infinity pool in Naguabo itself…almost.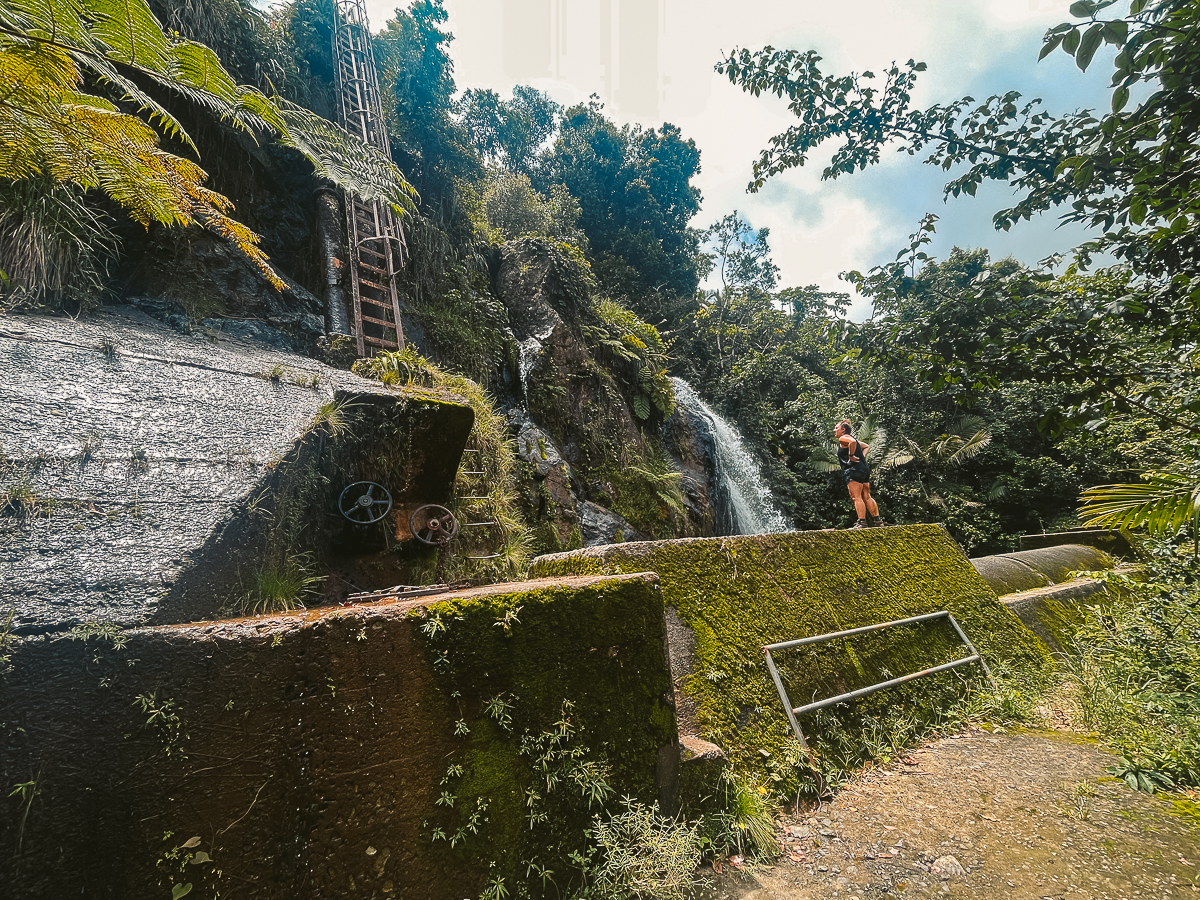 Stay Left
Once we reached the top of the ladder, it was easy to know where to go. Stay left. As we hiked up the waterfall, the trail became slightly harder to figure out. But we stayed left.
Eventually, you'll get to the point where the waterfall flatten out more and the forest thickens. You'll want to hang a right onto the rocks where the water is.
Right past this area is the infinity pool of Naguabo in El Yunque.
The Infinity Pool in Naguabo (El Yunque)
Finally, we arrived at the infinity pool in Naguabo (El Yunque)! The view from here is absolutely stunning. It was better than I had imagined it to be.
There's more of a seating area behind the actual infinity pool. We had this all to yourselves and it was lovely. We took some photos, flew the drone, and then ate lunch.
Try to start this hike early because you'll want to stay at the top of the infinity pool for hours. I guarantee it.
Final Thoughts on Infinity Pool Hike in Naguabo (El Yunque)
I knew this hike would be an adventure but man, it was one hell of one. These pictures don't do it justice. I loved how rugged this hike was but it isn't for everyone. I suggest only those who have done many hikes attempt this. And definitely bring hiking boots! Overall I highly suggest hiking to the infinity pool in Naguabo when visiting Puerto Rico.
Thank you for reading my guide on the infinity pool hike in Naguabo (El Yunque). Hopefully, this helps you find your way to this amazing area of Puerto Rico.