11 Tips for Hiking Camelback Mountain in Scottsdale
The peak of Scottsdale hiking is a mountain well known by locals. Camelback Mountain is 2704 feet tall and can clearly be seen while driving throughout this region. This hike isn't easy, but it is possible for everyone to achieve. There are two different trails that can be taken to the top of this mountain. I will go over both of these later on in this blog. You will be amazed by the 360 views of Scottsdale and the surrounding area from up here.
In this guide, I will go over how to get to Camelback Mountain trailhead, the difference between the two trails, as well as a handful of tips that will be good to know before you head up the mountain.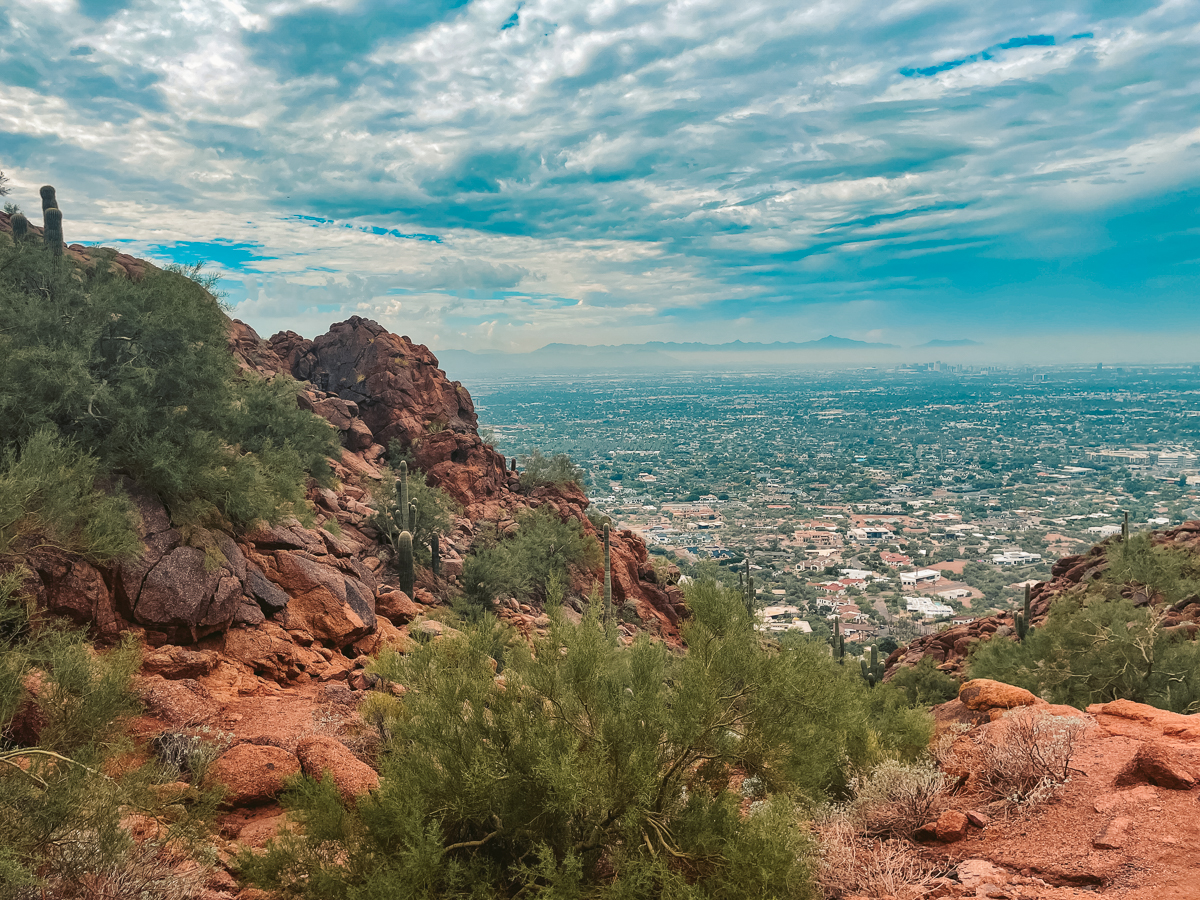 Where is Camelback Moutain Located?
Located slightly Northwest of downtown Scottsdale, the parking lot is only a 15-minute drive away. It is actually a lot closer than many other hikes in the area. This makes it an easy day trip and something that will only take up part of your day. Hiking Camelback Mountain can be straightforward for some, but the heat can be a factor depending on what time of the year you do it.
How Long Does it Take to Hike Camelback Mountain?
This greatly depends on your level of fitness and the time of year you hike. Another huge factor in how long this hike takes is which trail you take up. Echo Canyon Trail and Cholla Trail are the two you will choose from. The average time to complete this out & back tail is around 2 hours. The heat can play a huge factor in this as well. Hiking Camelback Mountain in the summer is not recommended unless you are prepared.
Phoenix to Camelback Mountain in Scottsdale
Downtown Phoenix has much to offer, like restaurants and big events like watching an MLB game at the Arizona Diamondbacks stadium. If you are staying here, I will give the detailed directions to Camelback Mountain Trailhead below.
Directions to Camelback Mountain Trailhead
From Phoenix, you will want to make your way to I-10 going east. Stay on this for 2.2 miles until you see exits 147-A and B. Keep left and continue on for another couple of miles.
Take exit 2 for 40th Street towards 44th Street. Continue North on this road for another couple of miles until you take a right on McDonald Dr. From here, follow the signs to the Echo Canyon Trailhead.
Best Car Rental Company in Phoenix
If you are like me and prefer to rent your car in advance, then I cannot suggest Discover Cars more. They compare local and international companies to ensure you get the best deal possible.
Take a quick search below to find the best deal for your travels.
Things to Know Before Hiking Camelback Mountain
Camelback Mountain is located in a desert. If you haven't been hiking in one before, then there are some things you may want to know before heading out.
This applies to all hikes near Phoenix.
Below are some important information about this hike:
Things to Bring
Hiking in a desert is a different animal. You don't want to get caught off guard without the right items. Besides my regular hiking gear listed below, I recommend bringing a few other things:
Below is a list of some of my favorite hiking/travel gear I bring everywhere. Everything below is something I currently use and never leave my house without.
Best Time to Hike Camelback Mountain
The best time to hike Camelback Mountain and the surrounding areas of Phoenix in Arizona is either in the Spring or Fall months. This is when the temperatures are much cooler. If you were to go in the summer, you could see temperatures get as high as 120 degrees.
If you want to enjoy your vacation, I suggest going in October. That has been my favorite month of my time living here.
Where to Park at Camelback Mountain
The Echo Canyon Parking lot trail is easy to find, and we had no issues when arriving here. We did this hike during the middle of the week, and that helped with the crowds.
If you decide to take the Cholla trail, you'll have to find parking on the street. In this instance, it's important you arrive early.
Camelback Mountain Hike Hours
The Echo Canyon Recreation Area is open from 5 am to 8 pm. Please don't stay longer than this for your safety.
Other Hikes You'll Like Near Phoenix:
Is Echo Canyon Trail a Kid-friendly Hike?
Determining if Echo Canyon Trail is a kid-friendly hike varies from kid to kid. It's not an easy hike; for most kids, this isn't a friendly hike.
With that being said, I saw plenty of kids doing this hike, and it's not out of the question for them to hike to the top.
Camelback Mountain Hike Details
Distance: This hike is around a 2.5-mile out & back trail. This varies slightly depending on if you do the entire hike or not.
Duration: On average it will take people 2.5 hours to finish. This depends on your fitness level and the time of the year as well as which trail you take.
Difficulty: I'd rank this hike as moderate to difficult because of the length, slight elevation gain, and potential heat.
Incline: The elevation for this hike is around 1,420 feet.
Hiking Guide: A guide is not needed for this hike and is easily accessible by the public.
If you want to learn more about this hike and read reviews from others, you can check it out on Alltrails.
Best Places to Stay in Scottsdale, Arizona
Scottsdale, as well as the Phoenix area, has really grown in popularity over the last handful of years. This is also becoming a hotspot for vacations and bachelorette parties. I loved it here and I'm sure you won't be disappointed either.
11 Tips When Hiking Camelback Mountain in Scottsdale
This is by far the most popular hike in the area. It is challenging but well worth the effort, in my opinion. If you want to hike something easier, I suggest you check out hikes such as Pinnacle Peak, Sunrise Peak, and Tom's Thumb.
In this next section, I will review some helpful tips when hiking to the top of Camelback Mountain. When I hiked it, the Cholla trail was closed. Our only option was to take the Echo Canyon trail. Most of the photos will be from that trail but I will also give information about the Cholla trail.
1. Get an Early Start
My suggestion for almost any hike is the earlier start, the better. This is the best way to beat the crowds and to beat the heat (especially for Phoenix). The parking lot will be the most full around 11 or noon. Getting here early will help with finding a parking spot. With fewer people on the trail and at the peak, the experience while hiking Camelback Mountain in Scottsdale will be increased.
2. Choose the Correct Trail at Camelback Mountain
You may come across two trail names when looking up information about Camelback Mountain in Scottsdale. There is Echo Canyon Trail, which is the one I took, and Cholla Trail. I will review the details between both trails, but even though Echo Canyon is half a mile shorter, it is the harder of the two. I will go over both in more detail below.
Echo Canyon Trail
Echo Canyon starts up a winding trail that will lead you straight to a steep incline of rocks. You will know you're here when there is a tall fence to your left and hand railings to hold onto. This is where the hike begins its steep incline and doesn't stop until you get to the peak.
I view this as more adventurous, but others may not enjoy it as much. This trail is 2.5 miles in total.
Cholla Trail
Cholla Trail re-opened in October after being closed for maintenance. This trail is 3 miles out & back, but it is considered easier than its counterpart. The grade % of elevation is not high at parts of Echo Canyon. If you can't make it up the rock climbing section, I suggest taking the Cholla Trail instead.
3. Bring Plenty of Water
A tip that I hope nobody forgets to do when completing this hike is to bring enough water. During the summer months, temperatures can reach upwards of 110 degrees. With there being practically zero covers along the entire hike, water is extremely important when completing Camelback Mountain.
4. Wear the Proper Shoes
Your choice of shoes is vital, especially if you are taking the Echo Canyon Trail instead of the Cholla Trail. You want something with a good grip when trying to climb these steep sections. A higher boot will also protect your ankles when you twist them by accident. And trust me, this saves you more time than you realize.
5. Put on Sunscreen
As I mentioned, there will be much fun along the trail. It is not fun to return after an enjoyable hiking day to your skin being burnt. Bring your sunscreen with you because you will also be sweating a lot.
6. Take Your Time
This isn't a race. You are here to experience the wonderful scenery and area you are hiking through. When getting to the top, sit back and take your time. If you are feeling tired, don't be worried about stopping. Everyone along the trail is at a different fitness level. Enjoy Camelback Mountain.
7. Bring Salty Snacks
While hiking in the heat, you will sweat and lose sodium. This is where salty snacks come in handy. You will want to replenish the lost sodium, and in return, you will have increased performance. Some popular snacks are trail mix, chips, and protein bars.
8. Stay on the Trail
I don't want to sound like I'm parenting you, but staying on the trail for most hikes, especially this one, is important. Many accidents have occurred, and hikers have had to be rescued from the mountain. Stay on the trail and do not venture off.
9. Keep an Eye Out for Animals
The reality is that we are in someone else's territory. Along the hike, you will have many chances to see this area's unique wildlife such as many reptiles. Keep your eyes peeled for all kinds of animals. I'm sure if someone else sees something, they will point it out for you.
10. Enjoy Your Time at the Top
For some, like myself, reaching the peak is the main reason for doing the hike. I'm a sucker for a good view, so I like to relax up top and take it all in. Nothing is better in this world than just finishing a grueling hike up to a beautiful peak while eating lunch.
Take your time and enjoy Camelback Mountain in Scottsdale.
11. Bring a First-Aid Kit
Better safe than sorry. It's always smart to bring a first-aid kit with you when doing any hike. There are certain parts of the Camelback Mountain hike that you can slip and fall.
Pack it in your backpack with other snacks and water, and you're good to go!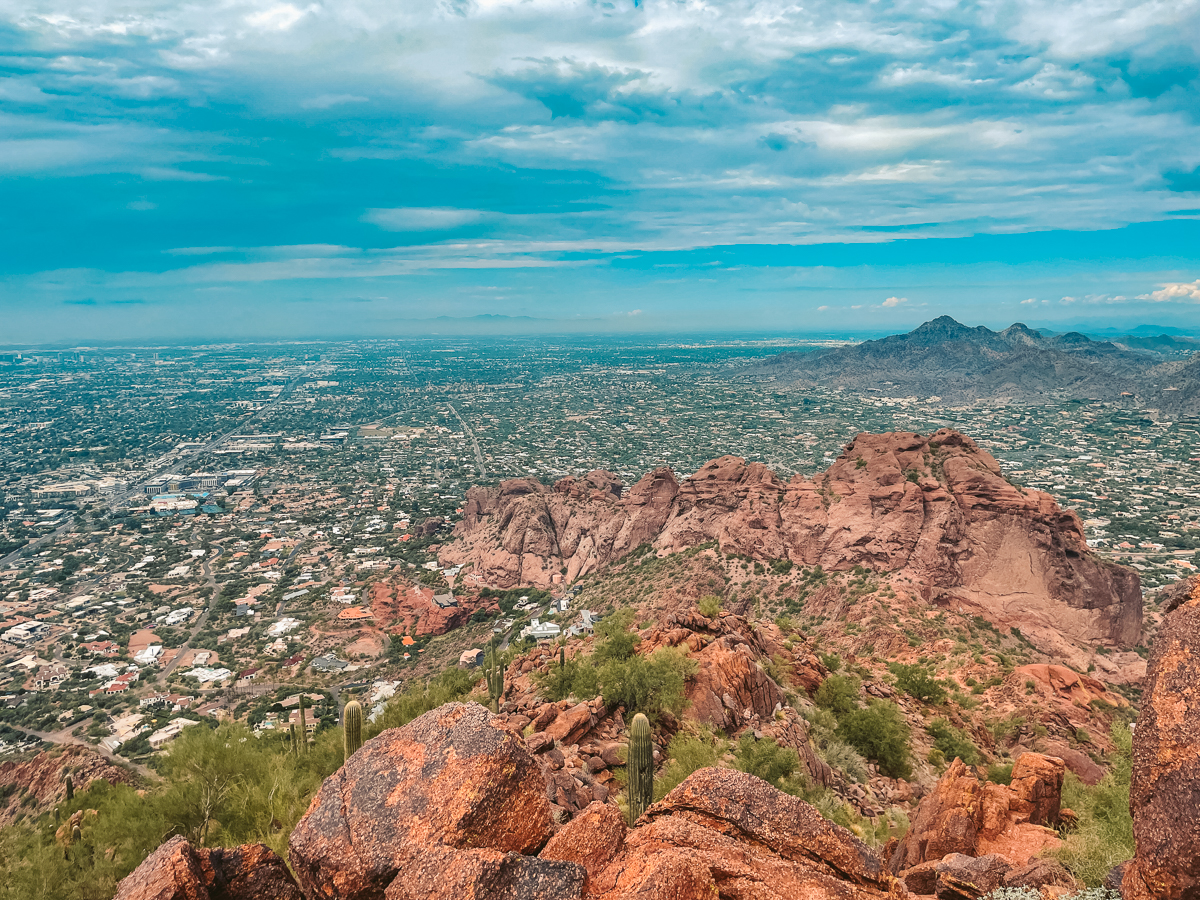 FAQs About Camelback Mountain
Where is the Best Place to See Camelback Mountain?
If you're not interested in hiking Camelback Mountain, the best place to view it is from Herberger Park. You can come here to relax and enjoy the views!
How Did Camelback Mountain Get its Name?
The whole mountain looks like a kneeling camel. You can see the hump in one part, and the head is the other peak.
How Long is the Hike Up Camelback?
To reach the peak of Camelback Mountain, it's around 1.23 miles. So out & back trail will take 2.5 miles to complete.
Other Activities to do in Scottsdale, AZ
Scottsdale has blown up in tourism over the last handful of years. It is currently ranked as a top destination in the country for bachelorette parties. With that being said, there is still something in the area for everyone. If I'm not hiking, then the hot air balloon flight with champagne would be a top choice of mine. Below are some highly ranked activities in the area of Phoenix and Scottsdale.
Final Thoughts on Hiking Camelback Mountain in Scottsdale
This is the most popular hike in the area. Everyone loves doing this hike and some do it multiple times a year. There's a reason for it. The trail is very unique in that it's challenging but very rewarding. There is no better way to see the area you are visiting than from a bird's eye view. Overall I highly suggest doing this hike when visiting the area.
Thank you for reading my guide to Camelback Mountain in Scottsdale. I hope the tips will be helpful when making your ascent to the top.