Sunrise Peak Hike Via Sunrise Trail in Scottsdale
Phoenix and surrounding areas such as Scottsdale are unique. This is a desert environment and the number of cactuses here will amaze you. Just because this is a desert doesn't mean it is super flat. In fact, there are plenty of mountains to climb and nature to see. Some hikes are strolls like Pinnacle Peak. There are other hikes that require a higher level of activity like Camelback Mountain. I believe the Sunrise Peak hike via Sunrise trail in Scottsdale is a mixture of both of these.
There are great views from the top here and you get to look down at the amazing scenery. In this guide, I will go over everything you need to know to complete this hike.
Where is Sunrise Peak Trail Located?
Located Northeast of downtown Scottsdale, the parking lot is only a 30-minute drive away. This makes it an easy day trip and something that will only take up part of your day. Hiking Sunrise Peak via Sunrise trail can be very easy for some but depending on what time of the year you do it, the heat can be a factor.
How Long Does it Take to Hike Sunrise Peak Trail?
This hike is a bit more strenuous for some, especially if you are doing this in the middle of summer. The heat can be a huge factor, depending on what time of the year you're hiking this. Overall, the average hiker will take around 2 1/2 hours round-trip to complete this. The views from the top on totally worth it and this was by far the most cactuses I've seen in a single area.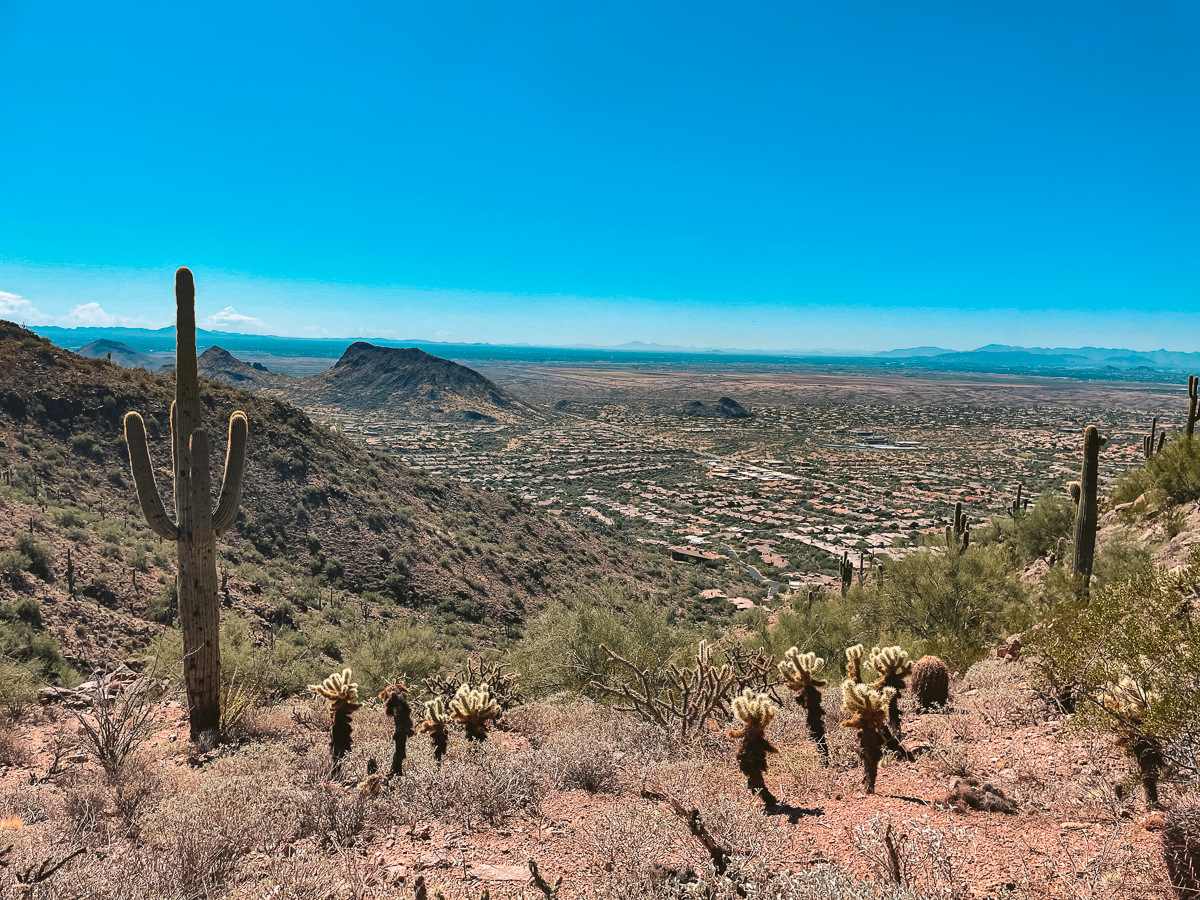 Phoenix to Sunrise Peak in Scottsdale
Downtown Phoenix has a lot to offer like plenty of restaurants and big events like watching an MLB game at the Arizona Diamondbacks stadium. If you are staying here then I will give the detailed directions to Sunrise Peak below.
Directions to Sunrise Peak Trailhead
If you are coming from Phoenix, this will add an extra 10 minutes compared to Scottsdale. You will want to head east and get on AZ-101 North. You will stay on this for 11 miles. Take exit 41 for Shea Blvd.
Continue East until you hit N 136th Street. Take a left here and then take your second right E Via Linda. The Sunrise Peak parking lot will be at the end of this road.
Best Places to Stay in Scottsdale, Arizona
Best Time of the Year to Visit Scottsdale
The best time to visit Scottsdale and the surrounding areas of Phoenix in Arizona is either in the Spring or Fall months. This is when the temperatures are much cooler. If you were to go in the summer, then you could see temps get as high as 120 degrees.
If you want to enjoy your vacation then I suggest going in October. That has been my favorite month of my time living here.
My Suggested Hiking Gear
Below is a list of some of my favorite hiking/travel gear I bring everywhere. Everything below is something I currently use and never leave my house without.
Sunrise Peak Hike Details
Distance: This hike is around a 4.3-mile out & back trail. This varies slightly depending on if you do the entire hike or not.
Duration: On average it will take people 2.5 hours to finish. This depends on fitness level and the time of the year.
Difficulty: I'd rank this hike as moderate because of the length, slight elevation gain, and potential heat.
Incline: The elevation for this hike is around 1,184 feet.
Hiking Guide: A guide is not needed for this hike and is easily accessible by the public.
My Experience Hiking Sunrise Peak Trail in Scottsdale
While doing many of these hikes surrounding the area of Phoenix and Scottsdale, you will be able to see a lot of the same stuff. This hike is very close to Pinnacle Peak but with much better views. This has been one of my favorite hikes I've done in the area so far. I'm a sucker for a good view.
Arriving at Sunrise Peak Trailhead
When we arrived at the parking lot, we were once again headed toward a gated community. The parking lot was around a roundabout to our left. There weren't too many cars there, so parking wasn't a problem. We went during the week so that probably helped a lot.
We prefer there to not be many people on the trail, as a lot of others do as well. The trail was well-marked and there should be no issues in finding your way to the top.
Sunrise Peak Via Sunrise Trail
As I mentioned previously, this was by far the most cactuses I have seen in one area of a hike here. So if you really want your fair share of pictures, then this is a great hike. There are so many it almost seems like people are planting them. Cactuses live for a long time and have been here for many many years.
About 15 minutes into the hike, we started getting good views of the surrounding area. We kept going up and around. Depending on what time of day you go, there will be slight sections of shade.
Keep your eye out for some wildlife, as there are many reptiles that roam these areas.
Sunrise Peak Viewpoint
The time has finally arrived. There is a slight mini-viewpoint at the turn where you'll start to head up to the main viewpoint of Sunrise Peak trail. This is also a good area for photos but the best was yet to come.
Once you make it to the top you'll come to the first area where you can sit down and enjoy the view. This is where most of the people hiking this trail stop. If we keep heading left for a little bit, there will be another area where you can sit and with far fewer people.
We sat here for a half hour or so and enjoyed the view of the town below. This never gets old.
Other Activities to do in Scottsdale, Arizona
Scottsdale has blown up in tourism over the last handful of years. It is currently ranked as a top destination in the country for bachelorette parties. With that being said, there is still something in the area for everyone. If I'm not hiking, then the hot air balloon flight with champagne would be a top choice of mine. Below are some highly ranked activities in the area of Phoenix and Scottsdale.
My Final Thoughts on Hiking Sunrise Peak Trail in Scottsdale, AZ
This hike was better than I had expected. When I first arrived I was thinking it was going to be another slow stroll in the park. This was in fact not the case. It wasn't too hard but the views were amazing. I love the fact that this isn't an extremely popular trail but that it is still very well maintained. Overall, I highly recommend this hike if you think you're not ready for a harder hike yet but still want the views.
Thank you for reading my guide on hiking Sunrise Peak via Sunrise Trail in Scottsdale. I hope this helps you plan your next trip to this amazing region.