Hiking Angelito Trail: Why You Shouldn't Visit
There are many swimming holes located all around the island of Puerto Rico. Some are better than others. One of the, shall I say, less intriguing swimming holes in Puerto Rico is situated at the end of Angelito Trail called Las Damas Pool.
I don't want to completely bash Las Damas pool just because my experience wasn't good, but it wasn't for me.
There are other activities that I will tell you about that I'd suggest over this. I'll share that with you later on in this article.
In this blog, I'll tell you everything you need to know about Angelito Trail and why it wasn't for me.
What is Angelito Trail?
Angelito Trail is the pathway that leads down to Las Damas Pool in the Mameyes River. This is a very popular destination for both tourists and locals alike.
It has grown in popularity over the last few years. So much so that the entire trail is made out of gravel. For me, that's usually a red flag.
Las Damas Pool wasn't crystal clear like I read. I visited in June, so maybe that had something to do with it.
Where is Angelito Trail?
Angelito Trail and Las Damas Pool are technically located in El Yunque National Forest. But they are outside the part where you need a ticket to enter. So it's free to visit!
Another activity (that I enjoyed more) that is very close to here is Las Paylas. This is a swimming hole and also a natural waterslide.
How to Get to Angelito Trail
The best way to visit Angelito Trail is by car. We rented a car for our entire time in Puerto Rico and we're glad we did. Puerto Rico doesn't have much public transport which is a bummer.
If you're leaving El Yunque, then you can take a right on PR-988. The trailhead will be on your right after another 10 minutes or so.
Fajardo to Angelito Trail
Fajardo is a great place to base yourself when visiting Puerto Rico and El Yunque for hikes like Mount Britton Tower Trail, Juan Diego Falls, and La Coca Trail.
Some of our best memories were here. The best way to get here (less windy and small roads) is by taking the same route as you would head to El Yunque.
Turn left on PR-191 off of PR-3 and then stay left on PR-988. You'll cross over a small bridge and then shortly after this you'll see a lot of cars. This is the Angelito Trailhead.
If you want to test how adventurist you really are while visiting Fajardo then I highly suggest the Infinity Pool Hike.
Or if you want more of a chilled-out experience, then you can try visiting Playa Colora or hiking La Zanja Trail!
Things to Know Before Going Hiking Angelito Trail
Angelito Trail and Las Damas Pool are fun activity but also has some downsides. The last thing you want to do is drive in this direction and show up unprepared.
In this next section, I'll go over some things to know before heading out.
Things to Bring
You don't want to come unprepared to Angelito Trail, even if it's the easiest hike you'll do on the island. You'll still be hiking through the rainforest of El Yunque as well.
Here are some things you might want to bring with you down to this swimming hole:
Parking for Angelito Trail
You'll know you've arrived at the trailhead when you start seeing cars lined up on the side of the road. This is often the case in Puerto Rico. Don't be alarmed.
You can park closer to the trailhead, depending on what time you arrive.
Flash Floods
Many areas in/around El Yunque and sometimes all of Puerto Rico are susceptible to flash floods. El Yunque is a rainforest after all and rain is frequent.
If it's raining heavily, use your best judgment when doing these activities.
Best Time to Visit
This is the part where I might have messed up. We hiked Angelito Trail on a Friday and it was PACKED. If you know me at all, that's not my cup of tea.
With its growing popularity, it's better to come to this area during the middle of the week than on the weekends.
Angelito Trail Hiking Details
Distance: This hike is a 0.7-mile out & back trail.
Duration: On average, it will take people 20 – 30 minutes to finish. This depends on fitness level and time at the natural pool.
Difficulty: I'd rank this hike as easy because it's all gravel and extremely flat.
Incline: The elevation for this hike is around 127 feet or 39 meters.
Hiking Guide: A guide is not needed for this hike and is easily accessible by the public.
Best Places to Stay in San Juan
San Juan is the perfect starting point for your trip to Puerto Rico! There is a lot of history here as well as beautiful beaches. Below are some of the best places to stay in San Juan!
Condado Vanderbilt Hotel: This is a beautiful hotel located right on the water in San Juan! Start your trip off by relaxing poolside or at the beach. Only a few minutes away from Old San Juan.
Fortaleza Suites Old San Juan: If you're like me, then you want to be right where all the action is. This is one of the most beautiful hotels located in the heart of Old San Juan!
1802 at San Juan: This is a great budget option in San Juan. It's hard to find cheap hostel-like accommodations when visiting Puerto Rico but this is one of them.
Similar Activities in Puerto Rico
Angelito Trail isn't the craziest adventure in Puerto Rico but there are so many different activities that you can do during your visit. Below are some of my favorites, which are free or extremely budget-friendly!
My Experience at Hiking Angelito Trail
The experience of actually hiking Angelito Trail wasn't too bad. On one end the trail was very easy, well-marked, and made out of gravel.
But I knew this could only mean one thing. It's going to be crowded. And it was! Now this isn't a bad thing for everyone. It's great for families and I love that.
The trail starts at a very gradual decline as it begins leading you toward Las Damas Pool.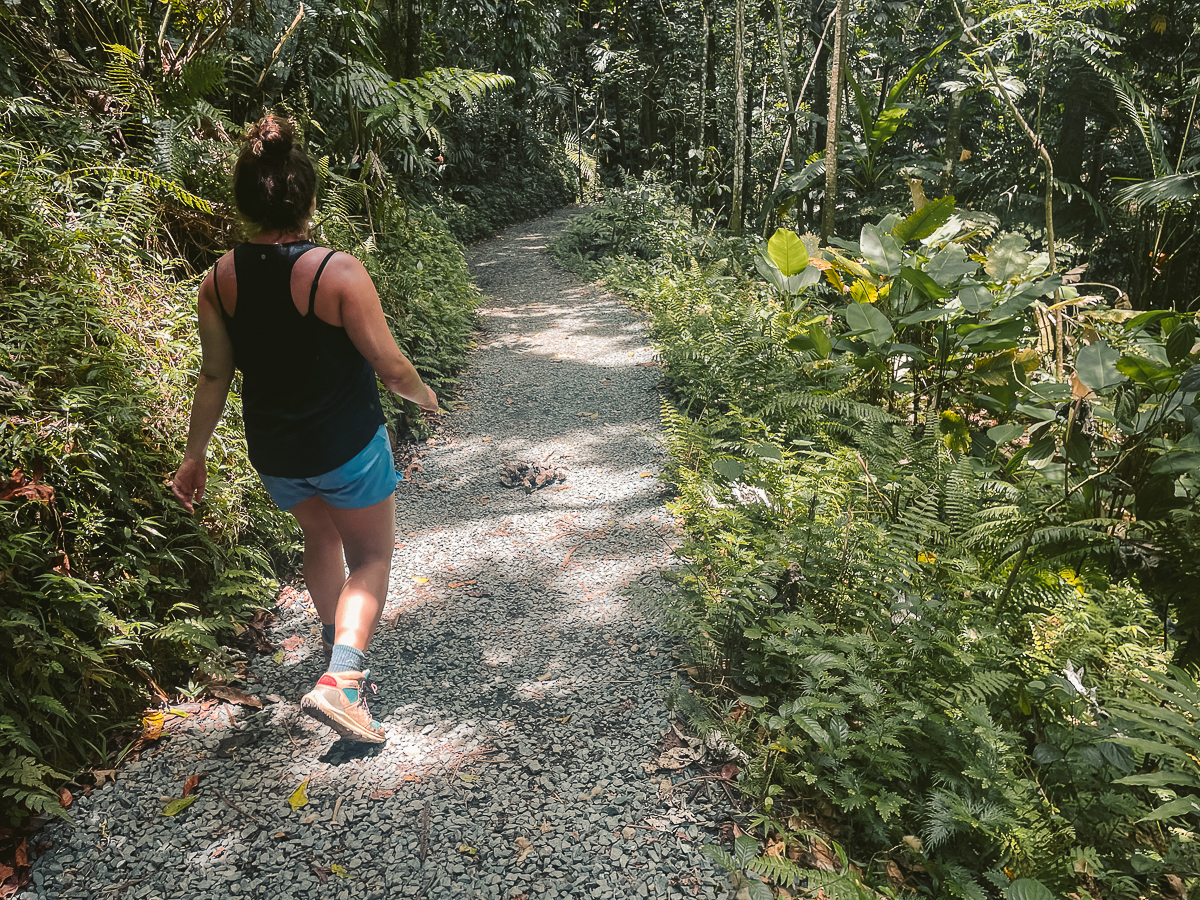 You'll know you're getting close to the end when you have to cross a bridge. This is definitely the best-maintained trail we went on during our time in Puerto Rico.
After a few more minutes, you'll encounter some stairs that go down and then it'll be flat once again. After around 15 minutes in total, you'll arrive at Rio Mameyes (Las Damas Pool).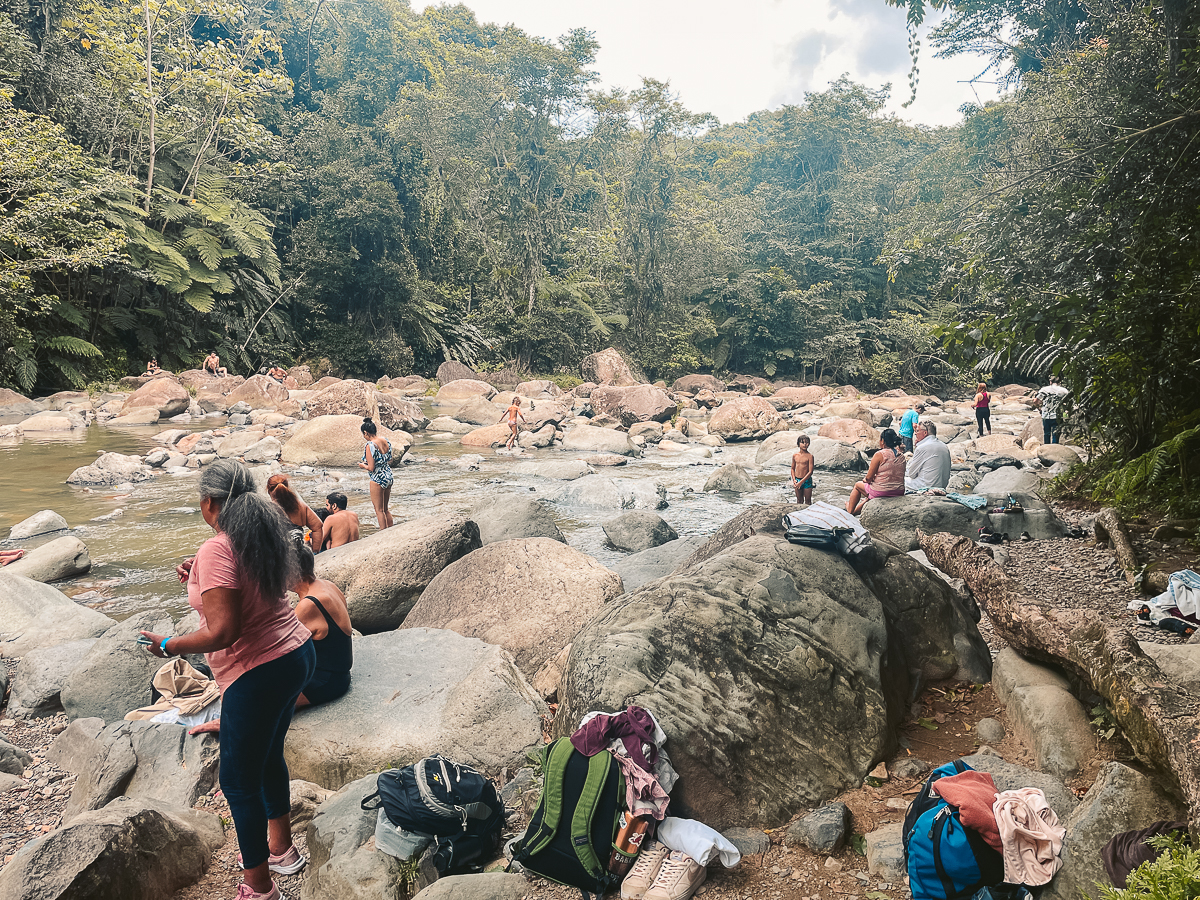 When you get to Las Damas Pool, you'll have a choice to go to the left or right side of it. If this area is too crowded for you, there are other sections you can get to.
The only problem is you have to climb and swim to them, so be careful!
Final Thoughts on Hiking Angelito Trail
If you're looking for a place to relax in the water after a long day, then I think this could be that! Visiting here during the middle of the week would offer less crowds. Personally, though, I'd probably never go back. There were many tour groups here as well. I'll take my hiking boots and go to a more secluded area.
Thank you for reading my guide to the Angelito Trail and Las Damas Pool! I hope this helps you decide if this spot is worth a visit for you or not.