Aguas Calientes to Machu Picchu: The Best Options
Machu Picchu is one of the world's new 7 wonders; because of this, many flock here every year. With that being said, the last step you'll have to take on this journey is getting from Aguas Calientes to Machu Picchu. There are only a few ways of doing this.
I'm still in disbelief that I've seen this sacred site. It was on my bucket list for years and I was not disappointed. We did the 5-day Salkantay Trek to Machu Picchu where we saw beautiful landscapes like Laguna Humantay. I highly recommend that. This still takes you to Aguas Calientes.
I will go over everything you need to know about getting to Aguas Calientes and what the best options are for arriving at your dream destination of Machu Picchu.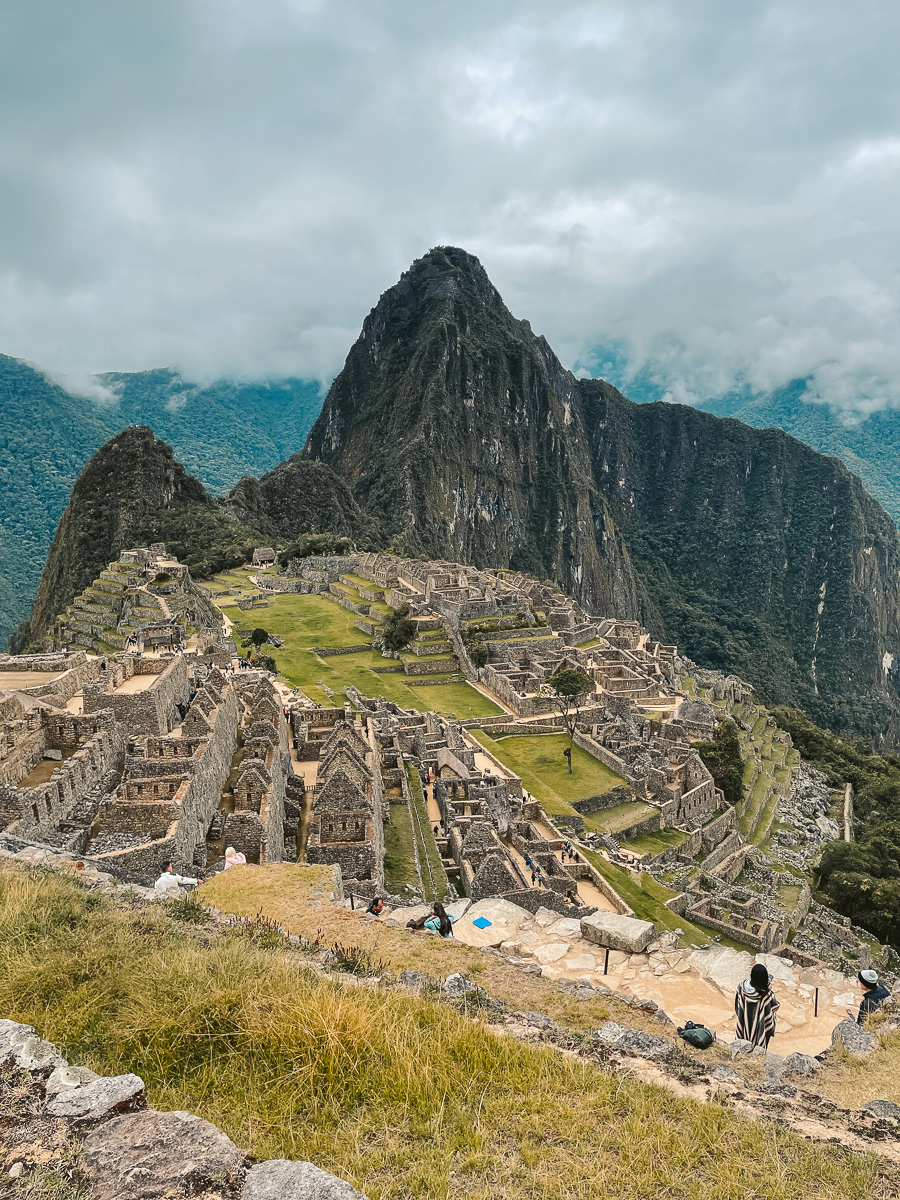 Where is Aguas Calientes Located?
Aguas Calientes is located Northwest of the sacred town of Cusco. This town is very clean with many nice hotels throughout it. It is a much-secluded town for the sole purpose of people visiting Machu Picchu. It is often called 'Machu Picchu Pueblo'.
Cusco to Aguas Calientes
If you are trying to decide of visiting Machu Picchu on a tour or alone, then this information is vital. Getting from Cusco to Aguas Calientes is not hard and there are a few options for doing so.
Direct Train from Cusco: (~$150 to $1000 USD Round-trip)
Bus/Taxi to Ollantaytambo and Train to Aguas Calientes

This can be as low as ~$125 USD

Go With a Tour

If you decide to go with a tour group, then that will alleviate all the stress as everything is taken care of for you.
Even though the cost of travel in Peru is very cheap compared to other countries, traveling to and from Machu Picchu can be expensive.
I love Peru for its ease of travel and endless epic activities to go on and experience.
Best Time of the Year to Visit Machu Picchu
The sacred site of Machu Picchu is open year-round and can be visited whenever fits your schedule best. The most popular times to visit are during the months of June, July, and August. Even though this is Peru's winter, it is also the dry season. This means that there is less of a chance it will rain during your time here.
Best Places to Stay in Aguas Calientes
There are many places to stay in Aguas Calientes and depending on how much you want to spend, you can live in luxury.
Casa del Sol Machupicchu: This is one of the most popular accommodations in the region and is suggested to book in advance. There is free breakfast here which is very handy when visiting Machu Picchu early.
Tree House Ecolodge: This is one of the most unique places to stay in Aguas Calientes. Feel closer to nature in this tree house ecolodge.
Machupicchu Magna: One of the most budget-friendly options in Aguas Calientes at only ~$24 USD.
How to Get from Aguas Calientes to Machu Picchu
There are mainly two ways to get from Aguas Calientes to Machu Picchu. You can either walk a set of stairs straight up the mountainside or take a bus along a winding road. One is free and one is not.
If you are going with a tour company, they will a lot of times have the bus ticket purchased for you already (at least for the way up).
Bus From Aguas Calientes to Machu Picchu
This is the suggested mode of transportation, at least for the way up. It isn't too expensive and helps save you time when trying to make it to Machu Picchu. When visiting this world wonder, you will have a time slot of when you can enter. If you are late, then this means you will have less time with your guide.
The trek up through to steps will take around 1 to 2 hours (depending on fitness level). We didn't want to be sweaty for our visit to Machu Picchu, so we decided on the bus.
If you want to purchase the tickets in person then you can visit this location.
After you have your ticket you will want to make your way to Avenida Hermanos Ayar (the street perpendicular to where the bus ticket shop was). It will be hard to miss because of the large crowd waiting in line.
Find your time slot, show them your ticket, and you are on your way from Aguas Calientes to Machu Picchu!
Buying Bus Tickets to Machu Picchu in Advance
Buying entrance tickets to Machu Picchu as well as bus tickets in advance can save you a lot of time and stress. Even though these bus tickets do not sell out, if you already know you're taking the bus then you might as well buy them in advance.
You can do that on the official site of Consettur.
If you are looking to buy the entrance ticket in advance, then you can purchase them here.
It is suggested to purchase the entrance ticket at least a month in advance because those DO sell out. Especially if you are planning on visiting during the most popular time of the year.
I've heard many horror stories of people making the journey to Aguas Calientes to then not being able to get into Machu Picchu. Don't be those people.
Be sure to bring a copy of your passport and tickets with you for both the bus and entrance to Machu Picchu.
How Long is the Bus Ride from Aguas Caliente to Machu Picchu?
This is a short distance of only 10km but takes around 25 to 30 minutes. You will be going back and forth up a winding road to the top of the mountain.
If this type of ride makes you nauseous, then maybe take the steps down for free.
Hike from Aguas Calientes to Machu Picchu
There is a sense of accomplishment when you arrive at something so beautiful after enduring some sort of struggle. That can either be a 4 or 5-day trek to Machu Picchu or simply walking up the steps to the entrance.
Taking this route will also save you money ($12 USD each way) when getting from Aguas Calientes to Machu Picchu.
There is another mountain you can hike to but you have to have separate tickets for it, which is called Huayna Picchu Mountain. This gives you a unique perspective of Machu Picchu that not many people get to see.
There are 1600 steps that you have to climb up before reaching the entrance to Machu Picchu.
Below I will go over the hike details for this walk.
Distance: This hike is around a 1-mile point-to-point hike.
Duration: On average it will take people 1-2 hours to finish. This depends on fitness level.
Difficulty: I'd rank this hike as moderate to difficult because of the altitude and elevation gain.
Incline: The elevation for this hike is around 1456 feet or 444 meters.
Hiking Guide: A guide is not needed for this hike and is easily accessible by the public.
If you want more details about this hike as well as to read reviews, you can view them on Alltrails.
My Suggested Hiking Gear
Below is a list of some of my favorite hiking/travel gear I bring everywhere. Everything below is something I currently use and never leave my house without.
Salkantay Trek to Machu Picchu
Depending on how much time you have and your fitness level, I cannot suggest enough the Salkantay Trek. This is a very popular way to reach Aguas Calientes instead of the famous Incan trail.
If you do decide to do this trek, then make sure you are prepared for the high altitude as you will reach a max elevation of 4,630 meters.
A good way to get prepared for this when arriving in Cusco is to stay for a few days in town, hydrate and walk around doing hikes like the Cristo Blanco viewpoint.
Final Thoughts on Aguas Calientes to Machu Picchu
Even though I consider myself pretty adventurous, I highly suggest taking the bus from Aguas Calientes to Machu Picchu. You can tell which people came from the Incan trail as they are still wearing all of their hiking gear. This is a great experience and it will be up to you which option you choose. The bus may be expensive but everything revolving around Machu Picchu really is and for good reason.
Thank you for reading my guide on how to get from Aguas Calientes to Machu Picchu! I hope this helps you make your decision on how you will arrive at one of the new world wonders.