Cascada Del Silencio in Baños
Banos in Spanish means "bathroom". You may be wondering why this town is called a bathroom then. The town of Baños in Ecuador is rich in terms of waterfalls, thermal baths, and rivers. This will become apparent after doing such hikes as the Mirador de Baños and the waterfall I'll be going over today, Cascada del Silencio.
I was in Ecuador during a time of heavy protests, so my activity list is a lot shorter than I would have liked. That being said, there were still a few things that were easily accessible to me.
There are two waterfalls in this area I will be going over today. So along with Cascada del Silencio, you will also be seeing Ulba waterfall.
What is Cascada Del Silencio in Baños?
Located a 40-minute walk outside of town and 15 minutes drive are two amazing waterfalls that you must visit. Cascada del Silencio and Ulba waterfall are both fed by the Rio Ulba.
These waterfalls are only a short hike from the entrance on the street. I was told there was a $1 entry fee but nobody asked me for anything.
There are different parts you're able to go to, so maybe I didn't reach these areas of the park.
How to Get to Baños, Ecuador
Ecuador has a really good bus system. The most popular airport to fly to is the capital of Quito. After this most will fly into Cuenca or Guayaquil. Below I will go over the options and how to go about finding the bus to start your adventure in Baños.
Quito to Baños
This is the option that I took as I flew into Quito. It is quite easy to get from Quito to Baños by bus. Below will be a set of steps to take to get there.
Take an uber or taxi to the bus Terminal Quitumbe (around $4-$5)

This is only needed if you're north of Quito where most hostels are. Quitumbe is more to the south of Quito.

Once at the bus terminal, you will need to look for the yellow Baños office inside. This cost to Baños will be $5 and they run all day.
This is around a 3 to 3-1/2-hour journey with only one stop in Ambato.
Cuenca to Baños
Cuenca is a favorite town of many travelers to Cuenca. Although much farther away from Baños than Quito, it is still a very easy journey.
You will want to make your way to Terminal Terrestre in Cuenca.

It is right next to the airport

Look for the bus company Amazonas
They have 3 buses a day and one of those runs at night leaving at 11 pm and getting to Baños at 6 am.

The night bus will save you money on accommodation and costs between $7 and $11
Places to Stay in Baños, Ecuador
Papachos Hostel: This is where I volunteered and I loved it. If you're looking for a laidback vibe then this is the place. Located on the outskirts of town it is a quiet area for $7.50 a night.
Great Hostels: The most popular sport in the town, the Great Hostels is perfect for socializing. The cost is amazing too. For $8 to $10 you get free breakfast and a place to sleep.
Erupcion Art Hotel & Hostel: Considered to have one of the most iconic rooftops in all of Baños, this is a place not to miss. Great location as it is located in the square downtown for $9 to $10 a night.
My Suggested Hiking Gear
Below is a list of some of my favorite hiking/travel gear I bring everywhere. Everything below is something I currently use and never leave my house without.
Cascada Del Baños Hike Details
Distance: This hike is around 2.5 – 3.5 miles when going to Cascada del Silencio. This depends on if you decide to walk from Baños or get a taxi to the entrance.
Duration: It will take between 1 to 4 hours depending on how far you end up going and how long you stay at each waterfall.
Difficulty: I'd rank this hike as easy to moderate. There is barely any incline throughout the hike but the route I took requires some river crossing.
Incline: The elevation for this hike is around 377 or 112 meters.
Hiking Guide: A guide is not needed for this hike and is easily accessible by the public.
For more information and reviews on this hike, you can check out Alltrails
My Experience Hiking to Cascada Del Silencio in Baños
On a normal given day, this area of Baños is very easily accessible. Whether this is by foot or by car. Just a week before this, some guests at the hostel I was volunteering at said that they went to these same waterfalls but had to walk past a barricade. It was a completely safe but interesting experience for sure.
These blockades were part of the strike going on during my time in Ecuador. Because of this issue, I decided it was best to walk to the entrance and see how it went.
Baños to the Entrance
Starting from the central park in Baños you will want to head North East. Once you hit the main road you're able to stay on the sidewalk unlike what google maps suggest.
I had no issues walking this route and once you get on this street it is only another 20 minutes.
If you stay on the right side of the road the entire time you'll never have to cross the street. After a short bit on this road, you will make your way to a sign that shows Cascada del Silencio and Ulba Waterfall.
Ulba Waterfall
Once you turn on the street where the sign is, you'll go past a building that looks like a convenience store. I will always suggest having Maps.me downloaded just in case. It wasn't the most accurate thing when looking at how to get from Ulba to Cascada del Silencio but it is better than nothing.
Ulba is straight ahead, so if you keep following the path you will eventually reach it after 10-15 minutes. The hike isn't strenuous but I had to cross a small area of water. It took a little bit of skill but I also so people juggling bikes while crossing it.
Cascada Del Silencio Baños
After reaching Ulba waterfall I started to head back the way I came to see if I could then find the trail to Cascada del Silencio. I will admit, that I think I took the wrong route. I followed this Alltrails route as well as following maps.me.
In the picture above if you walk to the left you will see another path heading back. This I think is the new path that most people take. I don't think there is a right or wrong path though because I had a blast going the way I went.
Go back to the first main river crossing and you will see a path that heads to the west. From here you'll have to cross two more times and I did have to take off my boots. The reward was outstanding though as Cascada del Silencio was breathtaking.
There is a ladder that I saw across the water from the waterfall. I believe this is where that other route would have taken you from Ulba Waterfall. There seems to be a nice viewpoint setup from there as well.
Ruta de las Cascadas
Ulba waterfall and Cascadas del Silencio are part of the Ruta de las Cascades in Baños. This is a popular biking route that will take you to see a total of 6 waterfalls throughout Baños including the famous Pailón del Diablo.
Renting a bike is extremely cheap in town and it is a great way to explore the surrounding area.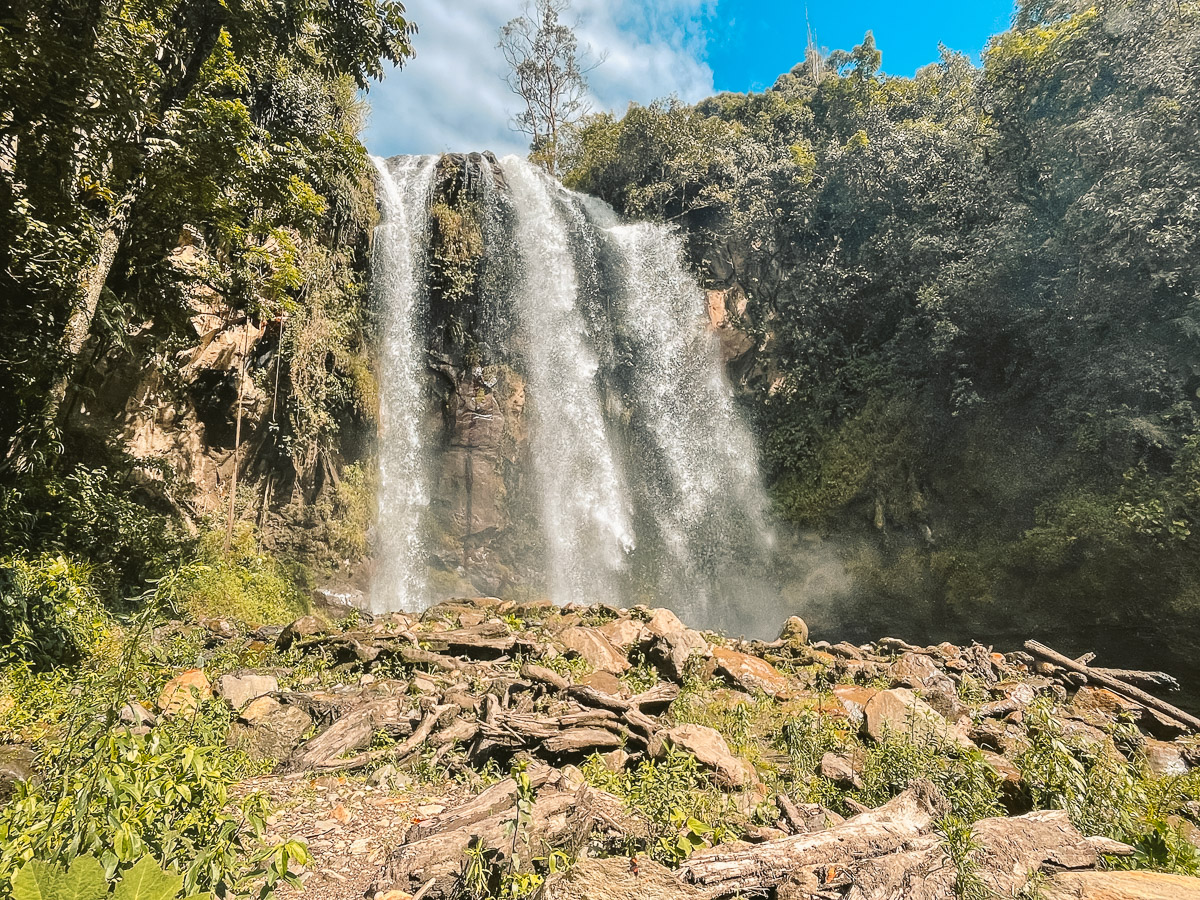 Other Activities in Baños, Ecuador
Baños is considered the adventure capital of Ecuador. You will not find a shortage of different activities to do here. These include hiking, rafting, canyoning, and much more. Below are some of the best tours to do around this wonderful town.
Final Thoughts on Cascada Del Silencio in Baños
I any hike that is free or virtually free I love, especially one to a waterfall. Ulba waterfall and Cascada del Silencio were 10x better than I thought they would ever be. That being said it isn't that difficult to get to so in different circumstances than mine, there could be a lot more people at them at once. When I was leaving the area a huge group of 15+ was walking in and I was glad I was leaving. Other than that I highly recommend these waterfalls to anyone visiting Baños.
Thank you for reading my guide on Cascada del Silencio and Ulba waterfall in Baños. I hope you enjoy these two waterfalls as much as I did.