Pailón del Diablo in Baños: Everything You Need to Know
25 minutes outside of the town of Baños in Ecuador is one of the most powerful waterfalls I have ever seen. This waterfall is a completely different experience than Cascada del Silencio and especially hiking the Mirador de Baños. It is considered the most popular tourist attraction in Baños. Pailón del Diablo is an attraction that leaves you wondering how something that strong can exist.
With its easy accessibility to Baños, it's no wonder this is a hit amongst travelers and locals alike. My time in Ecuador was unique in that I spent most of my time during a nationwide strike that blocked all major roads. This made travel difficult. In this guide, I will go over the best ways to get there as well as how I managed to fit this into my itinerary during an uncertain time.
What is Pailón del Diablo?
El Pailón del Diablo is located just 16km outside of Baños. A popular way to get here is by renting a bike and riding along the Ruta de las cascades. This route has a total of 6 different waterfalls that you are able to visit.
The waterfall is a staggering 80 meters high and gets its power from Rio Pastaza.
This isn't much of a hike unless you walk from Baños but that doesn't mean you won't feel adventurous.
How to Get to El Pailón del Diablo
Under my circumstances, there weren't many choices. We weren't even 100% sure if we'd be able to make it outside of the town. The buses weren't running because of the strike so we decided to test our luck with a taxi. Below I will list the different options you have to take.
Taxi: This isn't the suggested way but it cost us $10 to get there from Baños. You may have to haggle down some to get this price.
Bus: Head to the bus station and take the bus going to Puyo. Tell the driver where you are going and it shouldn't cost more than $2 one-way.
Rent a Bike: This is the most adventurous option and extremely cheap as well. A bike rental for the day should cost around $5.
Entrance Fee to Pailón del Diablo
When you arrive, you will soon realize this area is extremely well done. The price to enter is $2 but I wouldn't have been surprised if it cost more because of how nice the pathways were.
Solid viewing areas are a must here because of how much water is going everywhere because of the power.
How to Get to Baños, Ecuador
Ecuador has a really good bus system. The most popular airport to fly to is the capital of Quito. After this most will fly into Cuenca or Guayaquil. Below I will go over the options and how to go about finding the bus to start your adventure in Baños.
Quito to Baños
This is the option that I took as I flew into Quito. It is quite easy to get from Quito to Baños by bus. Below will be a set of steps to take to get there.
Take an uber or taxi to the bus Terminal Quitumbe (around $4-$5)

This is only needed if you're north of Quito where most hostels are. Quitumbe is more to the south of Quito.

Once at the bus terminal, you will need to look for the yellow Baños office inside. This cost to Baños will be $5 and they run all day.
This is around a 3 to 3-1/2-hour journey with only one stop in Ambato.
Cuenca to Baños
Cuenca is a favorite town of many travelers to Cuenca. Although much farther away from Baños than Quito, it is still a very easy journey.
You will want to make your way to Terminal Terrestre in Cuenca.

It is right next to the airport

Look for the bus company Amazonas
They have 3 buses a day and one of those runs at night leaving at 11 pm and getting to Baños at 6 am.

The night bus will save you money on accommodation and costs between $7 and $11
Places to Stay in Baños, Ecuador
Papachos Hostel: This is where I volunteered and I loved it. If you're looking for a laidback vibe then this is the place. Located on the outskirts of town, in a quiet area for $7.50 a night.
Great Hostels: The most popular sport in the town, the Great Hostels are perfect for socializing. The cost is amazing too. For $8 to $10 you get free breakfast and a place to sleep.
Erupcion Art Hotel & Hostel: Considered to have one of the most iconic rooftops in all of Baños, this is a place not to miss. Great location as it is located in the square downtown for $9 to $10 a night.
My Suggested Hiking Gear
Below is a list of some of my favorite hiking/travel gear I bring everywhere. Everything below is something I currently use and never leave my house without.
Pailón Del Diablo Hike Details
Distance: This hike is a 1.3-mile out & back trail. This depends on if you decide to stop by the cafe/bridge leading to it.
Duration: It will take around 1 hour to complete this but more time will be spent at Pailón del Diablo.
Difficulty: I'd rank this hike as easy to moderate as there isn't much incline or long stretches of hiking.
Incline: The elevation for this hike is around 446 feet or 135 meters.
Hiking Guide: A guide is not needed for this hike and is easily accessible by the public.
Reviews of this Hike and other information can be found on Alltrails
My Experience Hiking to Pailón del Diablo in Baños
My Experience might be a lot different than most as I previously stated. We were the only ones at Pailón del Diablo, which is very unique. There are two different entrance areas that you can go to. One of them is a shorter route but for us, it was closed (probably due to the protests).
This shorter route gives you a view from above whereas on the route we took you were able to get behind the waterfall and feel its wrath. It's hard for me to say which is better but I loved our experience.
Cascada Manto de la Novia
Our taxi driver was extremely nice. It was potentially a tricky drive if there were going to be roadblocks. As previously mentioned Pailón del Diablo is a popular waterfall along the Ruta de las Cascades. This means in our taxi we were passing by some of them.
Around 15 minutes into our drive, he kept pointing at a beautiful waterfall and we ended up parking on the side of the road to check it out. This waterfall is called Cascada Manto de la Novia. It is an amazing waterfall and there are usually different activities going on around it. In our case, there was nobody around. We had to go find someone to take us on the cable car.
This cable car only cost us an extra $2 each and it was completely worth it.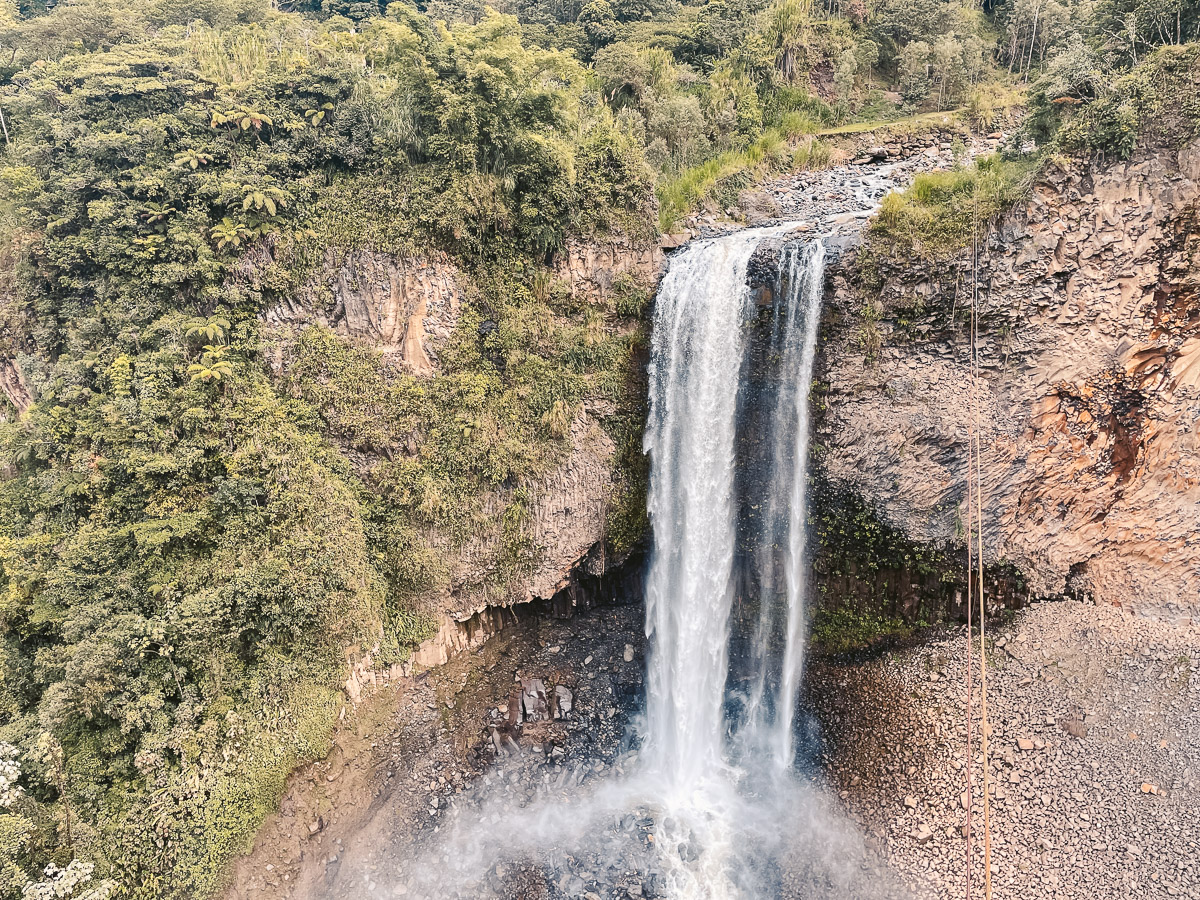 Entrance to Pailón del Diablo in Baños
After we left Cascada Manto de la Novia, we then had another 10 to 15 minutes in the taxi until we arrived. The town that Pailón del Diablo is in was very eerie and quiet. As we pulled up to the first entrance I immediately had the feeling that it was closed. I didn't know there was a second entrance just around the corner.
Our taxi driver took us there, and we hopped out and made our way down to the waterfall. If you ever take a ride out of town, always make sure you get the WhatsApp number of your driver so you can get back.
The hike was straight downhill from here. You will be winding back and forth until you get to a large entrance sign with Pailón del Diablo on it. You can't miss it.
Poncho Needed
We got extremely lucky when we arrived at the entrance. There were some free ponchos laying on the fence. We quickly took them and headed on up. After we paid our $2 entrance fee we followed the stairs for a few seconds and you were instantly thrown into what felt like a storm.
Pailón del Diablo is crushing down with force and with that force brings a lot of water flowing up. If you look over the edge by the bottom you can barely look for long before the wind and rain force you to look away.
In order to get behind the waterfall, you have to almost crawl your way. There is a path to the right of the overlook and this leads you to the back of Pailón del Diablo.
When you have finished exploring this insane natural wonder, you can head back. At the entrance there was food being cooked but like I said no one was there. The owner told us there was a bridge up ahead that is made from wood from WWII.
This bridge leads to a cafe/restaurant but unfortunately for us, this was also closed.
It's worth the trip to see it either way as this path leads you back out.
Other Activities in Baños, Ecuador
Baños is considered the adventure capital of Ecuador. You will not find a shortage of different activities to do here. These include hiking, rafting, canyoning, and much more. Below are some of the best tours to do around this wonderful town.
Final Thoughts on Pailón del Diablo
This might be the only time for the next handful of years that you will be able to visit Pailón del Diablo at 2 PM with no one else there. Besides our unique circumstances, I enjoyed visiting this amazing waterfall. The great thing about this activity and many others around Baños is that you barely have to spend any money. If the buses were running, then in total we would have spent like $5 or $6. This is a great budget-friendly activity and I highly recommend it to anyone traveling to Baños.
Thank you for reading my guide on everything to know about Pailón del Diablo. I hope my experience will help you plan your trip to Baños, Ecuador.