10 Amazing Things To Do in Baños, Ecuador
Ecuador is one of the best countries in South America if you are looking for fun and adventure. There are many famous hikes such as the Tungurahua Volcano. This volcano is located next to the town of Baños. Baños is considered the adventure capital of Ecuador and you will find many things to do here.
My time was cut short in this country due to some unforeseen circumstances but this place left a mark on me during my time there. From ziplining to white water rafting, and hiking, you will never run out of things to do in Baños.
How to Get to Baños, Ecuador
Ecuador has a really good bus system. The most popular airport to fly to is the capital of Quito. After this most will fly into Cuenca or Guayaquil. Below I will go over the options and how to go about finding the bus to start your adventure in Baños.
Quito to Baños
This is the option that I took as I flew into Quito. It is quite easy to get from Quito to Baños by bus. Below will be a set of steps to take to get there.
Take an uber or taxi to the bus Terminal Quitumbe (around $4-$5)

This is only needed if you're north of Quito where most hostels are. Quitumbe is more to the south of Quito.

Once at the bus terminal, you will need to look for the yellow Baños office inside. This cost to Baños will be $5 and they run all day.
This is around a 3 to 3-1/2-hour journey with only one stop in Ambato.
Cuenca to Baños
Cuenca is a favorite town of many travelers to Cuenca. Although much farther away from Baños than Quito, it is still a very easy journey.
You will want to make your way to Terminal Terrestre in Cuenca.

It is right next to the airport

Look for the bus company Amazonas
They have 3 buses a day and one of those runs at night leaving at 11 pm and getting to Baños at 6 am.

The night bus will save you money on accommodation and costs between $7 and $11
Best Places to Stay in Baños, Ecuador
Papachos Hostel: This is where I volunteered and I loved it. If you're looking for a laidback vibe then this is the place. Located on the outskirts of town, in a quiet area for $7.50 a night.
Great Hostels: The most popular sport in the town, the Great Hostels are perfect for socializing. The cost is amazing too. For $8 to $10 you get free breakfast and a place to sleep.
Erupcion Art Hotel & Hostel: Considered to have one of the most iconic rooftops in all of Baños, this is a place not to miss. Great location as it is located in the square downtown for $9 to $10 a night.
My Suggested Hiking Gear
Below is a list of some of my favorite hiking/travel gear I bring everywhere. Everything below is something I currently use and never leave my house without.
10 Amazing Things to do in Baños, Ecuador
I volunteered in Baños for a little over a month. It was during an interesting time as arrived only a few days before Ecuador's longest protest in its history.
Unfortunately, this meant I wasn't able to do as many activities as I would have liked to but I still got to do a handful of them.
All of the hikes I have done myself and other things on this list I was told about but wasn't allowed to go. It is tough but I will be back.
1. Hike to Sendero de la Virgen
Mirador de Baños or Sendero de la Virgen hike is very popular amongst locals for its ease of access and a good workout. This was particularly perfect for me as the starting point for this hike was right next to my hostel.
The main part of this hike is along multiple sets of stairs that will eventually lead you to the statue of the Virgen.
Here many people sit and hang out, taking in the views of Baños below.
Hiking details of Mirador de Baños:
Distance: This hike is around .8 miles to la Virgen or 3 miles to the swing at the end of the world (out & back). This depends on if you take the easier route, take a car halfway up, or do the loop.
Duration: It will take between 1 to 4 hours depending on how far you end up going.
Difficulty: I'd rank this hike as moderate to difficult depending on your fitness level. The first part of the hike was 500 feet of straight incline along stairs until la Virgen.
Incline: The elevation for this hike is around 500 feet to la Virgen and another almost 2000.
Hiking Guide: A guide is not needed for this hike and is easily accessible by the public.
2. Continue to Casa del Arbol
Casa del Arbol is one of the more famous activities to do in town. This is also called the "Swing at the End of the World" and is a popular Instagram photo location.
If you want to hike here, you can continue onwards past the Mirador de Baños and follow the trail up. I suggest downloading Mapsme as this will have offline maps of the trail you will need to follow.
You will also get views of the Volcan Tungurahua (if the clouds don't cover it).
The entrance is $1 and is solely for the purpose of the swing.
3. Go White Water Rafting
No adventure is complete without some white water rafting. You will be rafting down the Pastaza River during your 5-hour excursion.
This is considered the gateway of the Amazon and you will come across many waterfalls and other attractions.
If you would rather book this in person, I would suggest finding a tour company in town or asking your hostel.
4. Animalpark Parque Tematico
This park was unfortunately closed during my stay due to the protests. Parque Tematico has many amazing reviews and is great for children of all ages.
The animals here range from horses and cows to even a couple of African lions.
It is a great place to spend a couple of hours with the family!
5. Pailon del Diablo
Pailon del Diablo is potentially the most famous waterfall in all of Ecuador. Its sheer strength and power will leave you shocked.
This waterfall is located slightly out of town but only around 16km. It was difficult to get a taxi to take us there because of the blockades but we ended up making it.
The waterfall is a staggering 80 meters high and gets its power from Rio Pastaza. The entrance is only $2 and is totally worth it.
Along the way to Pailon del Diablo, we stopped at Cascada Manto de la Novia and paid to take a cart up close to this waterfall. I'm not sure if the price will be the same now but we paid $3 to get on this.
Hiking details of Pailon del Diablo:
Distance: This hike is a 1.3-mile out & back trail. This depends on if you decide to stop by the cafe/bridge leading to it.
Duration: It will take around 1 hour to complete this but more time will be spent at Pailón del Diablo.
Difficulty: I'd rank this hike as easy to moderate as there isn't much incline or long stretches of hiking.
Incline: The elevation for this hike is around 446 feet or 135 meters.
Hiking Guide: A guide is not needed for this hike and is easily accessible by the public.
6. Cascada del Silencio
One of the best activities I could do during my stay here in Baños was hiking to Cascada del Silencio. This a 40-minute walk outside of town or a 15-minute drive if you would rather do that.
Once you arrive at the gate, you may have to pay an entrance fee. I was told there would be one but I saw no one and paid nothing.
If you follow this path straight you will eventually reach the Ulba waterfall. You can then turn around and follow a different path that will take you to Cascada del Silencio.
This is a very fun and cheap activity that will scratch that adventure in you's itch.
Hiking details of Cascada del Silencio:
Distance: This hike is around 2.5 – 3.5 miles when going to Cascada del Silencio. This depends on if you decide to walk from Baños or get a taxi to the entrance.
Duration: It will take between 1 to 4 hours depending on how far you end up going and how long you stay at each waterfall.
Difficulty: I'd rank this hike as easy to moderate. There is barely any incline throughout the hike but the route I took requires some river crossing.
Incline: The elevation for this hike is around 377 or 112 meters.
Hiking Guide: A guide is not needed for this hike and is easily accessible by the public.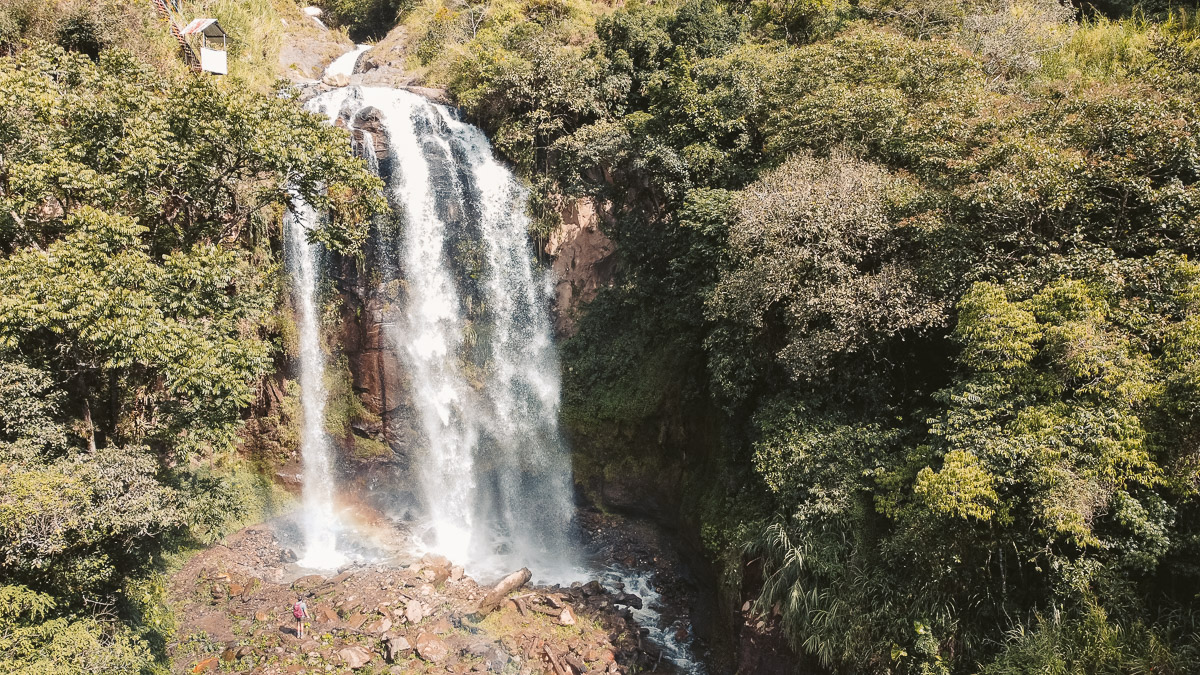 7. Bike the Ruta de las Cascadas
The Ruta de las Cascadas is a famous bike route starting in Baños that hits the waterfalls mentioned in this blog plus a few more.
This route is around 25km long and takes you toward the town of Puyo. You can rent a bike in town for fairly cheap. It shouldn't cost more than $10.
I highly suggest this as a top thing to do in Baños as it is packed with adventure.
8. Relax in the Hot Springs
The name baños in Spanish mean "bathroom" and you might be thinking why is a town called a bathroom? This town is most famous for its hot springs which the locals love to hang out at.
One of these hot springs is the Termas de la Virgen and is an experience in itself. You might want to temper your expectations because it isn't the prettiest-looking water.
The entrance fee is $3 and hundreds of locals sit and bathe in this thermal bath.
9. Day Trip to Amazon
While these things to do technically aren't in Baños, the tour leaves from here. Enjoy the day paddling down the Puyo river in a canoe and visiting waterfalls.
While in Puyo you will visit an animal sanctuary that has animals ranging from monkeys, ocelots, and caimans.
These tours have really great reviews and you will not be disappointed.
10. Go Canyoning
Have you ever wanted to grapple down a powerful waterfall in the middle of Ecuador? Well now is your chance!
While I was volunteering in Baños, one of the most popular tours that were purchased was the canyoning tour.
Here is the chance to explore the eastern Tungurahua and climb through the water that is fed by the Amazon and Pastaza Rivers.
This tour is only 5 hours long and costs around $30. If you would rather purchase it in person then I would suggest talking to the reception at your accommodation in Baños.
Other Activities in Baños, Ecuador
Baños is considered the adventure capital of Ecuador. You will not find a shortage of different activities to do here. These include hiking, rafting, canyoning, and much more. Below are some of the best tours to do around this wonderful town.
Final Thoughts on the Best Things to do in Baños, Ecuador
Baños is considered the adventure capital of Ecuador and I can see why. There is so much nature to explore and things to do that you will never want to leave Baños. With its ease of access from Quito, many adventurers flock here. I highly recommend this location to anyone who wants to visit Ecuador. I'm going to have to come back soon to make up for lost time and fill out this blog more.
Thank you for reading my guide on the best things to do in Baños. I hope this article has persuaded you in wanting to visit this amazing part of the world.