Ruta de las Cascadas in Baños: The Legendary Bike Route
Baños is known as the adventure capital of Ecuador, and it's easy to see why. You can do many different activities depending on what you like. One of the most popular things to do in Baños, which I highly recommend, is the Ruta de las Cascadas.
This bike route follows the road to the east of Baños, and you can visit up to six different waterfalls! The entire activity can be done without a guide and is affordable, too.
I loved how I could get an awesome workout in, see multiple different waterfalls, and do it all on a different style of transportation than normal.
In this guide, I will go over everything you need to know about the Ruta de las Cascadas, like where to rent a bike and which waterfalls are the best to visit.
Some of the links in this article are affiliate links. By clicking these links, I may earn a commission, which helps me create more free travel content for everyone. A win-win if you ask me!
What is the Ruta de las Cascadas?
Ruta de las Cascadas is a 16 km (32 km roundtrip) bike route outside of the small town of Baños. It's exhausting and becomes a pretty long day, but well worth it!
Most of the waterfalls are free to visit or, at the very least, extremely cheap. You can do other activities around these waterfalls, like hiking, ziplining, bungee jumping, and going inside a cable car.
What's nice about this activity is you can choose how far you go and how much you see. The first waterfall you can visit is the Cascada Ulba, and the last is the Cascada Rocio Machay.
Ruta De las Cascadas Overview
As I mentioned previously, you can do this waterfall bike ride any way you want. Below are the waterfalls I visited, and I'll tell you if I think they are worth visiting for yourself or not.
Bike Rentals in Baños
Renting a bike for the day is simple and relatively cheap! We paid $10 for the entire day from around noon to 9 p.m.
I've read that some people found bike rentals for $5 for the day, but I had no luck with this. Maybe this could be possible if you took extra time and went around to haggle.
Baños Xtreme Sports is a good company that rents out bikes and guides other town tours. I will admit the bikes we had were extremely uncomfortable.
My butt started hurting almost immediately as the seat was hard as a rock. If you plan on doing the entire route, then maybe test out multiple bikes.
How to Get to Baños
Ecuador has a really good bus system. The most popular airport to fly to is the capital of Quito. After this, most will fly into Cuenca or Guayaquil. Below, I will go over the options and how to go about finding the bus to start your adventure in Baños.
Quito to Baños
This is the option that I took as I flew into Quito. It is quite easy to get from Quito to Baños by bus. Below is a set of steps to take to get there.
Take an Uber or taxi to the bus Terminal Quitumbe (around $4-$5)

This is only needed if you're north of Quito, where most hostels are. Quitumbe is more to the south of Quito.

Once at the bus terminal, you must look for the yellow Baños office. This cost to Baños will be $5, and they run all day.
This is around a 3 to 3-1/2-hour journey with only one stop in Ambato.
Cuenca to Baños
Cuenca is a favorite town of many travelers to Cuenca. Although much farther away from Baños than Quito, it is still a very easy journey.
You will want to make your way to Terminal Terrestre in Cuenca.

It is right next to the airport.

Look for the bus company Amazonas.
They have three buses daily, one running at night, leaving at 11 p.m., and getting to Baños at 6 a.m.

The night bus will save you money on accommodation and costs between $7 and $11
Things to Know Before Biking the Ruta de las Cascadas in Banos
Doing the Ruta de las Cascadas on your own might seem scary, but trust me, it's really straightforward!
In this next section, I'll review what you need to know before setting off on one of your most scenic bike rides!
How Long Does it Take to Bike Ruta de las Cascadas?
The length of time to complete the entire Ruta de las Cascadas route depends on a multitude of different factors. The number one factor is your fitness level.
There are some parts where it's easier than others, but by the end of the entire thing, I was exhausted.
Another factor is if you're planning on biking all the way back or if you take one of the trucks back to Baños.
My #1 piece of advice when doing the Ruta de las Cascadas is to try and avoid doing it on Sunday. The traffic on the way back to Baños (at least later in the afternoon) is bad.
Bad is an understatement. We were in the back of the truck for 90 minutes before we decided to get out and bike the rest. This whole process took us three hours to get back.
This route can take between three and six hours on a normal day.
Biking Details
Distance: This bike ride is a 10-mile out & back trail. This depends on if you decide go out & back or not.
Duration: It will take around 3 – 6 hours to complete this but more time will be spent at each waterfall.
Difficulty: I'd rank this hike as moderate to hard.
Incline: N/A
Hiking Guide: A guide is not needed for this hike and is easily accessible by the public.
You can use Mapsme to help find certain waterfalls when you don't have service.
Other Fun Activities in Ecuador:
Different Ways to do Ruta de las Cascadas
Another popular option is to rent a car in Ecuador and do the whole route by car. This will save you a lot of time, and you will get the opportunity to stay at each waterfall much longer.
You can also choose to do this on a tour, but I suggest otherwise. It'll cost around $45 and won't get you anything you can't already do.
But sometimes having a tour guide is nice, so I get it!
Cost of Ruta de las Cascadas
If you want to ride this bike alone, the cost will be cheap. It only costs $10 for the bike and around $5 total for the entrances to Pailon del Diablo and Machay.
You can spend more money eating at a restaurant or taking a cable car, but these aren't necessary. And in my opinion, Pailon del Diablo and Machay are the best waterfalls on this list.
Where to Stay in Baños, Ecuador
Papachos Hostel: This is where I volunteered, and I loved it. If you're looking for a laidback vibe, then this is the place. Located on the outskirts of town, in a quiet area, for $7.50 a night.
Great Hostels: The most popular sport in the town, the Great Hostels are perfect for socializing. The cost is amazing, too. For $8 to $10, you get free breakfast and a place to sleep.
Erupcion Art Hotel & Hostel: Considered to have one of the most iconic rooftops in Baños, this place is not to miss. Great location as it is located in the square downtown for $9 to $10 a night.
How to Get Back to Baños
You'll be exhausted after you finish at either Pailon del Diablo or Machay. The last thing you want to do is ride your back up the hills and into town.
Luckily for you, there's a truck that allows you to put your bike back in and hitch a ride into town. It's located closest to Pailon del Diablo.
Act like you're riding your bike to the Machay, and you should see this covered truck on the side of the road or simply ask around.
The cost should only be a few dollars. Well worth it if you ask me.
My Suggested Hiking Gear
Below is a list of some of my favorite hiking/travel gear I bring everywhere. Everything below is something I currently use and never leave my house without.
My Experience Biking Ruta de las Cascadas
Biking the Ruta de las Cascadas in Baños was my favorite activity by far. This was largely due to how affordable it was and the sheer number of things we saw.
A good hike to do in Baños to warm up is the Mirador de Baños hike. You can make this hike as long or short as you want, but you'll get good views throughout.
Cascada del Silencio/Ulba
I hiked Cascada del Silencio and Ulba separately, but those are the first waterfalls you can come across.
There'll be a large sign of Ulba on your right-hand side. Take a right here and follow the trail. It's a huge waterfall; you can get close to it without much effort.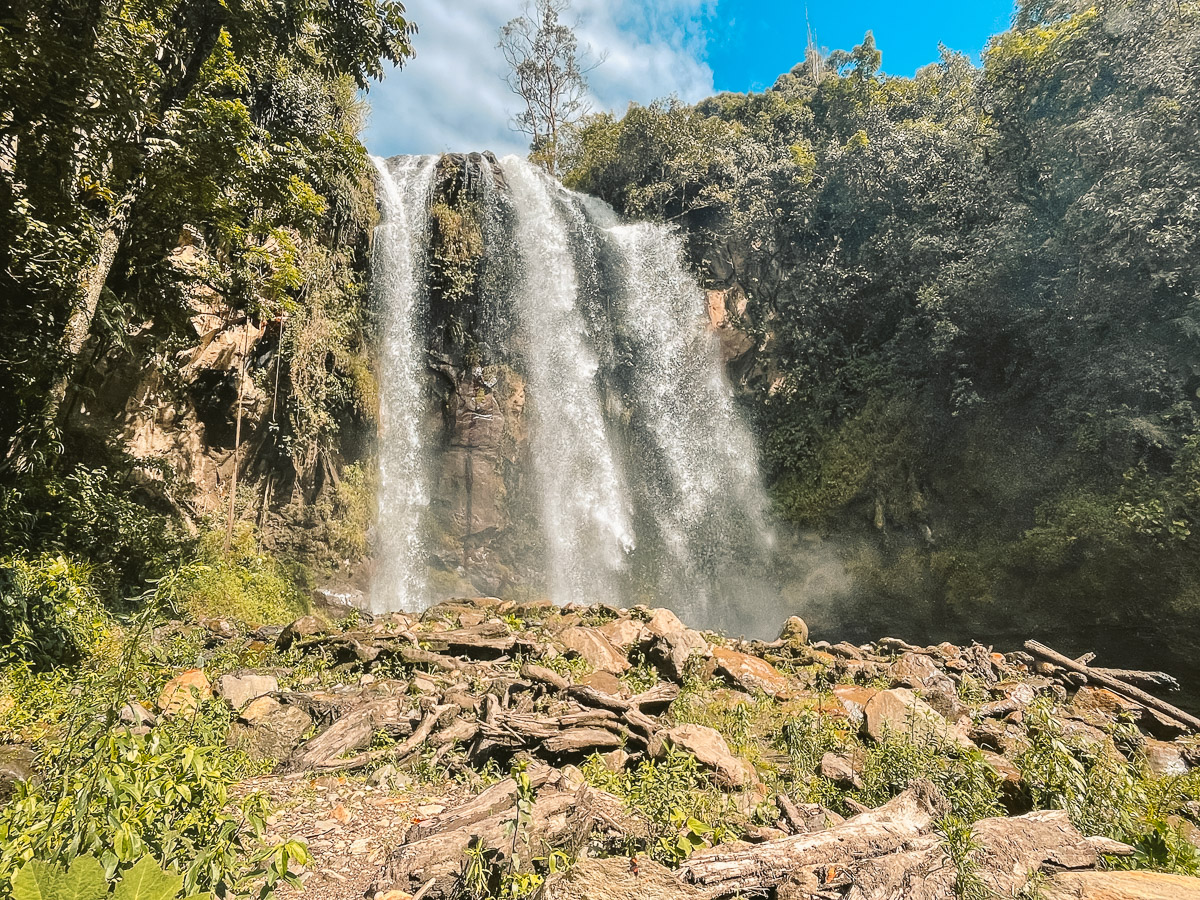 Cascada de Agoyan
The actual first waterfall we biked to was Agoyan. It took us around 20 minutes to get here, and we didn't do much besides take some photos and look at the waterfall.
We saw some people going across in ziplines; that looked fun! But we wanted to keep going because we knew we had a long day ahead of us.
Agoyan is hard to miss. It'll be your first large parking lot when the river starts to become visible. There's also a mini-amusement park across the street.
Cascada Manto de la Novia
The next waterfall on our route was Manto de la Novia. This is another waterfall that I saw the first time I visited Baños.
We were on our way to Pailon del Diablo and stopped here to take the cable car across. It cost us $3 each and was worth the money! It took us right up to the waterfall!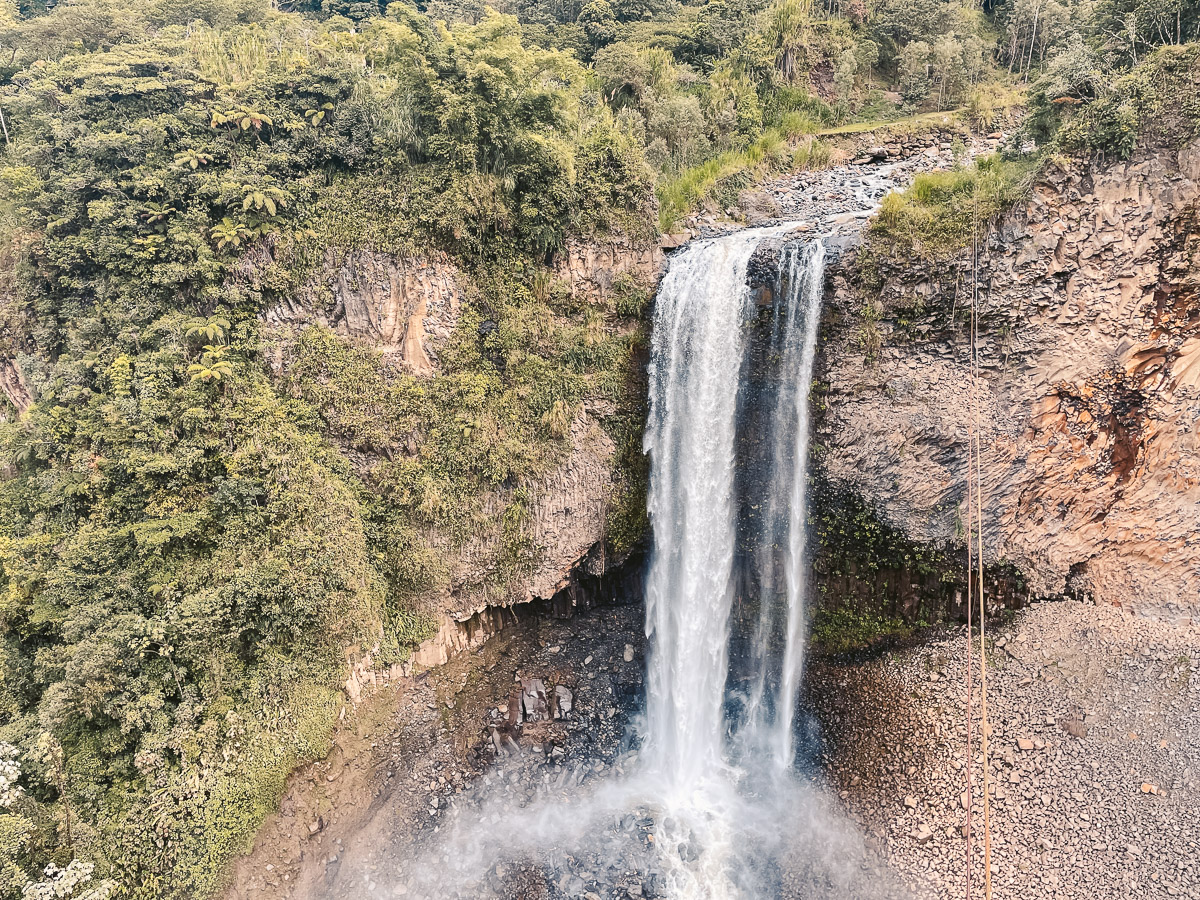 Pailon del Diablo
The most famous waterfall on the Ruta de las Cascadas, and maybe even in Ecuador, is Pailon del Diablo. This is by far the most powerful waterfall I've ever witnessed with my own eyes.
It costs $2 to enter, and there are two entrances. When you get to the bridge, you, instead of crossing, can walk down.
This will take you to the top of the waterfall, which is what we did this time.
My first time visiting Pailon del Diablo, we kept driving straight over the bridge and down to the other entrance.
I prefer the second entrance as it takes you closer to the river and enjoys some on-site restaurants.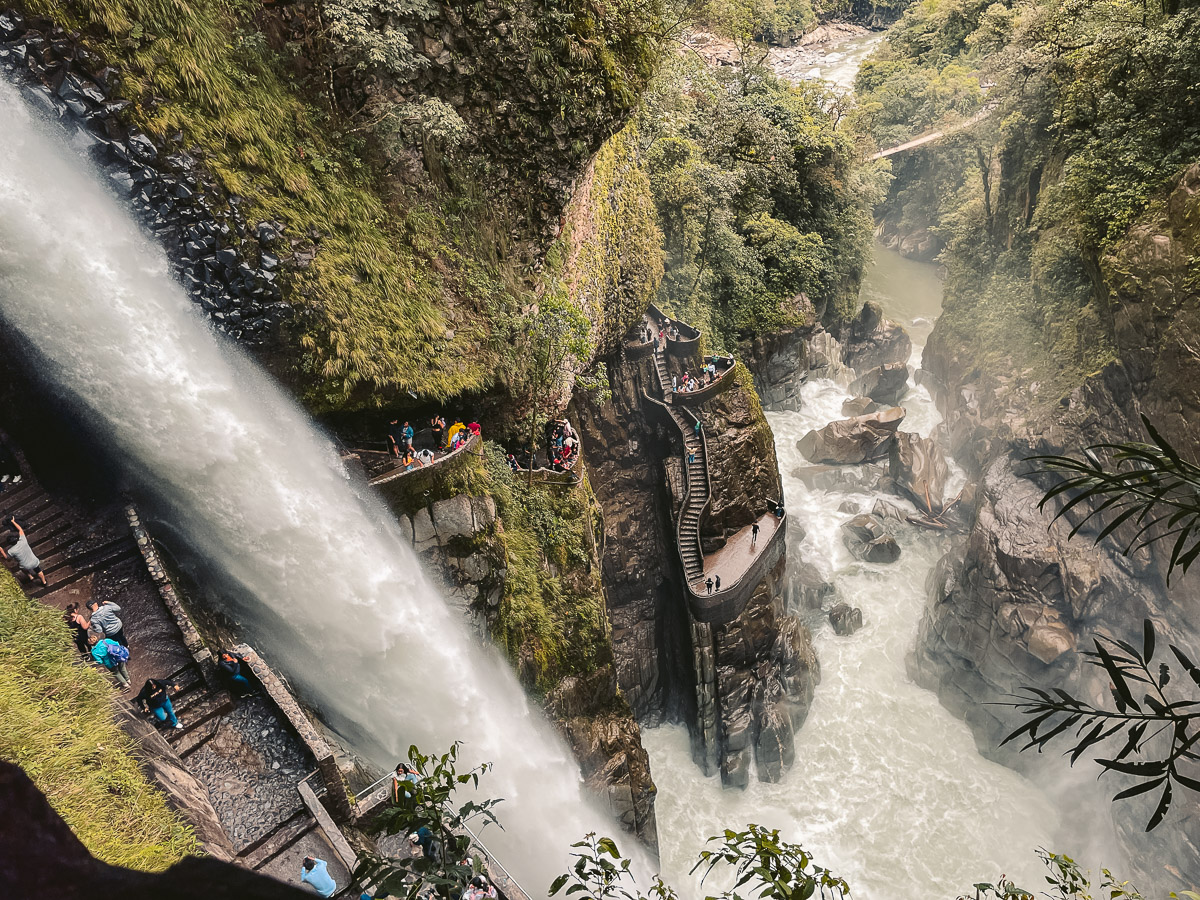 El Rocio Machay
This was the last waterfall on our bike ride and the last waterfall I hadn't seen before in Baños. It blew my expectations out of the water!
You have to pay around $2 to enter and start hiking down. There is a free entrance slightly farther up the road, but we didn't know about it until after.
Once you get to the look, you start to realize how big of a drop this waterfall actually is. There are multiple lookouts and a place to relax in the river below.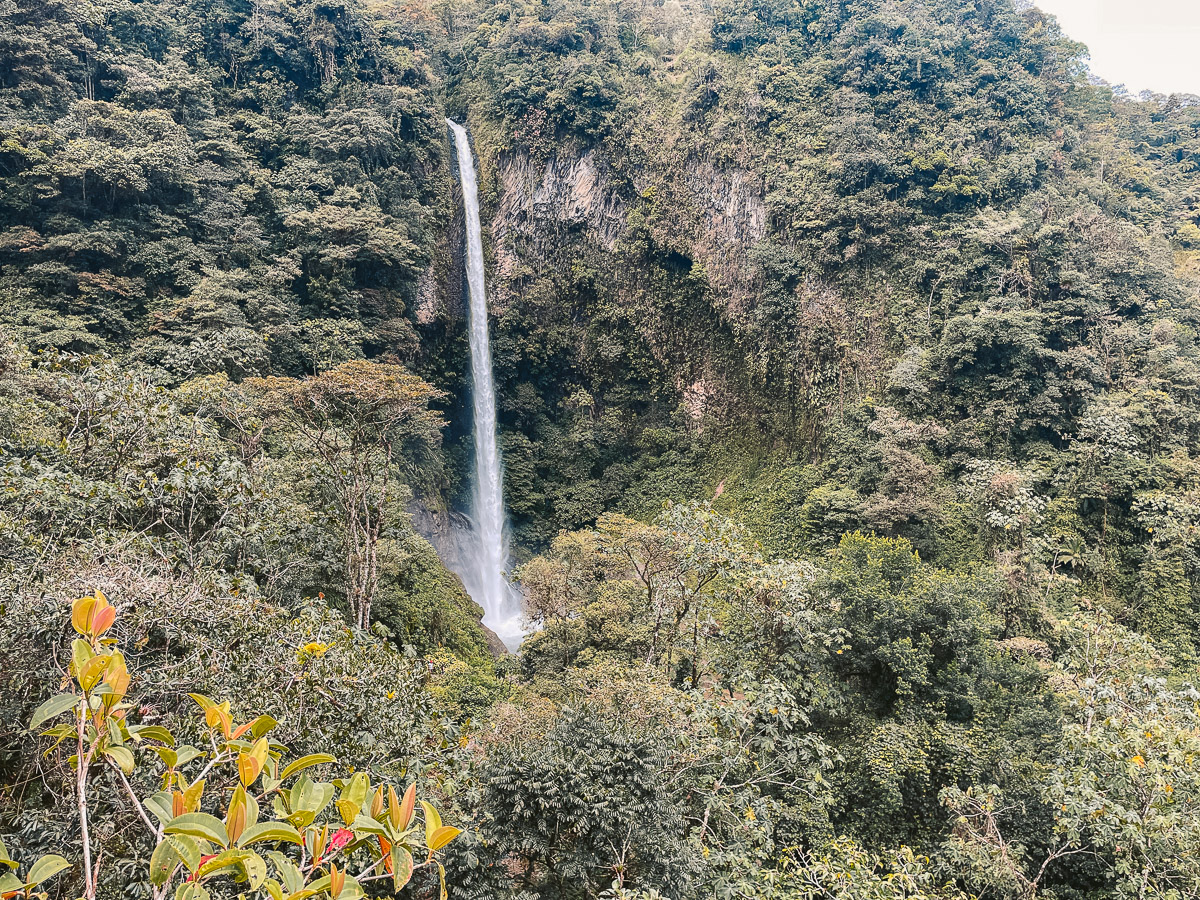 Final Thoughts on Biking the Ruta de las Cascadas
They were right. Baños is full of adventure. There are so many waterfalls to see and activities to complete. I was under different circumstances last time, but I'm mad at myself for not doing the Ruta de las Cascadas before. This activity truly has it all and is a can't miss when visiting Ecuador, especially Baños!
Thank you for reading my guide on the Ruta de las Cascadas in Baños! I hope this blog has helped you plan your itinerary to this amazing country.