La Fortuna Waterfall: Everything You Need to Know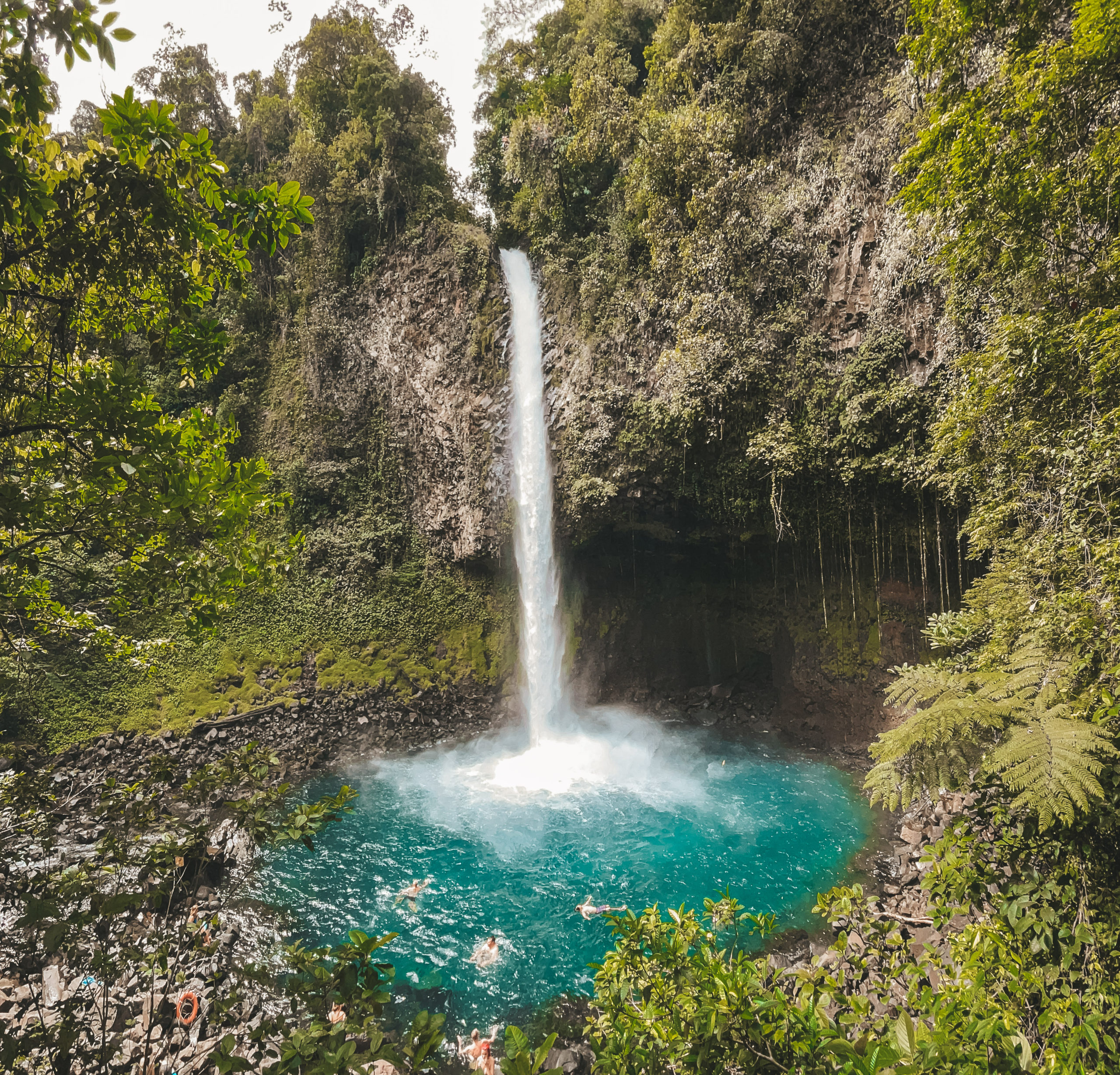 When visiting La Fortuna, a very popular activity is to go see La Fortuna waterfall. This is also called Catarata Rio Fortuna in Spanish. La Fortuna in Spanish translates to "the fortune" and the meaning is accurate to the area. This town is magical and you will never run out of things to do here. While walking around town you will see the Arenal Volcano in the distance (unless clouds fully cover it). There is a reason this place is on everyone's list when they visit Costa Rica.
If you are looking for a great activity for the whole family or just yourself, La Fortuna Waterfall is an easy one to do. I will go over how to get there as well as some frequently asked questions below. You will want to bring your swimsuit if you want to get into the water. The water is chilly but I highly suggest getting into La Fortuna Waterfall. Also, bring any snacks you want to eat down there if you don't want to spend the extra money on the food they sell.
La Fortuna Waterfall Tips
Take Your Time Coming Back Up the Stairs
Bring Your Own Water
Wear a Bathing Suit
Bring a Rain Jacket (remember you're in a rainforest)
Wear Closed Toe Shoes or Hiking Boots
Catarata La Fortuna Waterfall Map
My Suggested Hiking Gear
Below is a list of some of my favorite hiking/travel gear I bring everywhere. Everything below is something I currently use and never leave my house without.
Things to Know Before Visiting La Fortuna Waterfall
Getting to and hiking La Fortuna Waterfall is a pretty simple adventure when compared to other waterfalls in Costa Rica. It is super popular, so getting to and from here is no issue. Below is some information you might be wondering about before your trip here.
How to Get to La Fortuna Waterfall
There are a few ways to get here. If you are taking a tour, then they will take care of getting you there. You can also take a taxi to the waterfall. This could run anywhere between $7 to $15 one way. I would make sure to go over the price before getting one. We took an uber, as there are plenty in La Fortuna. Uber is technically not legal yet in Costa Rica, so take that into consideration.
Is a Tour Necessary?
This is primarily a self-guided tour. It is easy enough to do on your own, no problem. If you are someone who loves to have someone figure it all out for you, then there are plenty of tours to choose from. A lot of tours have multiple things included in them for around $150. You can look more into them on TripAdvisor. Some other things included in these tours are a volcano hike, ziplining, and walking over hanging bridges.
Is it Free?
Entrance to La Fortuna waterfall is not free. It costs $18 per adult. Any child that is 8 years or younger has free entry. If you are from Costa Rica then the price is only $9. They do accept credit cards, so don't worry if you don't have any cash on you.
Is La Fortuna Waterfall Worth it?
For someone who looking for a true hardcore adventure, I would say this isn't worth it to them. Our family was visiting during this time and it was great for everyone. Catarata La Fortuna is beautiful and I don't think anyone would truly be disappointed by seeing its massive strength and size.
La Fortuna Waterfall Hours
The park is open daily from 7 am to 5 pm. It is suggested to come no later than 4 pm if you want to enjoy the entirety of the park.
How Tall is the La Fortuna Waterfall
The waterfall is around 70-75 meters high or 200 feet. It is extremely powerful and if you swim too far, you will get whistled at. This is all for your safety.
How Long is the La Fortuna Waterfall Hike?
This hike will take you 20-30 minutes to go down the stairs. This all depends on your fitness level but there are resting spots after every major section. You will see a lot of people looking tired going back up but you can do it!
How Many Steps Are There During the Hike?
The hike consists of 530 steps down to the waterfall. The railing and rest areas are of high quality with water drinking areas in these spots. There are motivational signs throughout that will push you to finish the hike!
Is there a zipline at the La Fortuna Waterfall?
When visiting there won't be any mention of this zipline at the front desk. This is done through other tour companies that will take you on these zip lines and then give you access to the waterfall as well. Check Viator for some tours that include ziplining.
Is Rio Celeste or La Fortuna Waterfall Better?
I have done Rio Celeste last time I visited Costa Rica back in 2017 and it was awesome. The water was the bluest I've seen and was super unique. You were not allowed to swim at Rio Celeste, which is what I like better about La Fortuna Waterfall. Why make a decision on one or the other when you can do both? They are about a 90-minute drive apart from each other.
Things To Do in La Fortuna
You will have a hard time running out of activities to do around here. Some of these activities require spending money or having a tour guide but are all worth it. Here is a list of a handful of ideas when planning your trip.
Sloth Tour
Night Walking Tour
Free Hot Springs
Explore the area around the Chato Volcano
Tabacon Hot Springs
Mistico Arenal Hanging Bridges
Ecocentro Danaus Reserve
My Experience Doing the La Fortuna Hike
I loved doing this hike. Some may not consider it a hike but it was still very cool to see. This was the week my family came and it was great for everyone. Super accessible and nobody had any issues. My favorite activities are like the ones in Montezuma where you have to have an adventure before the actual adventure. It is worth the $18 if you make sure to swim and take up a lot of time at the bottom.
Once you arrive at the parking lot, you will sign a waiver. Immediately after you will buy your tickets and then enter the park right ahead. Once inside, you will go past the souvenir shop, and right ahead will be a platform. From here you will see the La Fortuna Waterfall from a distance. Right next to this are the 500 steps down towards it. Overall if you are in the area, I think it is something that you have to do.