La Piedra Del Peñol – Guide to the Famous Guatape Rock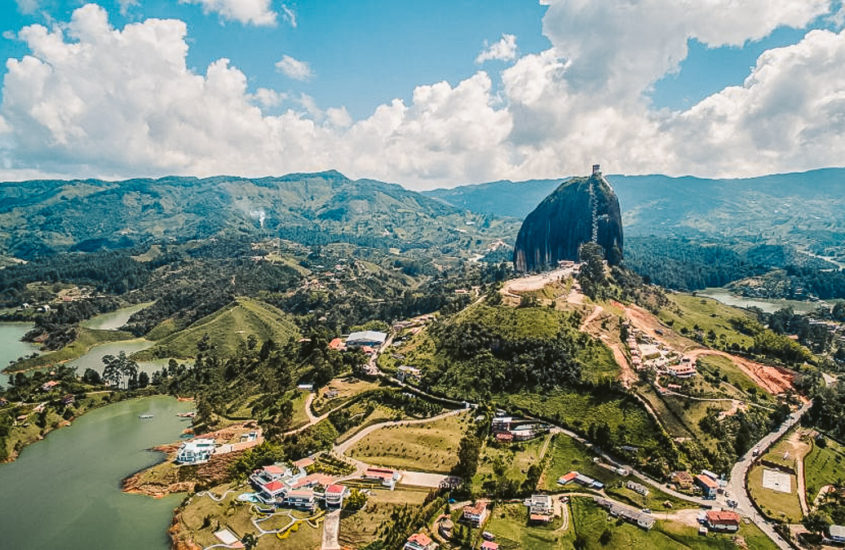 If you were to drive by the town of Guatape in Colombia, it would be very hard to miss the famous rock. La Piedra del Peñol in Guatape has become a huge tourist attraction and for good reason.
Visiting La Piedra del Peñol can be done as a very easy day trip from Medellin. There are many great tours to Guatape that you can find leaving Medellin. You can also go on your own.
Busses are run multiple times per day to the town of Guatape. It can be very affordable if all you want to do is visit La Piedra del Peñol. But there is more to do here than that.
In this guide, I will go over all the details you need to know for visiting La Piedra del Peñol as well as other things to do around Guatape.
How to get to Guatape from Medellin
As I said previously, visiting the town of Guatape is extremely easy from Medellin. The buses are cheap (we paid $17,000 COP). When in Medellin you will want to go to the Terminal del Norte. This is a huge bus station that can take you to many different places.
Find the sign that says 'Guatape' at booth number 14. Here you will pay for your bus and they leave every hour. The trip will take around 2 hours.
To get to Terminal del Norte you can take the metro to the Caribe station and which is right next to that.
Alternatively, you can take an Uber or Taxi to Guatape for around $250k pesos. This is not recommended as it is very pricey but is a viable option if you are traveling with multiple people.
If you are short on time then taking the day trip will be the best option. It is around $35 USD and it includes transportation, a boat tour, breakfast, and lunch. Below is a recap of how to get to Guatape.
Bus from Temerminal Del Norte ($17,000 COP)
Uber/Taxi (~250k pesos)
Guatape Rock Tour Costs
If coming from Medellin, the most popular way to visit Guatape Rock is to take a tour of the city. This tour is only one day but it will last multiple hours, so be prepared. It includes breakfast, lunch, a boat tour, and a tour of the town of Guatape. Medellin to Guatape Day Tour costs around $35 and you can click the link below for more information.
More Activities to do Around Medellin
La Piedra Del Peñol Historia
The most asked question is how many stairs you have to climb to reach the peak of La Piedra del Peñol. There are over 700 steps to the top. They are currently adding on some different sections so this could vary sometime in the future.
The Guatape rock used to be a figure of worship among some indigenous tribes. The rock is made of granite with a huge crack in the side of it. This crack was referred to as the mark from the devil who tried to take away the sacred rock many years ago.
La Piedra del Peñol currently sits at around 2135 meters and you will be climbing 220 meters of that.
Related Post: 9 Amazing Hikes in Medellin
How to get to La Piedra Del Peñol
Once in Guatape, it is actually quite easy to get to the famous Guatape rock. You can either walk, take a tuk-tuk or catch a bus.
The bus stop is along the water and can be found on google maps. I will pin the starting location below. We actually caught it while it was driving and it cost us $4000 COP but have heard it could cost as cheap as $2000 COP. Below I will list the rest of the options in a format easier to read.
Walking (~30 minutes)
Tuk-Tuk (~$10,000 COP)
Bus (~$4000 COP)
Truck (~$4000 COP)
If you don't want to make the trek up the road then taking a tuk-tuk will be your best option. The Bus dropped us off at the gas station at the bottom of the road that leads up to Guatape Rock.
Best Places to Stay in Guatape, Colombia
Lake View Hostel: This is the most popular place to stay when visiting Guatape, especially for backpackers. It has a great rooftop area overlooking the lake and the restaurant is fantastic.
Casa Kayam Hostal: For a more unique experience, check out Casa Kayam. This is located a few minutes away from town in the heart of nature.
Casa Pastora Hotel: If you're looking for something a little bit quieter, then this accommodation is for you. I've also heard that breakfast is one of the best in town!
My Suggested Hiking Gear
Below is a list of some of my favorite hiking/travel gear I bring everywhere. Everything below is something I currently use and never leave my house without.
My Experience Climbing La Piedra Del Peñol (Guatape Rock)
Climbing the stairs wasn't that bad because you could take many breaks. Along the way, there are many different views that you can stop at. It is very humid here so wearing a breathable shirt would be a smart decision.
There are many restaurants around the park entrance but we didn't try any of them. I'm sure the prices are heavily inflated but who knows, maybe the food is amazing.
Bring some good walking shoes and extra cash for the top. You will want to reward yourself with some ice cream and maybe a souvenir when reaching the top.
Ticket Booth
Once you arrive up the hill to La Piedra del Peñol you will easily be able to find where you can buy a ticket. The cost has increased slightly. I think in the past it was $18,000 COP but when we went we paid $20,000 COP.
This comes out to $5 USD which has been around the same price as it has been in the past.
La Piedra Del Peñol Steps
The steps might seem daunting at first glance. It is over 700 steps up to the top but the views are so worth it. You are able to stop multiple times along the way if you need to.
Sometimes you are forced to stop as they let a group of people go down and then they let a group of people go up. It seemed this could be due to them doing construction work which could help fix this problem.
There is a nice viewpoint that takes you off the steps. It is around halfway up and has some statues and an amazing view.
Piedra Del Peñol View
This is what everyone comes for, myself included. The views of the lake in Guatape from here are surreal. I've never seen anything like it, to be honest. It seems like many different islands are scattered throughout. This would be an amazing lake to live on.
Once at the top, you will have some options for snacks (like ice cream) and souvenirs. Above the gift shop is a slightly higher viewpoint but with a lot more people. We stayed at the top for around an hour and then headed back down.
Some people stay even longer to take in the views as long as they can.
Other Things to Do in Guatape
Guatape has a lot more things to do than visiting La Piedra del Peñol. As it is a lake town, there are many water activities like jet skis, boat tours, waterfalls, and visiting the old town to see the beautiful streets.
We took a boat tour while visiting Guatape and it was amazing. You get to see many different lake houses as well as Pablo Escobar's old house. His house was blown up quite a few years ago but it is still crazy to see.
You can either find a cheap boat ride for around $40,000 COP or take a private boat with a professional in the region.
It is also highly recommended to walk around the town of Guatape. Here you will find the famous umbrella street with colorful buildings.
There is a nice square that you can hang out in and right next to this is a beautiful church. We had some great food around this area and then returned to our hostel afterward.
Final Thoughts on Visiting La Piedra Del Peñol in Guatape
Experiencing the phenomenon that is La Piedra del Peñol is a must when visiting this region of Colombia. It is very doable from Medellin if you don't want to spend multiple days here. It is very touristy so if you do come on your own I would highly suggest getting there early. Overall I would recommend you add this to your itinerary in Colombia especially if you're visiting Medellin.
Thank you for reading my guide about climbing La Piedra del Peñol. I hope this has helped you in deciding why you should visit this amazing attraction.