Quito to Mindo: The Best Transportation Methods
If you like adventure, then Ecuador is a country that you simply can't miss when traveling through South America. On top of the things to see in this country is the Mindo Cloud Forest. But how do you get from Quito to Mindo?
Traveling in Latin America is often extremely easy and cheap. Ecuador is no different. The bus system is easy to use, but there are multiple bus stations in Quito, so be careful!
Mindo is probably on your list if you're backpacking Ecuador or simply taking a quick trip through here.
In this guide, I'll tell you how to get from Quito to Mindo without breaking the bank.
Where is Mindo Located?
Mindo Cloud Forest is located Northwest of the capital of Ecuador, Quito. This is a popular spot due to its unique nature it has and different hikes.
The drive is only two hours from Quito, which makes it an easy trip to add to your itinerary. I also had my favorite empanada I've ever had in my life here!
Mindo was a nice break for us after doing activities like Cruz del Ilalo and Rucu Pichincha.
This was an unlikely place for that to happen but for $1.50…you can't beat it!
What Are the Best Options for Travel in Ecuador?
There are technically many different types of transportation that you can take in Ecuador. I will only review how to get from Quito to Baños.
Below are all of the possible ways to move around Ecuador:
Airplane
Taxi/Uber
Bus
Car Rental
When I first visited Ecuador, it didn't seem that renting a car was all that popular. However, during my second trip here, I met multiple people who decided to take this route.
The cost to rent is cheap (especially if you're traveling with multiple people) and allows you more freedom.
Being on your own schedule is such a huge plus when traveling.
The Different Quito Bus Stations
Depending on where you're going in Ecuador from Quito will determine which bus station you want to head to. We will be focusing on the Quitumbe station.
Below is a list of some of my favorite hiking/travel gear I bring everywhere. Everything below is something I currently use and never leave my house without.
How to Get from Quito to Mindo
Mindo is a popular tourist attraction not just for tourists but locals as well! If at any time you are confused when visiting one of these bus stations, don't be afraid to ask.
There are always people here to help point you in the right direction.
Bus from Quito to Mindo
This is the option I took, and many other travelers also do. Below are the steps to take when taking the bus from Quito to Mindo.
Take a taxi or Uber from your hotel/hostel to the Ofelia bus station. This shouldn't cost much, but it depends on your location.
Tell the driver you're headed to Mindo and they will take you to the back of the bus station. The front of Ofelia is where the more local buses are located.
The bus takes 2 to 2 1/2 hours and passes by Mitad del Mundo.
It only costs $3.60, and many different buses go throughout the day.
Where is the Ofelia Bus Station Located?
Ofelia Bus Terminal isn't Quito's most northern bus station, but it's pretty far north. So, if your hotel is farther south, then it's in your best interest to get a ride early to the bus station.
Quito to Mindo Bus Schedule
The bus schedule is simple and easy to remember. There are more buses on the weekends than there are during the week, which makes sense.
Monday Through Friday:
Saturday and Sunday:
8:00
9:00
11:00
13:00
16:00
Private Transport
It's possible to take private transport from Quito to Mindo, but it's not recommended. I've seen a private car to Mindo costing around $60, and you can also find one on Daytrip.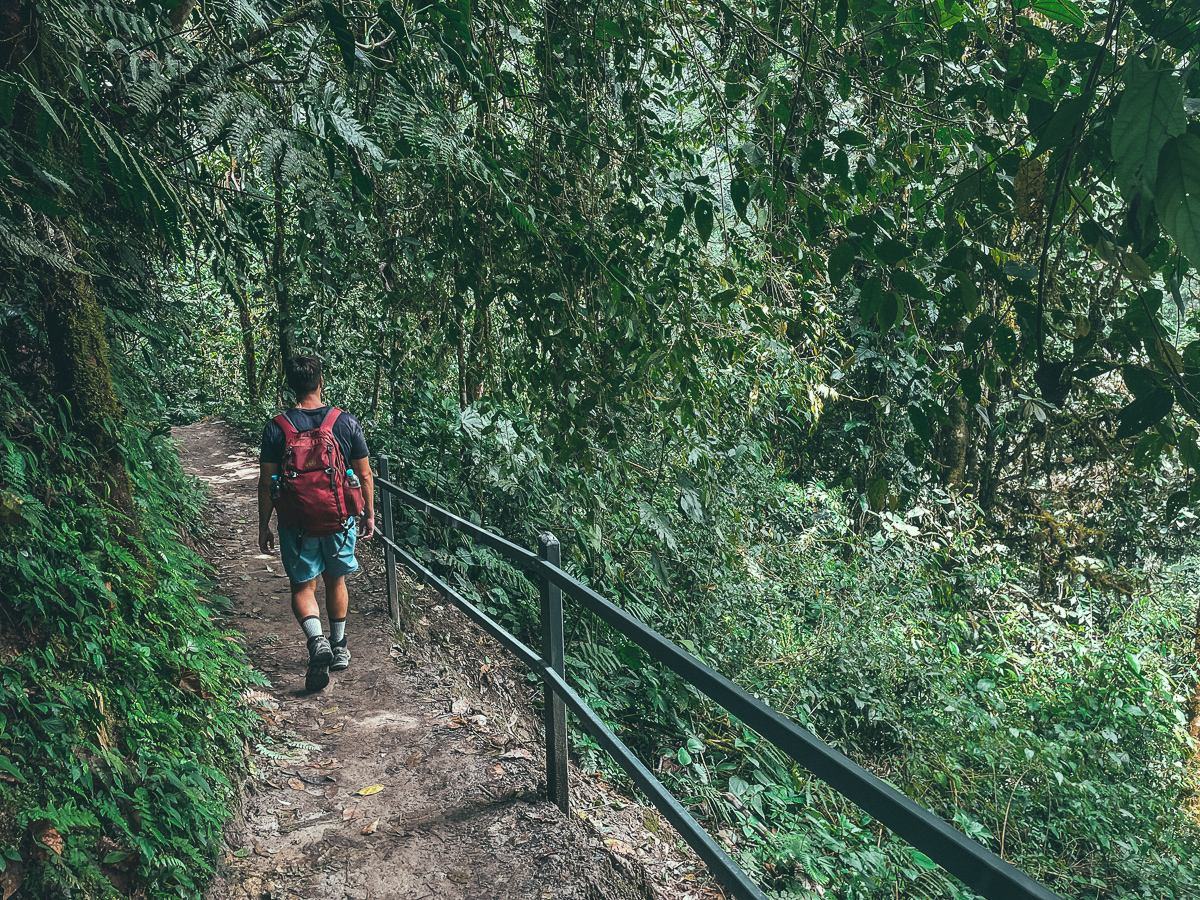 Other Fun Activities in Ecuador:
Things to Know When Taking the Bus from Quito to Mindo
These next rules or trips can apply to any bus you take in Latin America or the world, for that matter. I will always choose a bus overtaking a private transfer, but it's good to know some things before doing so.
How Much Does the Quito to Mindo Bus Cost?
The bus from Quito to Mindo costs $3.60 and is a straight shot. There might be some stops, but there's no need to get off until you're there.
Keep Your Personal Belongings Close
This is a tip no matter where you are in the world when traveling. When taking buses in Latin America, you'll put your big bag underneath the bus and keep your smaller bag with you.
Don't put your smaller bag in the top section above you. Always keep it tight by your legs, and don't let it leave your sight.
I've never had any issues, but heard plenty of stories.
Travel Insurance
Ecuador is an adventurous country. There are so many hikes and activities to do while visiting here. With so many activities, it's smart to be insured!
There's no other travel insurance company I trust more than SafetyWing. They're a trustworthy company that has fantastic benefits for digital nomads.
You might think travel insurance is a scam, but my friend saved almost a thousand dollars last year after being forced to get rabies shots while traveling!
Things to do in Mindo
After leaving Quito, our plan was to head to Mindo for a few days and then go to Otavalo, where we would hike Laguna Cuicocha and Cascada de Peguche.
Before leaving, a few days is enough time to pick the activities you want. Below are some of the best activities to do while visiting Mindo.
Bird Watching
Nature Night Walk
Chocolate Tour
Best Places to Stay in Mindo
Mindo has a wide variety of different styles of accommodations. We loved the unique feeling of sleeping in the middle of a cloud forest. Below are some of the best places to stay in Mindo.
Cinnamon House: We loved our stay at Cinnamon House hostel! This was one of the most beautiful hostels I've ever stayed at. Also, the employees were fantastic!
Terrabambu Lodge: This lodge is located close enough to the center but also far away enough to feel alone. It's a great mid-range priced accommodation with a pool!
Coffee Lodge Cristal Glamping & Spa: If you want to relax in Mindo, this is the place! Enjoy a private terrace with your own balcony and even a hot tub!
Returning Bus from Mindo to Quito
There's only one bus station in Mindo, and it's within walking distance from most accommodations. Flor del Valle is the bus company that goes direct to and from Mindo.
The bus ticket price is the same, and the bus schedule is slightly different, but it's easy to remember.
Monday Through Friday
Saturday and Sunday
6:30
11:00
15:15
16:00
16:45
Final Thoughts on Quito to Mindo
Mindo is a magical place that I wish we had time to stay longer. There's so much to see and do here, and you feel like you're in the middle of nowhere. It was the most relaxing place I've been in Ecuador. It's also relaxing how easy it is to travel from Quito to Mindo. The bus is always the best option, and I stand by that.
Thanks for reading my guide on how to get from Quito to Mindo! I hope this helps make your life a little bit easier.